When the weather goes through a change and makes us feel cold from warm our priorities in terms of clothing changes too. Winter season is the best time to add as many layers to your body as you want and follow the fashion as much as you can. Of course, summer is for those who love to wear short dresses to regulate their body temperature while adopting fashion.
However, winter is only for the ones who love getting buried under clothing layers to stay warm and make themselves look better than those in their social circle. While there are over a dozen types of outerwear what sounds to be the best choice to stay fashionable? I guess distressed coats have been in mainstream fashion for quite a long time. But if you don't know how to wear a distressed leatherwear, just worry not as four minutes from now your mind will be stored with enough data to do so.
The Bad Boy Look
Unsure about you but I have always enjoyed having a bad boy look in no time. There is nothing wrong with making yourself look like a totally different creature from the rest of the crowd. While the bad boy looks often warns the rivals to stay away from the bad boy, it also creates a kind of perception about them being superior to the rivals. When going for a bad boy look, a dark black jacket such as David Guetta Distressed Biker Leather Jacket should be considered with denim pants along with a pure attitude filled with badness. Believe it or not but, a cigar can't be replaced with a cigarette to complete the typical look of the badass guys.
Embracing an evil figure outlook
While it is good to wear a distressed jacket in winter, it is equally fine to follow a celebrity's style in a particular TV series. In this case, Negan's typical style from The Walking Dead is the best contender who is already popular for punishing unnumbered souls for no reason. Manage a decent look by teaming up the TV Series The Walking Dead Negan Black Distressed Leather Jacket with Chelsea boots, snug fit pants and a light-colored t-shirt.
The Classic Style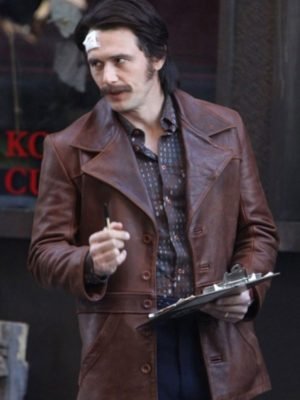 One another way to don the distressed jacket is by taking inspiration from the gentlemen's wardrobes who lived during the 70s and 80s. For that, all you need is the James Franco The Deuce Distressed Leather Jacket paired up classical formal shirt with a specific print on it and brown footwear of any kind to complete the look in the best possible. But be aware, unless you are a fan of retro clothing, it would not suit your personality at all.
The Above-Average Clothing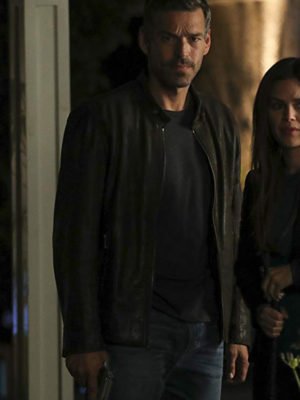 In order to main the above-average outfit, all you need is the TV Series Take Two Eddie Valetik Distressed Leather Jacket supported by rolled-up black chinos, red footwear, brown sunglasses hiding the eyes and a sports hat to have a much better appearance than an average fashion following man. Now, I don't guarantee you will attract a lot of girls with such clothing style, but you definitely hear voices appreciating your outfit choice.
Pretending to Be a Man from the Medieval Era
While the medieval era remained quite crucial for European history, it also allowed the Europeans to transform the old fashion. A piece like the Elder Maxson Fallout 4 Brown Leather Trench Coat from a videogame called Fallout 4 is a good option to bring the multi-century old fashion back to the trend. It is super-simple to wear the old-styled distressed outerwear with the rest of the outfit components being taken from modern clothing such as the round collared t-shirt, the denim pants, and the footwear. The specific yet extremely amazing blend of the old and new style is great to try.
The Rustic looks!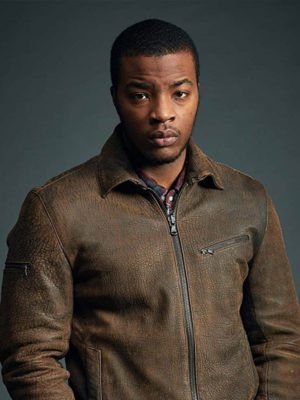 The leather jackets are more well known for their classic brown looks and as a matter of fact, the first hue that leather jackets are made of was the brown color. Although the brown leather jackets wouldn't be your first thing to cross your mind to invest in for the winter season, after reading this we hopefully change your mind and you would consider this investment worthy outfit for this fall. To truly determine its versatility pair it with blue jeans, black jeans, chinos, and shorts; T-shirts, buttoned shirts, logo sweatshirts, and hoodies. And Voila, there goes every doubt about being skeptical of this hue. One of the honorable mention to serve this purpose is this A Discovery of Witches Daniel Ezra Cowhide Leather Jacket
Game Changer!
Talking about the distressed leather jackets, it would be a sin of not discussing the first shape of leather jackets. Since this Air Military allows the civilian to wear this outfit, it was considered as the best option to opt for the winters without sacrificing the looks over the weather. This Men's B3 Distressed Shearling Leather Jacket makes the style game effortless. The versatility of the B3 is enormous and it's a fun to play attire with your wardrobe whether you are attending a formal or just a family dinner it can be rock flawlessly with almost everything.
The Thunderous Looks!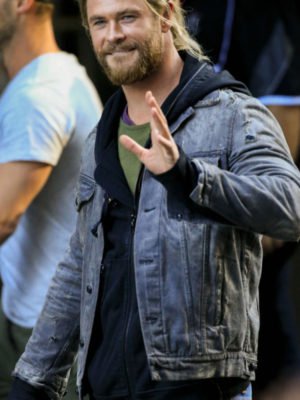 For all those Denim lovers, here is one the most admired and talked about attire worn by the most favorite hero of all time in his latest film Ragnarok. This Thor Ragnarok Chris Hemsworth Jacket is a perfect outfit to wear in almost every event or even at the parties, all you need to do is just pair it with some chic pants and sneakers. One of the best and the easiest way is to rock it with a white T-shirt along with the black jeans or chinos and wrap it up with the best sneakers from your wardrobe and Voila here you are looking perfect to carry a chic vogue throughout the whole day.
Although a distressed outwear may not be the first thing that springs to mind when thinking about a worthy Spring investment, hopefully, we've changed your mind. On the one hand, there comes these fashion diva where they just can't get over this amazing outwear and on the other hand, here comes the critics who just can't criticize enough about the style, now there could be a lot of reasons why but one thing for sure they have underestimated this astonishing style. To rock this all it takes is a good and proper combination of outfits to make it more enchanting and appealing and we hope this blog covers it all to truly make you comfortable and understand the style of this outwear.