So yes, finally, the season of happiness is here again. But, we just have to ask you one question. Are you also the person who adores being the most good-looking individual in the room everywhere you go? Or are you the person who loves to style your different outfits according to new trends that are so in fashion? If your answer is yes, then we have the greatest news for you that will take your happiness to the cloud 9.
Yes, your guess is right. Because we are here again with some iconic top layers that will make you look fabulous whenever you go outside. These tremendous top attires from the Chicago Fire Outfits Collection will definitely give you the most outstanding and fantastic glance every single time you wear these masterpieces. So, if you are a person who loves to look classy but with a hint of sobriety, then these top attires are a perfect match for you. We must suggest you have a glance at these fantastic upper layers. These fabulous leather jackets are an inspiration from your favorite characters of the most popular television series "Chicago Fire."
Don't you know about this mind-blowing TV show? It's okay. There is nothing to worry about. Because we are here to clear all your confusion. Okay, now let us tell you about this outstanding TV series. Chicago Fire is a popular action drama television series that has conquered the hearts and souls of millions of fans and followers around the planet. This famous series features many talented and renowned actors who have shown their tremendous performances in this amazing TV show. So today, we are here with some iconic top ensembles that are an inspiration from the popular stars of this series.
ASTOUNDING BLACK JACKET OF KARA KILLMER
Umm, okay, so if you are a woman who loves to look graceful in a subtle and minimal way. Then this jacket would be the perfect pick for you this time. You wonder why? We have the answer. And the answer is that this gorgeous upper layer is an inspiration from the iconic and talented Hollywood star Kara Killmer. She has won the hearts of millions of people with her outstanding and brilliant skills. So, this attire which we are talking about has many stunning features and specifications. Eager to know about them? Then read below.
This mind-boggling Chicago Fire Kara Killmer Black Jacket is made up of parachute fabric with an inner lining of viscose fabric. The front has a ravishing zipper closure with a shirt-style collar. This ensemble comes in elegant black color with two outside and inside pockets with full-length sleeves. You can get this amazing outfit if you want to get the best glimpse this season.
FABULOUS BLACK JACKET OF MONICA RAYMUND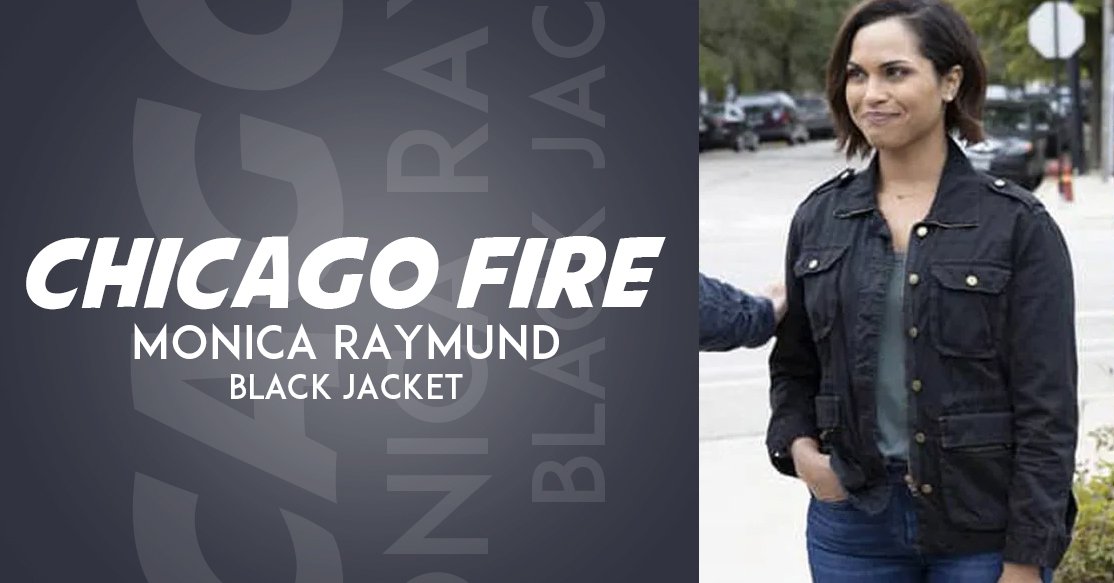 Okay, now, the next jacket that we are talking about is the gorgeous Chicago Fire Monica Raymund Black Jacket. This jacket is an inspiration from the renowned and talented female actress Monica Raymund. She has also shown her tremendous dexterities in the TV show "Chicago Fire." So this is the attire that she was wearing while portraying herself as the character of Gabriela Dawson in this drama series. So, this amazing upper layer has some mind-blustering features that you will surely love to read. Now, without any further delay, let us move towards its specs.
This incredible upper layer is the thing that you can wear while going to a casual or semi-formal gathering. A premium quality cotton fabric is used in the making of this fabulous attire. It also contains an inner lining of a viscose fabric which provides it credibility and durability. The front section has a gorgeous zipper over a buttoned closure with a sober shirt-style collar. This Black Jacket For Women comes with open hem cuffs and four outside and one inside pocket.
ALLURING COTTON JACKET OF CHRISTIAN STOLTE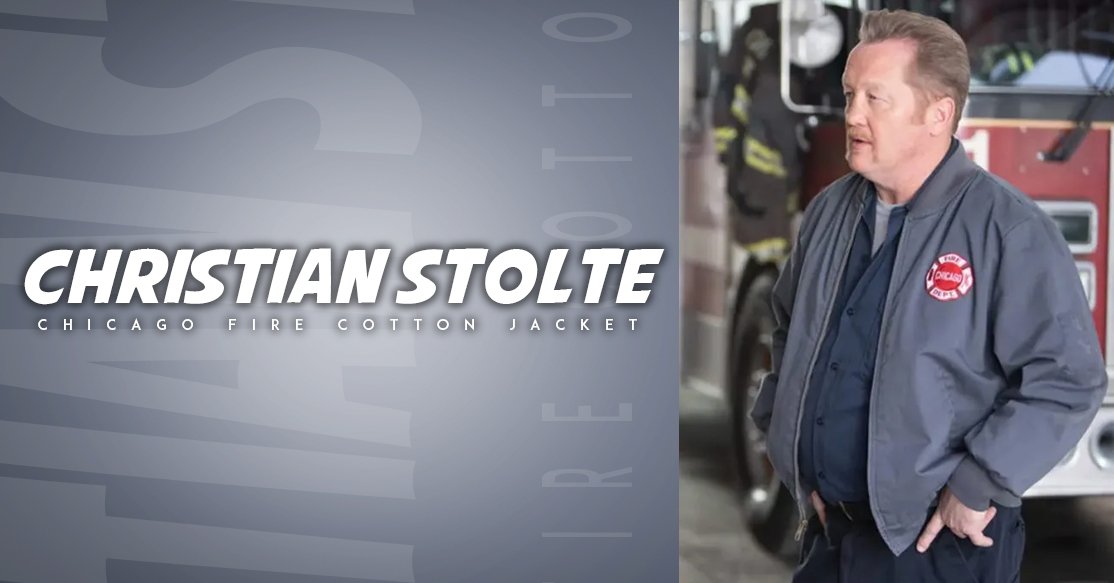 So, the third ensemble that we are discussing is the attire which is an inspiration from the most talented actor Christian Stolte. He was also present in this popular TV series. Showing his outstanding acting skills, this popular star portrayed the character of Randall McHolland. And, also this fantastical attire has some exceptional features too, like the above ones. So why not we discuss it some more?
So this eye-captivating Christian Stolte Chicago Fire Cotton Jacket has many features, including its creation with a piece of comfortable cotton fabric. It also contains a soft and gooey viscose lining which is attached to this masterpiece. Its front is designed as a zipper conclusion with a ravishing rib-knitted collar. So this outlandish ensemble comes in grey color with a couple of outsides and inside pockets with long extended sleeves.
NOSTALGIC QUILTED JACKET OF JESSE SPENCER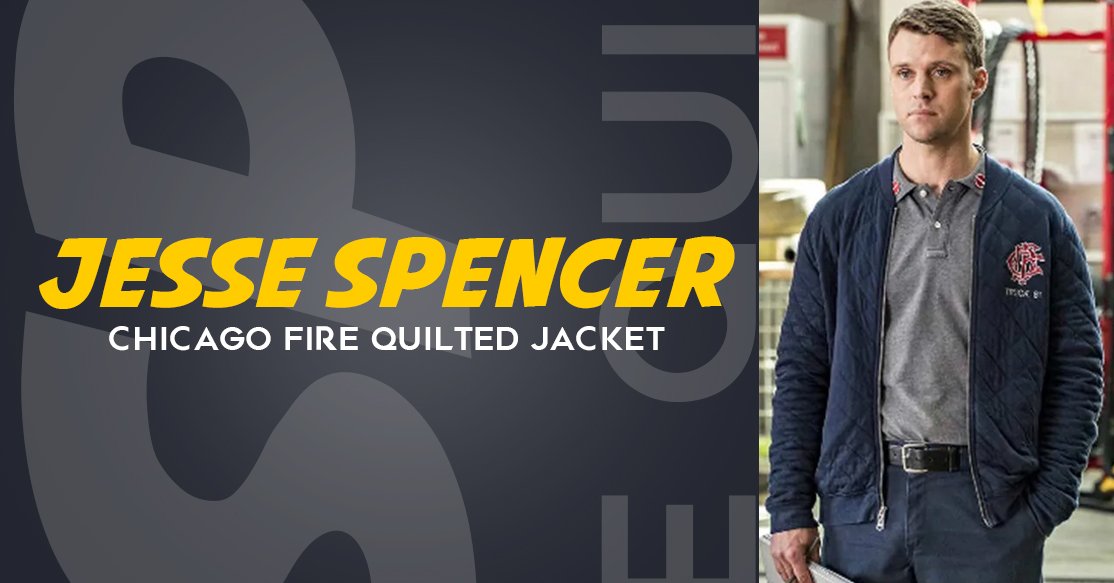 Last but not least, the marvelous jacket that we are talking about is also an inspiration from this popular series. This popular Jesse Spencer Chicago Fire Quilted Jacket is an inspiration from the most handsome-looking and talented actor Jesse Spencer. He was spotted wearing this amazing masterwork in this series while tremendously portraying the character of Matthew Casey in this famous television action drama series. So, as we have discussed the specifications of other attires, then we will discuss its amazing features too, obviously.
So moving toward the outlandish features of this gorgeous attire, we get to know that it is created with a premium quality polyester fabric. The inner side of this gorgeous ensemble also contains an inner lining that is of gooey viscose fabric. Its front section has an alluring zipper closure with an enchanting rib-knitted collar. The dreamy blue color and rib-knitted cuffs enhance its looks even more. You can style this wonderful Men's Quilted Jacket with different outfits for different occasions to get the most flawless look this season.
THE END WORDS
So, in the end, we would like to say that whether you are a man or a woman, you can take some inspiration from these gorgeous upper ensembles that we have discussed above. So style these fantastic jackets and get the most outlandish glance of yours this year. These wonderful ensembles will surely make you the buzz of the whole town. By giving you the most gorgeous-looking glimpses that people will never fail to reminisce about it later. So get these fascinating attires now and leave a tremendous impression on your loved ones this season!