When the trend of patched jackets first attracted the fashionistas during the 60s and 70s, style seekers became addicted to the new style which was quite a different one than the traditional ones. Today, years after the entry of patched outerwear in mainstream fashion, it is still a great fashion-related phenomenon for the fashionistas all around the world.
If you talk of me, I literally endorse the patched varsity jackets considering them to be the greatest of all in the category of varsity outerwear. Although it is easy to incorporate varsity outerwear into your casual and semi-casual outfit, you can only observe the great benefits of a varsity jacket if it features patches on the back and the front.
Otherwise, there are tons of other options available to layer your body with and find a better replacement for varsity wear. It is a patch that makes the outerwear look more incredible and fabulous. Before it becomes an extended piece of writing, here are four super gripping and professionally structured varsity outerwear gifted with attractive patches.
Follow Tom Cruise
Inspired by Tom Cruise's outer layer in 1986 Top Gun, the New Top Gun Bomber Brown Flight Leather Jacket ranks first among the top four such attires. Showcasing a number of features, one could find U.S Navy's official patches both at the front and back of the outerwear indicating it could be a good choice for a military-inspired outfit. Since a lot of fashionistas are in love the military-style clothing, this bomber wear is definitely hard to be resisted. Not only it can be rocked with a casual outfit but adding it to the semi-formal clothing would also prove to be a worth-trying option. One other way to don the masterpiece is by teaming it up with a bunch of casual elements namely rolled-up blue pants, a thin inner layer of a t-shirt with sneakers covering the feet. But if you are not impressed with my suggestions and have a very different idea to don it, you are more than just welcome to skip it and scroll down to the next product.
Brie Larson's Epic Layer
Who doesn't fall for a thick red layer made of real leather and designed no different than a bomber jacket? Of course, this could be the most exciting apparel one would come across. If you are passionate about putting on bomber wear in love for the military men, you should really try out the Carol Danvers Captain Marvel Brown Leather Jacket with a pure intention to set up a casual outfit featuring red color. I bet, you would be appreciated for making an untraditional change to your looks. With the U.S national flag patched at the right arm, you can let the world know about your patriotism. In addition, pairing it up with retro style t-shirt and the cowboy hat will be great a way to put the wild west styled outfit together. Since high heels have been trending, add it to the list of all the necessary components of your casual outfit and shine like a star.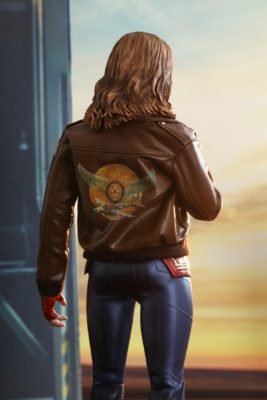 Took from Southside Serpents' Signature Wardrobe
Keeping in busy mind faux leather made black outer layers are impossible to be ignored, rock the Southside Serpents Black Leather Jacket with leather pants, denim shirt, and blue footwear for a never-seen-before look of yours. No fashionista on planet earth would ever reject a black layer especially for a late-night party or to walk up the street. In short, since black leather jackets are considered to be the vital source of fashion, letting them go off isn't a wise decision at all. We all know for how many decades the black wear has been serving us. And when it comes to a layer featuring a snake patch representing a fictional group from a show, adding it to the closet sounds to be the only option left otherwise guilt surrounds and you regret ignoring a fashionable element.
Fallout 76 Outer Layer
While most of the Americans love black layers, a large segment of the society of fashionistas prefers going for colors other than black and brown. A lot of fashionistas aren't into continuing the tradition of black and brown outerwear which has existed for more than a century. Instead, they want to experience a change in terms of colors to better and different from the previous generations. A patched outer layer like Fallout 76 Blue Leather Jacket tends to be a great option to replace the two colors and switch to the much better and different colors. In order to appear as a " Very Important Person ", don it with light-colored components such as off white shoes, grey ripped pants and a round collared baggy t-shirt.