The fantastic TV show "God Friended Me" is the show that has won the hearts of tons of people around the whole globe. And what's more interesting, this show is still gaining fame and popularity even though its release dates back to 2018. People love the exciting storyline and the amazing cast of this outstanding TV show. But do you know the exciting tale of this fantastic show? Umm, let me give you a little idea about that. The story of this show pivots around a guy who is an atheist. And the twist comes in the story when God himself adds the guy as his friend on Facebook. Mind-blowing, right? 
The story of this show is a bit fantasy-based because we all know that nothing like that happens in real life. But how about we change our styling game to a little bit fantasized? And add some classic attires to our wardrobes this time? We already know that winters are here, so that we would need some warm attires for ourselves, no wonders! 
So, just in case you are also a fan of the fantastic TV show "God Friended Me," you would love to hear about this great news. Because we are here for you with the most exemplary God Friended Me Jackets Collection. These stunning jackets are some impressive fashion provocations devised for the die-heart fans of this fantastic TV show.
So, in this guide, you will learn about all the classic and unique attires you can get to style with your outfits this time. And we bet you will never regret buying these amazing upper layers, as they are worth spending your money on. So without making any further delay, let's have a look at the fantastic jackets collection!
The Stunning Black Jacket Of Violett Beane
As we all know that the fantastic actress Violett Beane is the one that is recognized for her talent around the whole world. We are glad to say that this fantastic jacket is a fashion provocation taken by her. So this time, go for the classic Violett Beane God Friended Me Black Leather Jacket. It is a perfect upper layer that will make you look like the real boss queen after you pair it up with some chic bottoms. It is the one that is going to take all your feminine charisma to the top of the seventh sky. And you will instantly feel the delightful charm of this exemplary top layer after matching it with your outfits. 
Slay Stunningly With Its Unique Features
When we take a detailed look at the elements of this charming attire, we get to know that it is of 100% original real leather material. It also contains a soft and smooth inner lining of soft viscose fabric, making it comfier. The leather finish gives this attire the most finished look. It also contains a gorgeous front with a classic zip-up fastening for closure and an impressive bikers-style lapel collar. The sleeves also contain zipper cuffs at the end of this masterpiece. This unique attire also offers you two slanting zipper pockets and one flap pocket at the waist, which makes it more attractive. The nostalgic black color is the most impressive component we need to pay attention to. 
The Staggering Purple Jacket Of Rachel Bay Jones 
So the classic jacket is the second most exemplary attire that we will tell you about today. That is an inspiration from the most beautiful and heart-whelming actress Rachel Bay Jones. She was slaying in the classic masterpiece Rachel Bay Jones God Friended Me Purple Leather Jacket in this popular show. The jacket looked outstanding on her, no doubt. So, we suggest you get your hands on this chic piece of charm if you are also a die-heart fan of this gorgeous actress. 
Throw Sass Everywhere With The Classic Features Of This Stunning Jacket 
When we talk about the components that this jacket contains, we get to know that real leather material counts in the making of this attire. It also contains a soft and gooey viscose fabric, making it comfier. As far as the front elements are concerned, we can easily see that it contains a captivating front with a classy zipper closure and a peak lapel-style collar, making it even more fantastic. This stunning attire also offers you two zipper pockets at the front side with zipper-cuffed full-length sleeves. The dreamy purple color is the cherry on top of the cake!
The Classic Brown Jacket Of Brandon Micheal Hall
So this fantastic attire is inspired by the leading character "Miles Finer" in this popular show. This stunning attire is the one that is going to give you all the chic looks for your occasions this season. So we suggest you don't forget to get your hands on this masterpiece if you want to make some impression with some brown outfit of the day look. Since this classic Miles Finer God Friended Me Brown Suede Leather Jacket has its chicness. So we have already given you all the right reasons to get your hands on this fascinating article this time. 
Slay With The Intriguing Features
This fabulous attire is of suede leather fabric. It also contains an inner lining of soft viscose fabric. And it has an exemplary front with a buttoned closure over zipper fastening, ribbed hemline, and a classy shirt-style collar. It also gives you two flap waist pockets and a pair inward with ribbed-style cuffs at the end. This chic attire comes in a gorgeous brown color to give you the best looks of all time. 
The Spellbinding Jacket Of Brandon Micheal Hall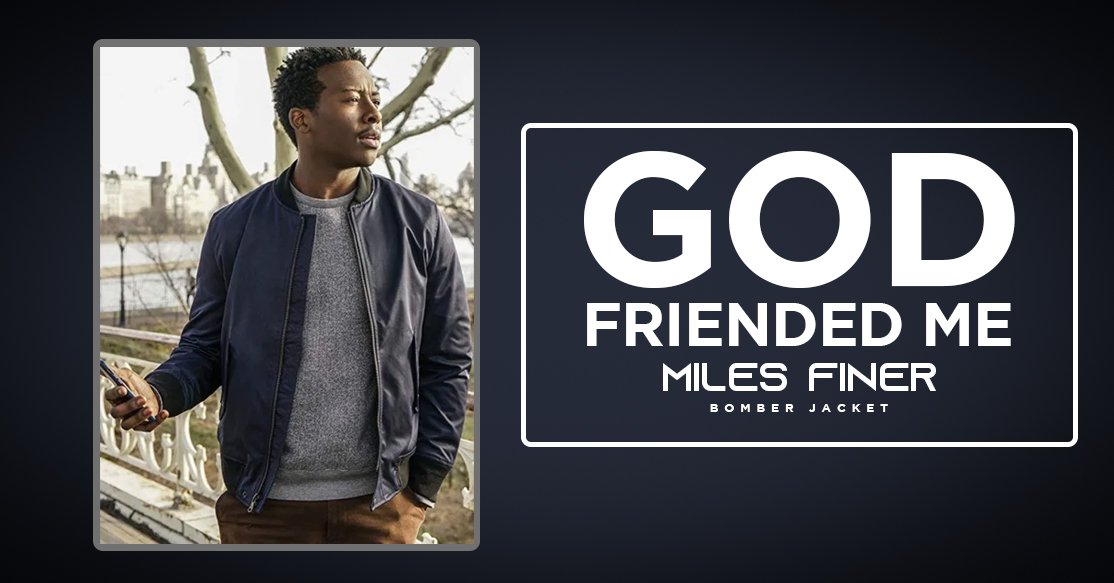 This stunning Miles Finer God Friended Me Bomber Jacket is the new favorite among young adults for its amazing design and fantastic-sauce class. It is a perfect choice for you if you want to slay with some classic vibes. It is the one that is a fashion provocation from the outstanding actor Brandon Michael Hall in the series. 
The Ultimate Reasons To Go For This Jacket
This fantastic jacket is a nylon piece to fit this epoch's effortless style. This stunning attire proposes you a zipper closure, ribbed collar, waistline, and rib-cuffed with full-length sleeves. It also offers you a pair of flap pockets on the front with two pockets on the inside. This ultra-stylish ensemble is just the ideal one for everyday outings and bashes. So, just out with class with this chicest piece!
IN A NUTSHELL
So, we have already told you all the right reasons to buy these fantastic attires. And we hope that you will give them a try to look like the real trendsetter!