Are you a mystery lover? If yes, then you must have watched Three Pines and loved it! There are some really enchanting outfits from this TV series. And guess what have we brought for you? We have four of the most appealing Three Pines Merchandise and impressive ways to style them!
The Funky Three Pines Tamara Brown Purple Puffer Jacket
On number one, we have a funky but appealing Three Pines Tamara Brown Purple Puffer Jacket. The funky three pines puffer jacket is an interesting outerwear. This single piece is a must-have if you want to achieve a funky look at someone's birthday party or any other similar occasion. You can also wear it at a costume party. This one piece has the quality to grab the attention of everyone when worn at a costume party.
The vibrant purple color of this outerwear showcases the vibes of violets in the most appealing way! Therefore, it is the best option to wear it at a costume or fancy dress party. The purple color of this jacket says something about the personality of its wearers. In other words, the purple color of it shows the liveliness of its wearers in a perfect way!
Details of the Puffer Jacket
Excited to know the specifications of this jacket? Well, the outside of this jacket is made up of parachute fabric which takes its wearers to another level of comfort and satisfaction! The viscose, which is used in the manufacturing of its inner part works as a comforter for its users. Or, you can say that the viscose lining gives its wearers a silky and smooth feeling all the time. 
Other than that, this one piece has three pockets which give its users the facility to store their portable belongings. And there is one more thing that is left to know. Want to know it? Well, we are talking about its multi-purpose hooded collar. Wondering how? That's because it has the quality to perform two functions at once. And those functions are, to add swag to its wearer's look, and to keep them warm at the same time. Want to know how to style this funky puffer jacket? Alright then let's start discussing it.
You can create an eye-catching look by pairing this jacket with a black top/blouse. After doing that, simply go for black cotton pants with black chukka boots. This styling idea will give you an enchanting look!
Alfred Molina Three Pines Cotton Hooded Jacket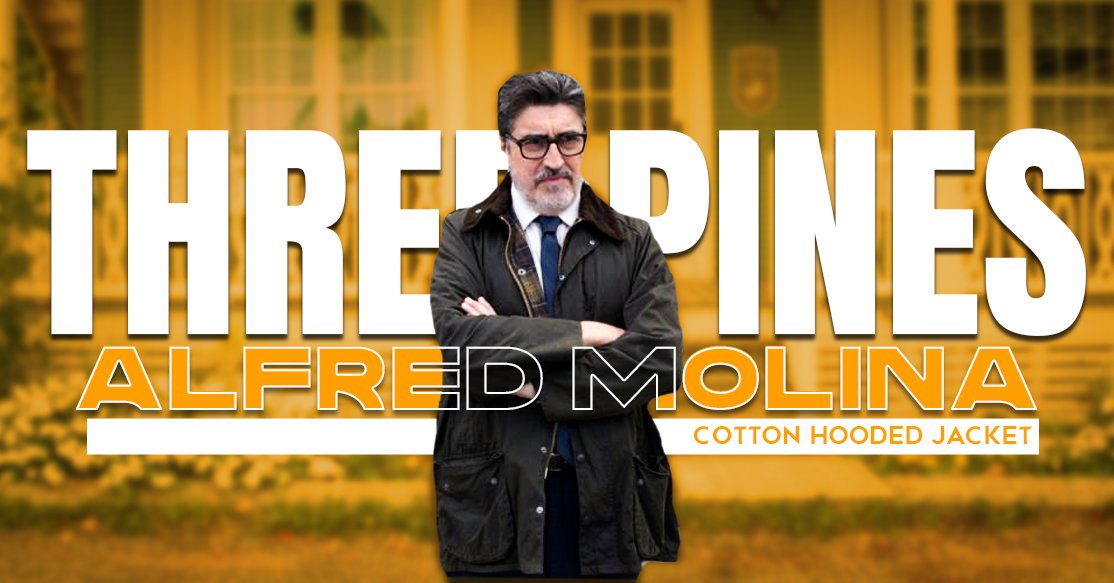 The Alfred Molina Three Pines Cotton Hooded Jacket is a simple and decent outerwear. It is a jacket, which has the quality to be worn on both casual and semi-formal occasions/events. The green color of this one piece sends positive vibes to both the wearer and the viewers. It is because green is considered as the color of activeness and positivity. This upper is one of the best pieces of clothing from Three Pines Outfits.
Specifications of the Jacket
Can you guess by which material this jacket from the Three Pines Outfits is made up of? Well, I think nobody can guess it as it's a very challenging question. That means that now we will have to reveal it to you. Now, without any further ado, let us answer this question. This hooded outerwear is made up of cotton fabric which a person can wear in both the winter and summer. No matter whether you are a young adult or a middle-aged man, this jacket looks super-cool with both age groups.
Want to know what the best part about this jacket is? If yes, then here it is! The manufacturers of this outerwear have made the hood of this outerwear detachable! In other words, its wearers have the facility to join and take off its hood whenever they want to.
Now let's talk about the styling of this multi-purpose jacket from the Three Pines Outfits. If wearing this one piece on a semi-formal occasion/event is your first priority, then you can follow these instructions to achieve a decent look. Well, you can wear this upper on a white button-up shirt along with off-white dress pants. You can also add a black tie to your outfit to make you look sophisticated. For footwear, go for monk shoes to add class to your outfit.

If you want to wear this cotton jacket on a casual occasion, you can pair it up with straight blue jeans and a white t-shirt. That will be enough for a casual occasion.
The Classy Three Pines Isabelle Lacoste Blue Puffer Coat to Choose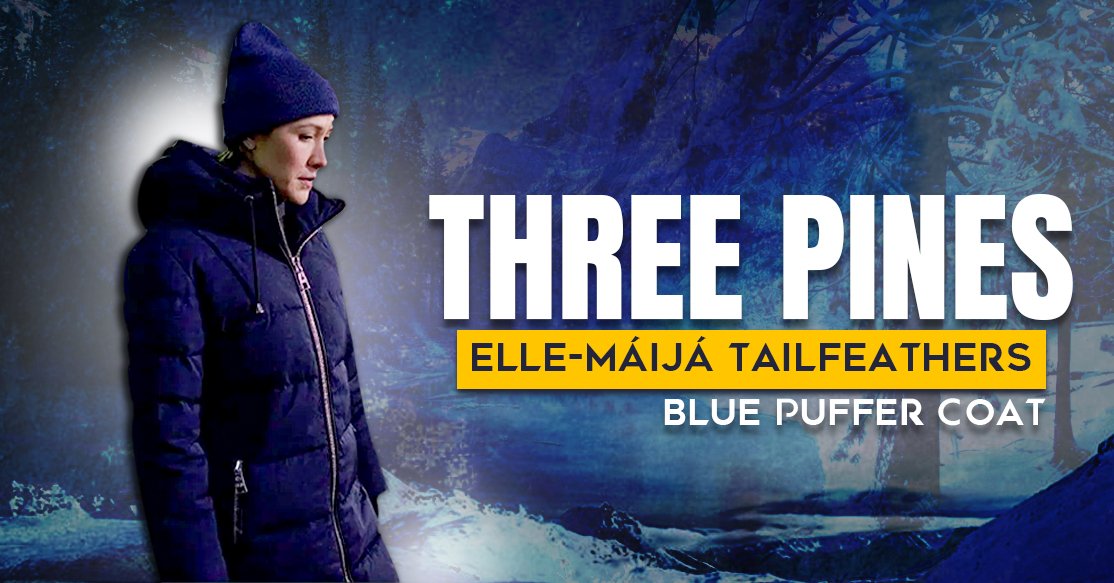 On number three, we have the classy Three Pines Isabelle Lacoste Blue Puffer Coat. This is a simple yet appealing puffer coat. Interested to know the characteristics of this marvelous coat? Alright then let's go for it!
Characteristics of the Puffer Coat
This is another excellent piece of clothing on our list. It doesn't look like but this puffer coat's outside part is made up of parachute fabric. Surprised to know this? Well, if yes, then get ready to be surprised once again as we are going to tell you another excellent feature of this one piece! So, this puffer coat also has a hood attached to it just like the previous jacket. So if you want to look stylish and stay warm, then this puffer jacket from the Three Pines Outfits is perfect for you! Want to know more interesting things about this single piece? Then here you go! This outerwear comes in a velvety blue color which gives you a charming yet appealing look! Willing to know the styling idea to give this one piece a try? Alright then, let's just jump into it!
If you want to create a stylish look, you can choose black cotton pants along with a black shirt. After that, it's time to choose the right type of footwear to add to this outfit. Therefore, for footwear, grab a pair of black army boots. Incorporate all of these pieces as well as your puffer coat to end the look in the most sensational way!
The Decent Yet Warm Three Pines Saul Petrov Black Cotton Jacket
And the last piece of clothing we have on our list is Three Pines Saul Petrov Cotton Jacket. It is a simple but decent-looking outerwear. Interested to know the details of this one piece? Alright then here we go!
Things to Know about the Cotton Jacket
This jacket also doesn't look as if its outside part is made up of cotton fabric, but in reality, it is like this. The use of cotton in this single piece is very beneficial both in summer and winter. In other words, its wearers can find it useful both in summer and winter. Another fantastic thing about this outerwear is that it has six big pockets. Since the size of the pockets of this jacket is large therefore, its wearer can store a lot of things in them. This stuff can be a wallet, cell phone, identity card etc. Do you have the urge to know how to style this cotton jacket? If yes, then stay a part of this discussion to know about it.
This cotton jacket looks incredible with a black turtle-neck sweater. The Turtle-neck sweater not only looks fabulous with this cotton outerwear but also keeps its wearers warm and satisfied. With that being said, I recommend black brogue boots with this outfit!
Conclusion
So these were the four most amazing pieces of clothing from the Three Pines Outfits to buy this season. So go and buy them before it's too late!