Giving us a bit of hard look, jackets have served our needs more than any other element invented in the field of fashion. Whether you talk of the style-conscious celebrities spending thousands of dollars on their outfits alone or the sports stars pretending to be the fashionistas while they are invited at a show, everyone could be found sporting jackets for both the purposes of shielding their body and updating their style. A jacket, thick or thin, is like the best partner of a winter hater who dislikes the idea of suffering from the extreme coldness at any cost. Getting punished at the hands of the winter weather is something nobody is in favor of which is one of the main reasons a lot of winter haters stick with thickly layered jackets to counter the threats imposed by the chilly winds during the months of January and February. Compared to a long layer like a coat, a jacket is preferably a better option to look bold, confident and hot while ensuring your body remains warm enough to freely move outdoors at the time. If you are in a desperate need to kick a few crappy jackets out of your closet and want to upgrade your fashion level, you will be required to keep an eye at the latest in the world of outer layers to ensure you don't end up buying what you never wanted at the first place.
But wait, before you rush to the nearest store or visit the website of a big brand, you better keep in the tiny brain of yours that picking up outerwear means you should be aware of all the protocols that should strictly be followed to invest in a quality layer meeting your standard. This includes you should be attentive when analyzing the material, overall design, and most importantly picking up the color which will determine whether or not it's gonna suit your outfit. If you are somehow unable to be attentive to choose a suitable color, you will make yourself vulnerable to the discouraging comments passed on to you by the extremely negative yet cursed souls. Too confused to choose between and among the dark colors? Take a deep breath and start investing in light colors like a white layer to let others know you don't go after the old trends. Switching to a new trend is something a daring fashionista dares to do only and if you know what I mean you have probably allowed yourself to start investing in white jackets that are super popular these days. Start acting like a brave fashionista by spending a few hundred dollars on the following white layers or else keep yourself cornered by giving yourself a bunch of excuses for not being appreciated by others.
Machine Gun Kelly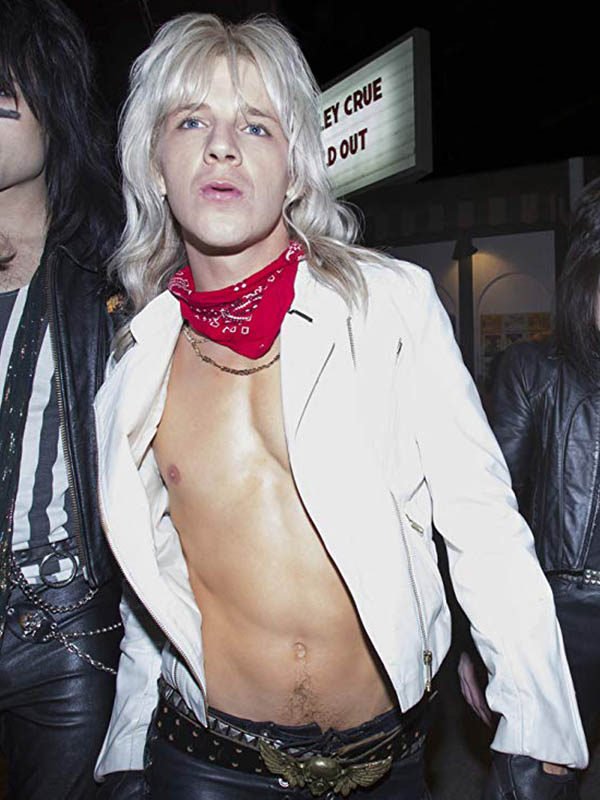 The United States of America is home to hundreds of rappers trying to entertain the audience in the best way possible both through their voice and outfit selection. Out of these rappers, Machine Gun Kelly is one of the greatest ones who started up the trend of Tommy Lee White Jacket which is a classical masterpiece no different than most of the layers rocked by the vocal artists during the late 70s. This layer looks like an accessory featuring a great impact from the past fashion styles which means you should be more than just happy to invest in it if you have always endorsed the retro fashion and the old-fashioned stuff. Recalling the past or going down the memory lane, you could think of accepting the past forms of fashion by sporting this piece in a proud manner. Whatever you make up your mind for, be sure, a top featuring so much isn't easy to get your hands on.
Colin Kaepernick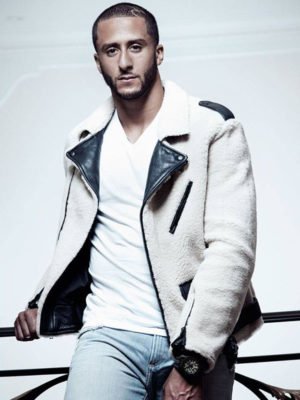 Inspired by Colin Kaepernick, an American football quarterback, the Colin Kaepernick Jacket is yet another astonishing white jacket offering more than the experience of an outer layer. Featuring a furry pattern, this jacket is a remarkable choice to shut up the mouth of those who envy you in any field of your life. The losers, who often try to bring you down or compare you with their unworthy lives, are going to be speechless seeing you don the incredibly fascinating element with the light-colored accessories. If you want to maintain a cool yet sober look while defining your class, you are definitely allowed to add an ankle-high camouflage trouser with a rounded black shirt featuring patches or texts.
Nilin Cartier Wells
Generally, there is no abundance of white-colored jackets in both the national and international jackets market. But as the trend is going towards the white layers, more and more online vendors are making it possible to fill up their stocks with white outerwear. Of course, this means, you shouldn't keep yourself away from having the privilege to wear white jackets such as Nilin Cartier White Jacket which are getting super popular on a rate faster than perhaps the trendiest fashion accessory to exist ever. People are going after the light-colored jackets to allow themselves to change their taste after decades. In fact, it would not be unfair to admit, it is possibly the first time in history that white layers have started getting a fan base bigger than a number of accessories put together. While the world is getting out of the sphere of influence of black and brown jackets, why shouldn't you opt for the massive change?
Sloane Peterson
When fashion becomes an obsession hard to resist and black and brown leather jackets are found in abundance in your closet, take a daring step to introduce the new stuff like the Sloane Peterson Fringe Jacket into your closet inspired by Sloane Peterson's character from 1986 Ferris Bueller's Day Off. Primarily speaking, such fringed masterpieces with a bunch of features are hard to find these days for common use. Whether you look here or there you are likely to be disappointed for wasting your precious time in searching a piece as good as this one. If you are an above-average girl whose fashion-conscious mind is equipped with all the ways to don a jacket, you need no one's guideline to incorporate a white layer into your outfit.
Letty Ortiz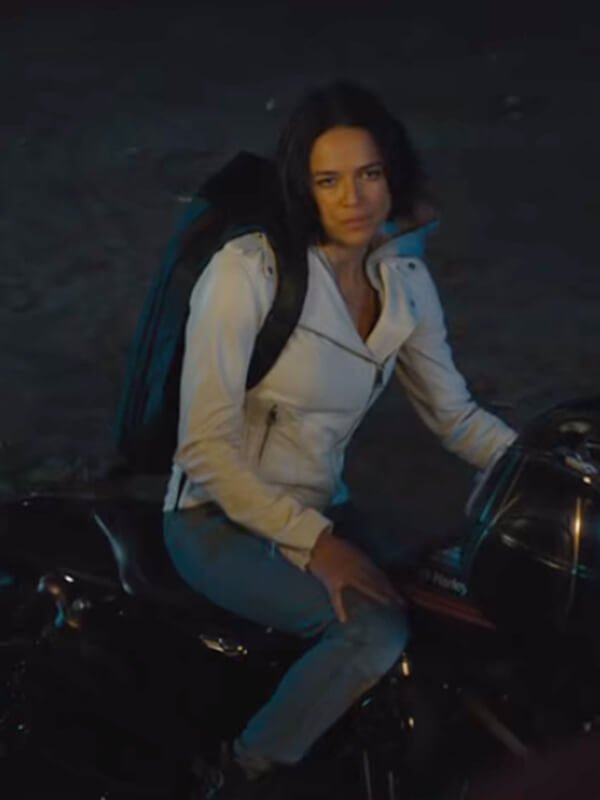 To be specific, the desire to perform better than the competitors is what drives most of us in all walks of life. Since it could be applied to your competitors belonging to the local fashion club of yours, there should be a growing concern within your mind to work on your style. Too concerned to add some light colors to your outerwear collection to have an appearance better than your previous? Take your eyes towards the Michelle Rodriguez F9 White Jacket stolen from Letty Ortiz's wardrobe in the latest installment of Fast and Furious and forget about the unworthy and crappy layers offered by the local vendors here and there on the internet. In case you have started wondering what differentiates it from the rest of fascinating layers, you are probably missing out on the fact it features an asymmetrical zipper closure, a feature which is enough to make any fashionista to spend on a jacket and worship it for the next decade, lol.