The senior actress Nicole Mary Kidman or simply Nicole Kidman is a real epitome of beauty, grace, and charm. She is an American-born Australian actress. She rocked many appearances in many movies and television series. The roles she played are characterized and idealized for both their doll-up and determined characters. She introduced to the fashion world a really enormous amount of fashion outfits and styling guides. She is the real Queen Fashionista. For our esteemed customers whom this styling queen inspires, we have made available some really cool fashion outfits that she has worn in the television miniseries named The Undoing. You just need to log onto our website.
GETTING DOWN DEEP INTO THE UNDOING
The Undoing is a 2020 American mystery psychological thriller movie that stars Nicole Kidman as Grace Fraser. It plots a story of murder and thriller where Grace Fraser played a determined role of a mother and a good psychologist. Her personality traits include truthfulness, loyalty, care, and sensibility. She saved her son and got her husband arrested. She went deep into the case to know the truth, and upon knowing the truth, she stood with it. The mesmerizing characters of her personality complement the attire and outfits she carried throughout the miniseries. She was literally on point in both fashion and talent.
DIGGING OUT FASHION TRACES FROM THE UNDOING
From within the television miniseries, we have taken out the talk of our interest, and that is fashion. Nicole Kidman styled really cool outfits, and out of them, we have made available the five most graceful and elegant upper layers in our store for our esteemed customers. Let's look at those in detail one by one.
THE COOL BLUE TRENCH COAT OF GRACE FRASER
The Nicole Kidman Trench Coat is blue in color, and it is a perfect casual and semi-formal outfit. It uses wool fabric in its making of the upper layer along with a soft and smooth viscose material that is stitched nicely inside the coat. Due to this material merger, you can very easily wear this coat for longer hours. Apart from the material fondness, there is a very cool design on it. It has a nice notch lapel collar and a smart belted closure at the front. It also offers plenty of pockets too. A really, very wholesome outfit.
This woolen coat is perfect for casual and semi-casual wear. You can wear it at your office by combining it with dressy clothes like dress shirts and dress pants. You can also wear it casually by combining it with knee-long peasant dresses, midi skirts, skater dresses, and other outfits. Beige and grey colors would go best with this outerwear.
THE BLACK PUFFER COAT OF NICOLE KIDMAN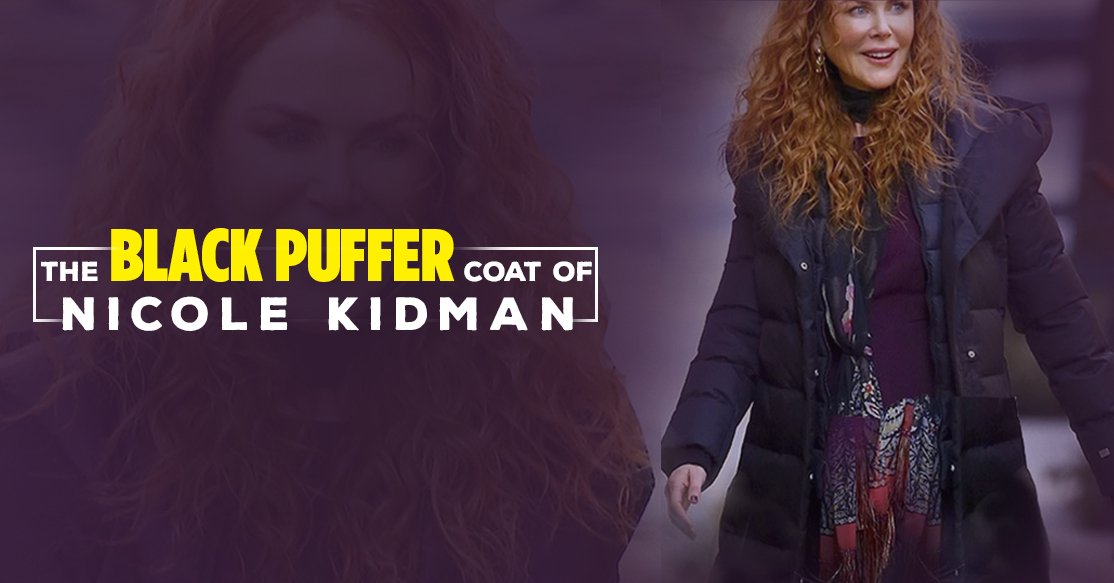 The Nicole Kidman Puffer Black Coat is the real souvenir of winter fashion. This is a treat for the fashioners in the town who want to look different and fashionably distinct at their crucial events. This thigh long coat uses parachute material outside the coat and a viscose inner lining to keep you warm and cozy for your long hours' use. Other than its comfy fabric and fine stitching, the stitching of its designs and embellishment is notable too. There is a zipper over buttoned closure at the front and a nice hooded collar adding to the class of the outfit. There are plenty of pockets too that offer convenience to you in your daily routine use.
This black puffer coat is a perfect casual and semi-formal outfit. You can wear this at your high school, pairing it with shirts, sweaters, dresses, and jeans. You can wear it while you wander around the streets for an evening walk, pairing it with frocks, skater dresses, and midi skirts along with leather knee-long heeled boots. This outer layer is perfect for casual party wears too. You can also combine it with jumpsuits and all. While hiking and trekking, this puffer jacket would function best and would be your mountain companion in the most fashionable way. Log onto our website in order to avail this coat.
THE BROWN WOOLEN LONG COAT FROM THE UNDOING
A brown-colored woolen trench coat is the desired outer layer and outfit of every lady of every age. It is a mandatory winter attire that ladies love to wear at their loved and crucial occasions and locations. The Nicole Kidman Brown Coat is also a nice ensemble and upper layer for winter. We have made this awesome clothing piece available in our stores for you. Go buy it and try some auspicious styles with it. You will love it. This coat uses woolen material outside, and there is an inner layer of soft and cozy viscose material for durability and comfort. It has a buttoned front closure and as well as a broad same colored belt styled over the buttons at the front. The collar is a notch lapel collar, and there is a pair of waist pockets at the front of the trench coat. It gives you real wholesome vibes.
You can style this coat nicely with a clever fashion sense at any sort of event. For a formal party, you can style it with an all-white or an all-black outfit wearing a pair of heeled leather pumps. And for casual outfits, style it with jeans, ripped jeans, and low-top sneakers or loafers. You can also style this with a dungaree or jumpsuit dress for a casual party outfit.
THE HOT MAROON VELVET LONG COAT OF GRACE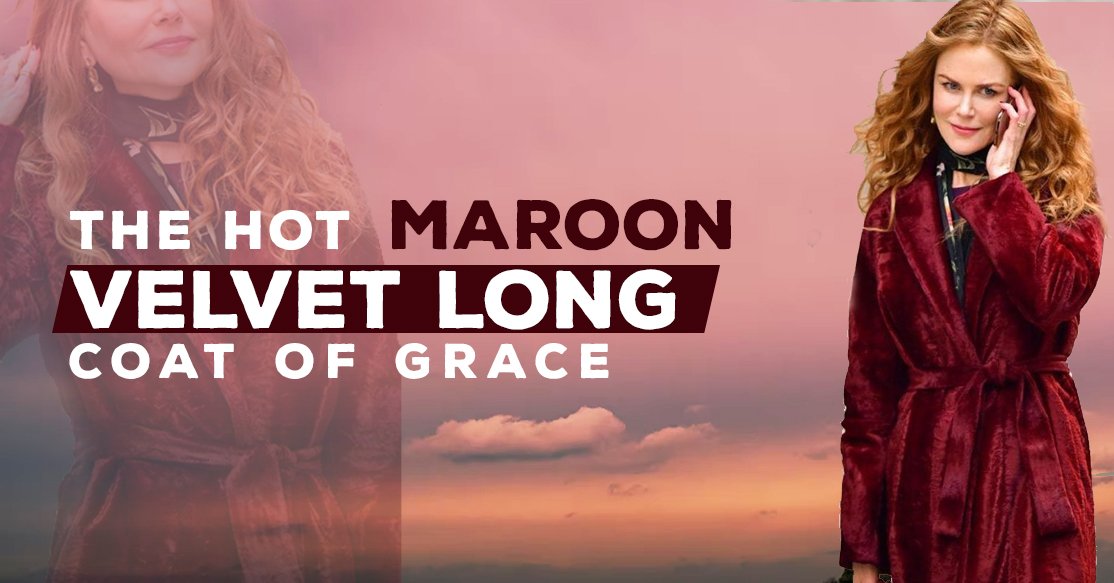 Velvet dressing is very common in every culture and in every geographically distinct region. When the winter season is here, we witness a huge sea of velvet dresses of different kinds on the dummies in the markets. Both eastern and western dressing has a vast room for velvet designing and velvet dressing. The Nicole Kidman Maroon Coat is a velvet made warm and cozy trench coat. It also uses viscose lining inside it, which is stitched really very finely in order to keep you at ease if you wish to wear it for the whole day long. The coat has a smart and classy front belted closure and a smart, not lapel-style collar. The long trench coat also offers a hidden yet accessible pocket that is stitched inside the velvet coat.
You can style this outfit for your casual and semi-formal fashion combinations that you may want to carry at your high school or some casual party like a birthday party or graduation party. You can wear flare pants, culottes, and also simple skinny pants. Sweaters and high necks would also work nicely with this maroon velvet coat. You can also wear dungaree and jumpsuits with this, the skater dresses and midi skirts, and suede leather knee-long heeled boots.
THE COOL GREEN FROCK UPPER LAYER OF NICOLE KIDMAN
Polyester outfits and outer layers are the best ones for your semi-formal and casual fashion outfit combination. These are the must-have winter souvenirs for fashioners and styling lovers. Winter fashion is not complete without these. The Nicole Kidman Green Long Coat is also such an outfit that you can wear with your casual and semi-formal outfit fashion combination. The outer layer uses polyester fabric and a viscose inner lining that is stitched really finely and smoothly. This is to add to your comfort, and it increases the durability of the coat. It is a frock-style coat with a lot of frills at the bottom. It makes the coat look really pretty and decent. There is a buttoned closure at the front and a nice and smart hooded collar. You can see the merger of a hoodie, frock, and coat all in one outfit, and it is really cool having such an outer layer.
You can style this coat very classic in your casual parties and daily routine casual outfits. Wear beige or blue chinos along with a cable sweater, wool knitted turtleneck, or high neck, or you can also wear something georgette made with this for your random shopping trips or high school fashion outfits. This coat would also be your companion for your casual parties. You can wear it with skater dresses, midi skirts, and peasant dresses along with knee-long heeled boots. Jumpsuits, dungarees, and culottes would look nice too with the green polyester-made frock style long coat of Nicole Kidman. It is really the one in a million outfits.
The talented and versatile senior actress Nicole Kidman inspired us in many ways. Her charming and glowing persona styled really very pretty and nice outfits in order to add those to the fashion world. You can avail this outerwear from our store. Log onto our website and avail these cool outfits.