Wanna get yourself be as popular as a celebrity? Please do yourself a huge favor and start following street style to observe the remarkable difference in your appearance. Let me tell you this, there is nothing special or tricky in adopting the street style. It's perhaps the one and only type of fashion which doesn't require you to follow a particular standard.
Nevertheless, it kinds of encourages a fashionista to implement all the fashion-related imaginations and turn them into reality by doing whatever it takes to build a fascinating outfit composed of various components.
What makes street style fashion different than the rest of the forms of fashion? It's the idea to adopt anything that one believes suits him or her while keeping all the fashion rules aside. In the end, an individual decides what fashion means to him or her.
With a global emergence of the street style by every fashion following an individual into it, you couldn't be better without giving any try to it. As you might be running short of time, check out these enormously fabulous attires to build a street style themed outfit.
Selena Gomez
I couldn't think of anything else other than starting the topic with the first three recommendations locked solely for the women. Getting covered from bottom to the top with real leather made elements sounds like a dream come true. One out of zillion ways to build your street style filled outfit is to team up A Rainy Day In New York Selena Gomez Red Jacket with a short sized shirt, purple heels, and narrow black leather pants to complete the look. This could be the once-in-a-year look of yours while promoting the street style at its peak. C'mon, you have the guts to reveal the inner fashionista of yours while not giving a damn heck to the fashion-illiterates.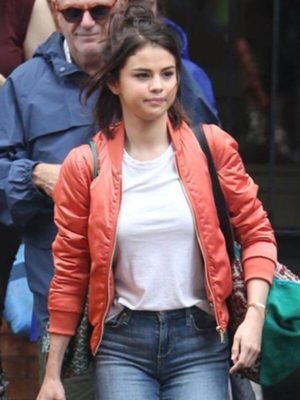 Paulina Andreeva
The Russian actress's breathtaking fashion approach by adding the Better Than Us Paulina Andreeva Yellow Leather Jacket into the wardrobe is another truly awesome element to stay in the limelight and shock the fashion freaks out there. If paired with a green shirt beneath and a full sleeves shirt wrapped up around the waistline, it would make all the fashion-following beginners in your circle a companion of yours. No, you don't have to create a things-to-add list to further elaborate the look when the said outerwear is enough for a street style outfit.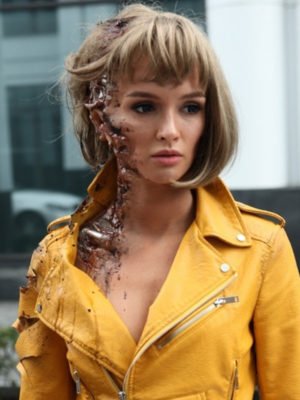 Demi Lovato
What do you think of a rare contrast of orange and black? As fascinating as it sounds, just pay close attention to the colors-filled design of Acne Studios Demi Lovato Leather Jacket after managing to add the rest of the elements to your outfit. A very-well-structured piece, It could be what you might be looking for excellent street style clothing. Even if it wasn't, you still have a lot of other options open to try!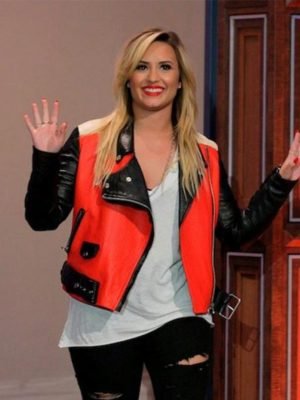 Boyd Holbrook
Enough for the girls today, time to get back to the men fashion! All you fashion-addicted men, you could do anything with Boyd Holbrooks' camel shaded outerwear called the Actor Boyd Holbrook Jacket. As far as my analysis is concerned, the odds are going to be against you in finding the equivalent to the said outerwear even if you spend a year being glued to the chair in front of the computer. What's for you to follow? Well, pair up the loose trousers with a printed shirt as well as Chelsea boots matching the outerwear for a simple yet elegant look.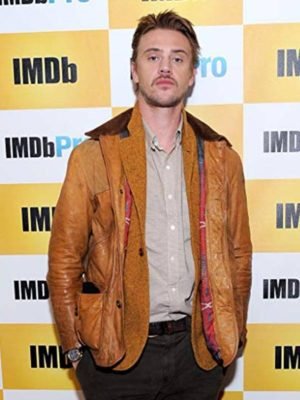 Taylor Kitsch
Have you been frustrated for quite a long time to draw the attention of your fashion rivals towards you? Don't you worry at all since you have been left with a remarkable option in the form of American Assassin The Ghost Leather Jacket. When you are out of fashion-related options, the only way to boost up your confidence is by relying on tougher skin than the usual ones like a real leather jacket. In case you have been wondering why? Because the leather has been a common staple among the men for decades. In short, leatherwear easily adjusts into an outfit without much resistance.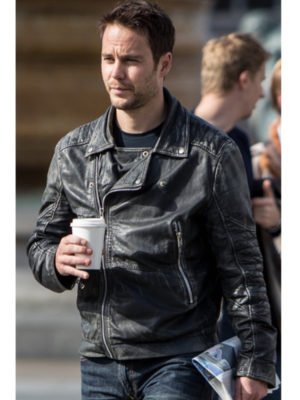 Michale B Jordan
The inspiration from the Killmonger portrayer Michael Jordan took me back to the times when men felt proud to maintain a classic decent look. Although the Black Panther Michael B Jordan Jacket could be integrated into a street style outfit, it would be much better to wear it with a semi-street style outfit. As these words fall into my suggestions for you, don't take these seriously and feel free to use your tiny brain according to your likes and dislikes.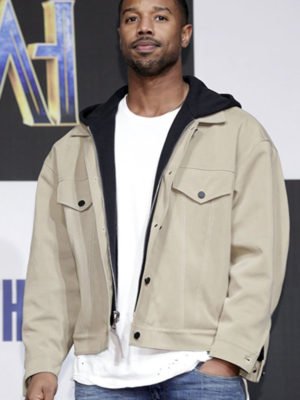 Martin Lawrence
For a casual appearance like a teenager, you should be spending on varsity jackets as much as you can! It all depends on the colors of your outerwear. If the outerwear comes in red, you better add more colors to the street style clothing rather than just sticking to the black and brown colors. However, if lighter colors are your priority, don't mind adding black and brown colors in the rest of the tools for excellent contrast. As we move towards the last option, try out the Bad Boys for Life Martin Lawrence Jacket instead of drifting here and there to waste your time finding a better piece.
A couple of Must-Follow Tips
Don't try out the same colored elements while composing an outfit. Keep in the tiny mind of yours, the more colors you wear the more attention you grab. Can't believe it works? Stop relying on the same colored clothing and try it yourself!
Yeah it is kind of complimentary to design your outfit the way you want but ensure to keep an eye at the latest development in the street style fashion otherwise, you might end up following the same old trend unintentionally. In short, before you intend to build up an outfit based on street style fashion, make sure you have been through all the latest trends.