Halloween is a few months away. But people are already on a mission to find the costume for it. It is a great competition to wear a costume that looks different from others. And no offense! Whatever we do, sometimes we have the same costume but this time, try something different that no one thinks you choose. 
Yes! We are talking about Harley Quinn Costume. We all know that people love Harley Quinn, but many hesitate to choose her costume for cosplaying. Because her look is a little tricky. But we all know that Harley left huge costume ideas for her fans. You can get all her look in no time if you get to know what you want to cosplay her look. So why don't you try Harley's as one of the costume ideas for Suicide Squad to get the modish look this year? In this guide, we have made a list of things you need to cosplay Harley's look this Halloween: 
The Astounding Leather Jacket In Two Colors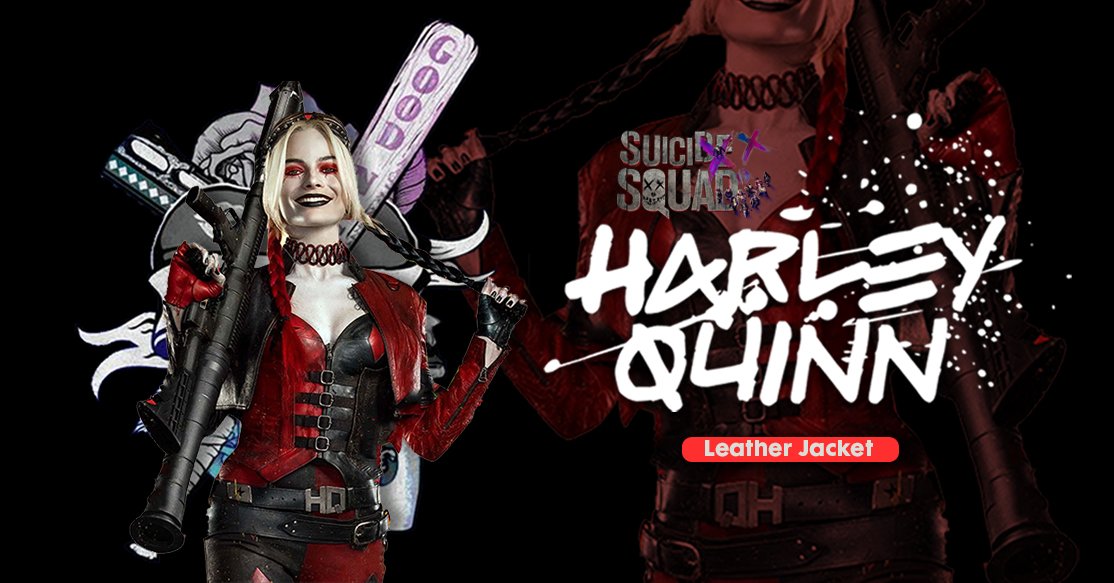 Shop Now
For cosplaying this incredible look, you need the first thing for the upper is this Harley Quinn Suicide Squad 2 Jacket. No wonder! You start this cosplay. We all know that Harley is famous for wearing the top layers that grab the attention of every person out there to get the same look as her. Get your hands on this leather-cropped jacket. It should be in two colors, red and black. Moreover, remember that this jacket should have the Embroidered patch on the back with the written Live Fast, Die Clown Patch. It is the first step to getting Harley's style this Halloween. 
The Alluring Leather Vest In Black And Red Color
After getting the leather jacket, keep in mind that the inner of her look makes her costume attractive. So make sure you get the same inner like her. In this costume, she wears the leather vest that makes the Harley Quinn Leather Jacket more appealing. For the cosplaying, this look at Halloween, give yourself the treat of boldness by wearing the two-shaded leather vest. 
Leather Leggings In Two Tones
With the end of the top layer and inner, you need the sleek bottoms that will never disappoint you. So grab your hands on skinny leather leggings in two shades. Red and black color leather leggings will look modish. You need these leggings to get the look like her this Halloween and to stand with your look. Make sure it is in black and red color so that this look won't let you down.
Leather Gloves In Black Tone
We all know that Harley is famous for the unique style and detailing she does to get a sleek look. And while cosplaying her look this Halloween, you also keep your eye on every little detail of her look. If you miss anything in the look, it will affect your styling. However, talking about detailing, you need leather gloves to look beyond perfect for this look. Further, the gloves you take should be in black.
Black Knee-Length Boots
Footwear is essential in any cosplay. Because this is a thing that enhances the beauty of the costume, for this style, you need knee-length leather boots. It should be in black. This look is all based on black and red. So without wasting more time, get your hands on the black knee-length boots for an incredible Halloween look. 
Holster And Gun
If you know about Harley's every look, then you might know that with every look. She carries one prop. And it represents that look. With this look, she carries the weapon, which is a gun. However, cosplaying this look, you should get them too.
Further, you need a big black gun and a dark color holster. You can see both in her costume. The holster is a gun holder. She carries both with her in this look. So get your hands on this. 
Leather Belt In A Dark Shade
Keep focusing on all the detailing of her look. For this look, you need a leather belt too. The leather belt should be black. So grab this belt to put it on over the leather leggings. No wonder! It also plays a vital role in adding glam to this cosplay. 
Jewelry 
In jewelry, she always chooses something that will enhance the look and add boldness to the look. We have seen her wearing a red choker in this look. So get your hands on the red choker to wear with this look. Don't go for any other color of the choker. It will dull the spark of this cosplay.
Dark Shaded Nail Paint
When you are cosplaying her, look and keep an eye on every detail. Then you should all take care of the nails. Her nails always have nail paint. So get your nails painted on too. For the look, you need black nail paint. Paint your nail all over. And get the shiny hands this Halloween. 
Hairstyle 
We have seen her in different hairstyles every time. She made sure to give her fans the challenge to get her to look every time. In this look, she has had both braids in blonde color. So to look like her, get a wig with blonde hair. And make two braids with the middle partition. And you are all ready to rock the Halloween party. 
Makeup Look  
Any cosplay of Harley's look is incomplete without her makeup look. For this look, you need a lighter shade foundation. Don't worry, you won't look bad. For the eye shade, take the red color and do simple eye makeup. We have seen Harley always wearing dark lipstick like black and red. So you can try both for this cosplay. 
The Ending Words 
In the end, doing cosplay of Harley Quinn's look is super easy but tricky. Every time you decide to get the look like her at any cosplay party or Halloween, just make sure you cover all the details of her look if you complete all things from her look. Then no one can beat you to rock and leave your cosplay marks in everyone's mind.