Christmas is the best time of the year because of its festivity and cherished moments. It is the season when you can have the most fantastic time with your loved ones. But at the same time, the festive season needs so much tiredness and effort since you need to plan your menu and decorate your home in the cutest way. All of these rituals make your holiday season great. Yet, still, the creation of Christmas outfits is another essential task in itself. As the holiday season is just a month away, it is the right time to plan your festive outfits.
In this article, you will learn how adding Christmas Jackets can craft the most extraordinary holiday styles. This year, try out something else and go for the creation of costume clothing styles. Indeed, dolling up your holiday movie character is the best thing you can do for Christmas. It might sound odd, but this is the most fun way to celebrate your Xmas 2023. Following are the most popular Christmas movie character looks, and you can't afford to miss out on these classic options. Choosing these costume looks allows you to achieve the most stunning Christmas party styles.
The Cutest Elf Costume Style 
Christmas Elf Costume is what you can choose for your Christmas look. When it comes to the holiday season fiction, elves have a great role. This is why you need to consider the creation of this popular yet adorable style. The comedy movie Elf inspires this cutest style, and you should check it out if you have never seen it because of its entertainment. 
Before going for something else, you need to pick up the main item of this costume look: the Elf Shearling Green Wool Coat. This sweet is a combination of comfort and festive vibes. Moreover, you can find wool fabric and viscose lining. Then, you can have a zipper closure and a shearling-style collar. Its green color and full-length sleeves have added more grace to this green coat. Here is the method to craft the most outstanding Christmas clothing style.
The Sweetest Santa Costume 
National Lampoon's Christmas Costumes are always part of cosplays and Halloween parties. But when it comes to the Christmas look, no one is confident to follow to something costume. However, this year, you need to ditch all the traditional methods to style for the festive season and go for something entertaining. National Lampoon's Christmas Vacation is one of the popular Christmas movies, and its inspired costume style can make you the center of attention.
Additionally, Clark Griswold Costume needs the most essential piece, which is the coat. Santa Claus Outfit For Sale is here, and you can have the best quality piece at the most affordable rate. This charming red Santa coat combines woolen fabric and viscose lining. It has a buttoned closure and a lapel-style collar. So, before buying any other item, get this costume coat to look the finest. Now check out the way to create this outfit style.
The Coolest Holiday Season Coat  
All of the above Christmas Jackets are an optimal option for cosplay looks. But when you are looking for something festive and want to be attention-seeking, here is another clothing option. Mens Funny Ugly Christmas Blazer Jacket is the stunning option when you are considering a Christmas Blazer costume style.
This Christmas Blazer Coat has suiting fabric and viscose lining. Also, you can have a buttoned closure and lapel collar for a refined style. There are two front pockets and two inside pockets. Finally, you can have full-length sleeves that make it more stylish, so when you are looking for the simplest costume style, that is what you can choose for your festive outfit. Now, check out the way to create this funny holiday party style. This blazer has the quality to style in so many ways, so you can choose whatever you like the most.
Wear a white or

black dress shirt

, it is your choice since both of them have been used in this costume look.

Then consider the addition of similar

printed pants

to this costume.

Furthermore, you have to add the blazer coat.

Then, finalize the look by wearing a

printed tie

with it.
The Elegant Festive Blazer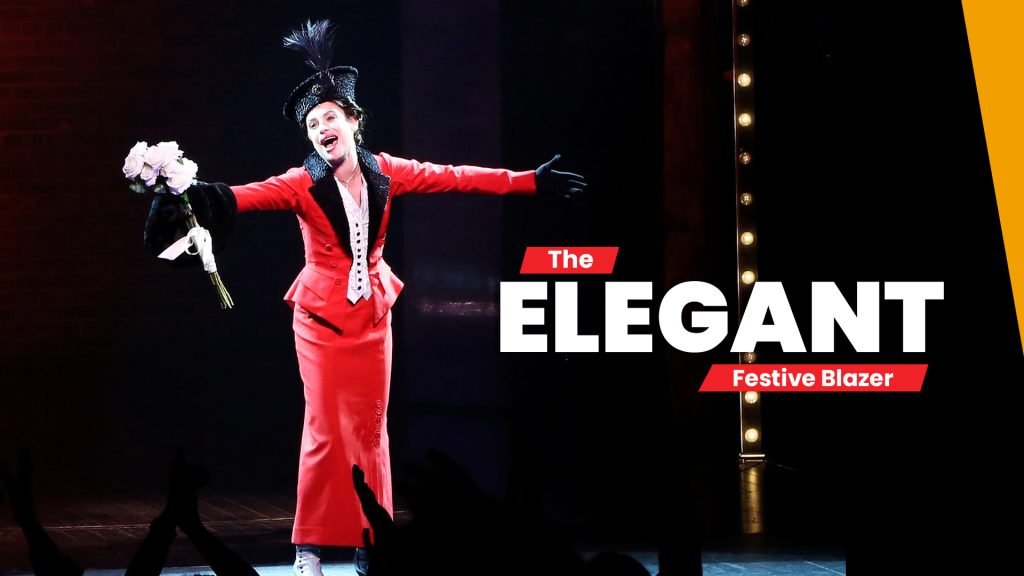 Lea Michele Funny Girl Red Wool Blazer is the most appropriate option for girls. All ladies not ready for the basic festive season style must choose this look. Without any doubt, with this blazer, you can achieve the most elegant costume style ever.
This blazer is an optimal option for formal looks as well. It has a woolen material and viscose lining. Then you can have buttoned closure and faux shearling collar. At the same time, multiple pockets and full-length sleeves are for the most ideal Christmas style. Now, check out this way to create a polished style.
First of all, add a

white blouse shirt

.

Then you need to consider the addition of a

red skirt

.

Also, add this red coat to make things on point.

Create a similar bun hair look.

Moreover, you need to wear

black gloves

.

Finally, add a black cap to conclude this style.
The Closing Thoughts 
This article gives you all the top ways to style yourself in Christmas Jackets. We have given you a new way to celebrate your festive season. Therefore, place Just American Jackets soon and add all these charming pieces to your cart. Be quick, or these items will go out of stock.