Getting a new change
Ever wonder why we struggle to change something in our lives to feel something new and fresh? Well, instead of actually putting a lot of effort into changing something drastic, all you need to do is to get this stunning piece of leather, the Heartland Amy Fleming Clothing. This jacket has been inspired by the one and only most popular show, The Heartland. The character of Amber Marshall was the most lovable, and she gained loads of love and following after this avatar of hers. The character of Amy Fleming was just so cheerful, and so was her wardrobe for the series. She has this nice range of coats and jackets that she wore, and it has definitely won the hearts of people.
Already blushing with red.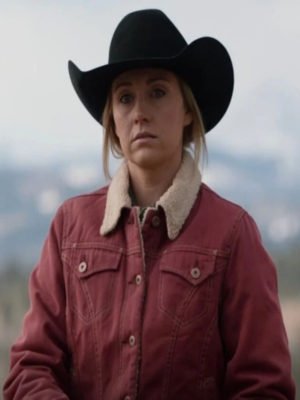 Heartland Amy Fleming Red Sherpa Jacket
The red color always looks classy and especially if it is designed for a woman. The red nail color and high-waisted pants go so well with this color of the jacket, and long black boots just complete the look. For this, all you need to do is grab this Heartland Amy Fleming Red Sherpa Jacket. This one looks just so trendy and classy. You can own this look with a cute red cowboy hat, just like Amber did in the series. This jacket will be enhancing your glamour, and hello, you look stunning. It is the ultimate go-to jacket for your Christmas party or valentine's day date.
Fabrics and cloth
Heartland Amy Fleming Plaid Jacket
A fine fabric lined with inner viscose material jacket is just amazeballs. You can have this Heartland Amy Fleming Plaid Jacket beautiful check patterned and finely detailed jacket and slay your look at a formal party or just enjoy the snow. You will literally be swinging and enjoying the snow because of the fact that this jacket eventually has the most comfortable and durable material. It is just not about being the style icon, but you should be having something in your wardrobe which is worth wearing and have a class and glam attached to it. So that you are able to flaunt it.
Starting fresh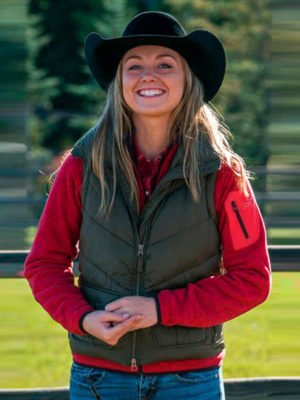 Heartland Amy Fleming Green Vest
If you are planning to start a new life and are tired of carrying the burden of your past life. You might need to give yourself a fresh start and not only by your work or family but also with your appearance, healthy diet, and some great workout tips. For this new you, you deserve something better and subtle. The green color is considered a blessing and a sign of renewal, so for this, you need to have this Heartland Amy Fleming Green Vest in your wardrobe. You will be looking like a trendy and chic person with that jacket on.
A Date with destiny!
Heartland Amy Fleming Red Jacket
Going for a date and slaying it every time is a tough battle; however, when it comes to pairing something along with your boring pair of pants or a skirt, you need to get this Heartland Amy Fleming Red Jacket. Once you have it, you will feel like it is the most quintessential part of your outwear, and it will suit you more than you think the color red does. This will compliment your personality so well with the red high heels. You are able to look all gorgeous and adorable on your date just because of carrying this trendy jacket. This ferociously ritzy jacket can be the key to you looking at a stunning woman.
Working woman avatar
Heartland Amy Fleming Leather Jacket
If you are a working woman and you want to be independent and set your own boundaries and rules. Then this collection of Heartland Amy Fleming Leather Jacket is for you. Women who are fiercely hard-working and determined can be rocking this jacket with pride. They should be treating themselves well since they have worked so hard to come wherever they are right now. Even if you are struggling for a position to get in life and as a woman, it all seems so difficult. Well, not anymore you need to just look and focus on yourself. This jacket will give you a boost of confidence and a wave of self-assurance and believe that you can do it because you are worth it.
Fashion Apparel industry
There are few things that fit a woman a bit too well, and we need to consider them. From the fashion apparel industry, it is the trimmed jackets that go well because they are one of the most carried outwears by women. You can just simply carry it with anything, and you will be flaunting the look. They feel comfortable and confident when wearing jackets. They are in a whole mood. And every woman has more than two jackets in their wardrobe so that they get to look stunning and chic at the same time with fewer efforts. And are not wasting their energy in choosing what to wear when they have something to pair with everything they have in their wardrobe, from crop tops to noodle strap tops to simple T-shirts, skirts, and long dresses.
Female celebs style overview
Female celebrities have got a style, and most of them follow the Holy culture of wearing jackets. If you are also someone who gets inspired by the celebrity looks and want to follow them, you also need to wear the jacket because of those stunning clicks on the magazine shoots and some great paparazzi candids. You can also get that limelight and media highlights every time you go out with this stunning and classy attire of wearing a leather or fabric-lined jacket, which looks absolutely flamboyant on you.
Women can conquer the world!
Outerwear that compliments your personality is so difficult to find. Always opt for colors that suit you. Also, you need to pair the jacket. Either it is trimmed jackets in the long ones with good appearance so that you can slay the loo and be confident in your own skin with all the self-assurance and believe in yourself. Because when she grows into a better human, she can conquer the world!