Besides meeting our interests in the freaking cold winter season, a peacoat generally influences our looks and increases our worth in front of the fashion-minded figures of our social circle.
While there are dozens of types of outer layers that could be used to update your apparel collection, a peacoat is likely the best bet. But why should you invest in ordinary peacoats when celebrity-inspired peacoats are already available in the online market of jackets and coats?
If this question sounds to be fair enough and has flooded your mind with tons of questions concerning where to get a peacoat from or which one is trending at the moment, you don't need to go anywhere else to get the answers.
In short, this article is going to provide you with the answers to these questions so that you don't have to go anywhere else to waste your time only to end up getting the unwanted stuff. So, let's start exploring the trendy peacoats inspired by a number of western celebrities including Hollywood A-listers.
Tom Cruise
Always at the front to entertain the audience of Mission impossible series, Tom Cruise's relationship with voguish layers is unbreakable. The 57 years old American actor has stylized many peacoats in the Hollywood films throughout his long yet very successful career, however, the Tom Cruise MI6 is literally the best of all.
Who doesn't love a wide lapel collar peacoat that too which is inspired by a celebrity like Tom Cruise? A fancy layer like this one is usually the easiest option to go for a bold statement look with the sole aim of impressing the not-so-stylish figures around you all the time.
You watch the whole Mission Impossible series and you are unlikely to find Cruise rocking something as cool as this outer layer which has gone beyond the highest level of popularity. If you want to rock it like a real fan of Cruise, you are recommended to team it up with a black turtleneck inspired by vintage fashion which should be supported by black cotton pants and a pair of Oxford shoes.
Vincent Cassel
If you have watched the 1995 film La Haine, you know more about Vincent Cassel than anyone else. Basically a French actor, Cassel has been in the news for wearing the Vincent Cassel Classic Peacoat like an experienced fashion model. Instead of opting for the luxurious items, Cassel usually goes with average items to define his class.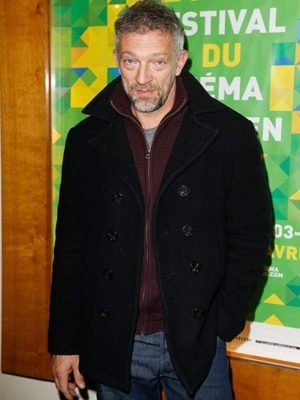 Often reviving the old trends, the French celebrity's latest hottest outer layer is sure to inspire his fans. In other words, Cassel's wool made peacoat is a good option to be used for the building of a blackish baggy outfit composed of various trendy accessories.
Whether you are a winter-hater or have a deep interest in going above-average, this peacoat is likely to allow you to bring the much-needed variation to your apparel collection.
For the best looks, you can don it with wild items like baggy short pants a hooded denim inner layer, and a rounded grey shirt as the innermost layer for overall hotness.
Brooke D'Orsay 
Donned by the utterly hot Brooke D'Orsay in the western film Christmas In Love, the Brooke D'Orsay Love Peacoat comes third in our shortlist of trendiest peacoats inspired by the celebrities.
Unlike the low-quality and unstylish layers rocked by the average fashionistas, this red peacoat seems to be the best option to complete your Christmas themed outfit.
So the next time Christmas season arrives, all you have to do is pick up the best casual items and team them up with this marvelous layer for a clearly superior look.
In addition, you can also think of using Orsay's smoking hot layer with the winter essentials like full sleeves cotton shirt supported by denim pants and black sunglasses for style purposes only.
Jason Bateman
Let's talk a bit about the American actor Jason Bateman who has blamed for introducing the Jason Bateman Office Party Peacoat in the Hollywood film Office Christmas Party. As sober as it looks, Bateman's wool made layer is probably the biggest hit of his life.
You take a look at all the casual or formal items popularized by him throughout the career and you would find this layer to on top of the list with no doubt at all.
If you have been fed up with trying various peacoats and haven't been satisfied with the single option, you need nothing else other than Bateman's mind-boggling yet extremely classy layer from the Office Christmas Party.
In order to rock it like no other fashionista you know, all you have to do is make sure to choose the trendiest fashion elements like navy blue cotton pants, brown footwear of any type, and a black button-down shirt unveiling your class.
Douglas Henshall 
The Scottish actor Douglas Henshall has been the key figure behind the utmost popularity of the Shetland DI Jimmy Perez which has given birth to a new trend of navy blue peacoats. Ever since Henshall has donned the above-mentioned layer in the television series Shetland, it has become part of his fans' outerwear collection without any major reason.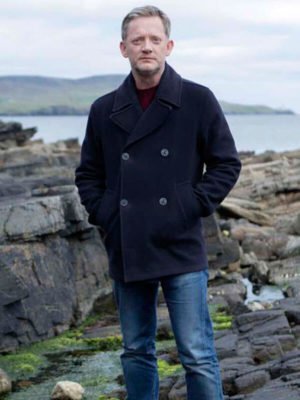 While there may be hundreds of celebrity-inspired peacoats available in the online market, the one donned by Henshall is probably the best of all.
If you have no smoking hot navy blue outer layer available in your outerwear collection, you can try this one to ensure you don't run low on navy blue peacoats.
Additionally, Instead of drifting here and there in search of quality layers, you can always think of grabbing Henshall's iconic peacoat with your eyes closed. Before you look for something else, think of going with the above-average options for a hotter look.