Valentine's day is near, which means that you have got the chance to make your partner feel more special on this particular day. One of the ways to do this is to give him romantic Gifts For Valentine's Day. And if you want to go on a date with him on this special day, then you will need to dress up in the most attractive way! Well, you can buy multiple outerwears from the Valentines Day Outfits at the most reasonable prices from our website! Now, let us take a look at some of them and then the styling ideas which can be used on those uppers!
The Vibrant Vivienne Black Heart Shape Blazer to Get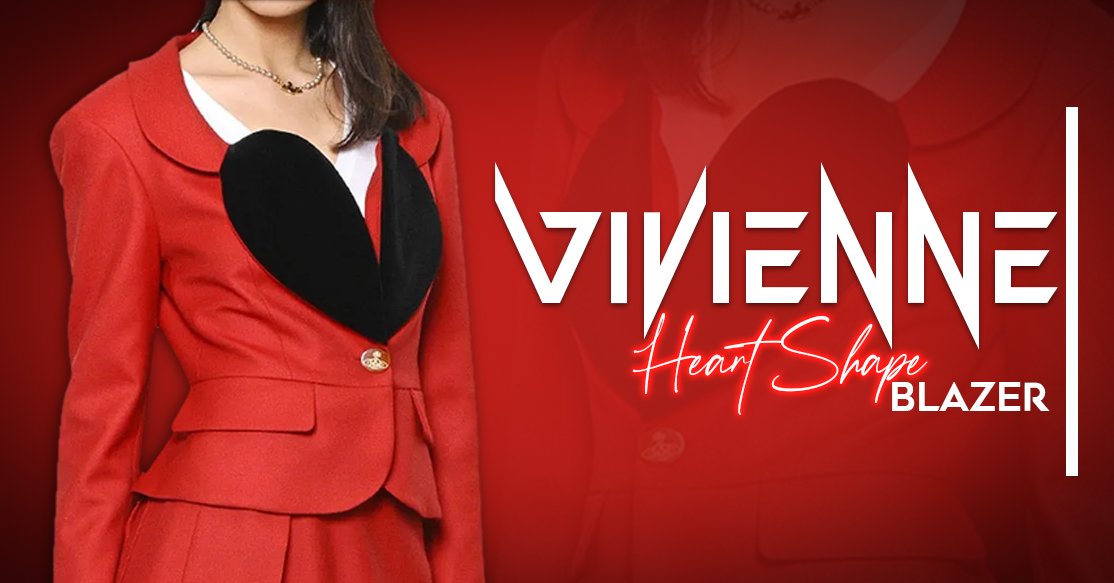 This unique Vivienne Black  heart Shaped blazer from the Valentines Day Outfits is a must-buy this Valentine's day as it is the perfect piece to wear on this occasion! Why? Let us discuss it in the following section.
Reasons Why This Blazer Is A Must-Buy On This Valentine's Day
This beautiful red and black blazer from the Valentines Day Outfits is perfect to wear on 14th February as it contains incredible attributes. Want to know them? Let us explain each and every detail of this astounding blazer. The most important feature of this iconic piece is that it has a black cotton heart attached on the chest area of this one piece. This black heart is the main attribute of this one piece which makes this blazer special and beautiful!
The combination of red and black always looks phenomenal no matter wherever it is used. Want to know more about this jacket? Sure! This blazer contains two flap pockets on each side of the front waist area, as well as one pocket inside. Are you excited to know how to dress up this lovely blazer in the most sensational way? If yes, then read on the next paragraph.
Styling Idea
If you want to dress up in a way so that your boyfriend can't take his eyes off your face, then follow these instructions. In order, to achieve your desired look, you will need to assemble some clothing items. Those items are a homburg, a white tanktop, black short skirt and a pair of red lace-up boots. Now, put on all of these items along with your vibrant red coat and amaze your partner! Wondering which handbag would look good with this outfit? You don't need to worry about it as we are here to assist you. Well, you can carry a doctor bag purse in black or red color.
The Amazing Tip: The inclusion of smokey eye makeup and red lipstick can be a game changer!
Impressive Women Heart Leather Jacket
This Women White Heart Black Leather Jacket comes in complete black color just like most of the leather jackets. But the only difference between this particular jacket and other leather jackets is that this jacket is printed with a lot of white hearts all over it. This is the main feature of this jacket which makes it quite distinct and lovely from the other jackets.
Characteristics of the Unique Heart Leather Jacket
This is a super-unique jacket from the Valentines Day Outfits which is made with the combination of high-quality leather and viscose lining. Both of these things satisfy its wearers in every way. The shirt-style collar of this jacket sends vibes of ease and satisfaction. At the same time, there are two zipper pockets in this jacket which are manufactured in a tilted way. This tilted design gives this outerwear an indulging feel! Now, let's have a look at the styling idea of this jacket.
If you want to add funkiness to this jacket from Valentines Day Jackets Collection, then you may stay a part of this discussion to know the whole styling of this upper. To start things up, let us begin with the shirt. So, for the shirt, we have multiple choices for you. Those choices are: a red tanktop and a tube top. Both of these things will make you look sassy in the most sensational way! So now you have the freedom to choose any one from them.
For bottoms, we recommend to choose from A line skirt, accordion or tulip skirt. All of these three pieces will beautify this single jacket in the most modern and fashionable way. Choosing Platform boots will make this jacket classy! So put on every piece along with your fancy black jacket from the Valentines Day Outfits to finish styling.
The Unmissable Heart-Throb Women Heart Shaped Jacket to Get this Valentine's Day!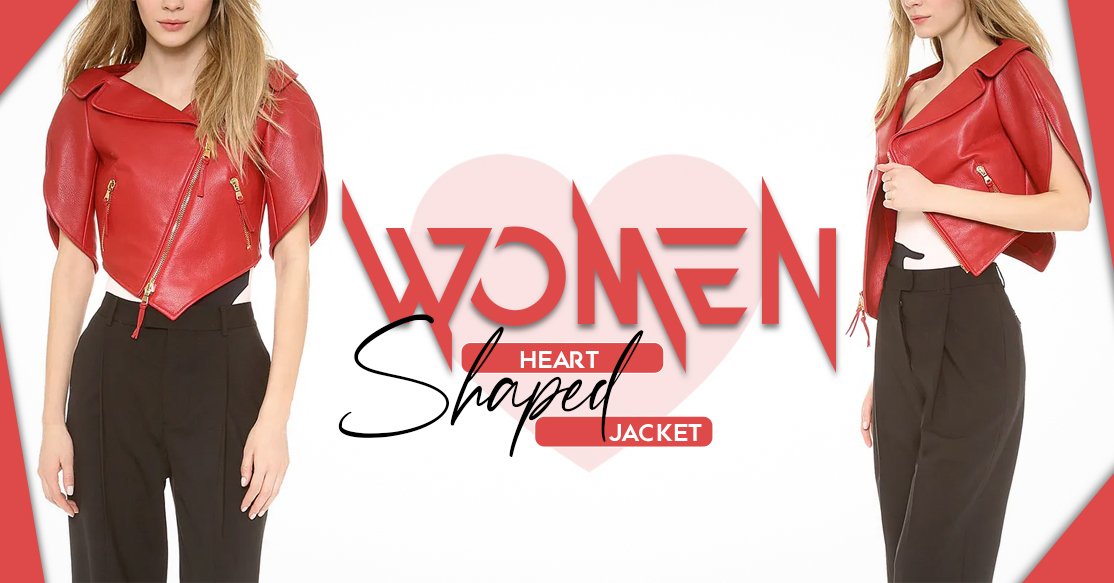 This Women Heart Shaped Jacket is a beautiful yet breathtaking jacket that is the dream jacket of every girl! The color of this glossy and super-voguish jacket is something that drives men crazy even in just one sight!
Why Should You Buy This Leather Jacket?
There are a number of reasons why you should buy and wear this one piece. The first reason is that this particular jacket is made with real leather which makes this single piece trustworthy and warm. This iconic jacket has Asymmetrical Zipper Closure which looks fab on this particular jacket. Also, this type of zipper closure is rarely seen. Do you know what that means? It means that you are lucky to get this jacket! The collar of this single piece has a lapel collar which looks prominently fantastic on this piece. Now, let's guide you on how to style this upper in the most stylish way!
We won't talk about much styling but whatever we will recommend, will surely look good on you! So, if you don't want to show your skin then you can wear a shirt inside this upper because it has some revealing parts at the bottom of the jacket. Other than that, you can wear this one piece with a black pencil or mermaid skirt along with black sock boots. Now include the leather jacket onto every piece and make all the girls go crazy by getting jealous of your look!
The Bottom Line
Embrace these outerwears in the smartest way so that you can make everyone go wow! So enjoy this Valentine's day with these uppers from the Valentines Day Outfits and their enchanting styling ideas! Did you know that all this merchandise is on sale on our website? If not, then now you know. So hurry up, and avail this Valentine's Day Sale before it's too late!