If you are looking for an interesting series, then you can go the American Horror Story. This series is an American anthology horror television series. It is created by Ryan Murphy and Brad Falchuk. The series spins around different perspectives, which include different characters and locations. It also includes a house with a murderous past and an insane asylum that is way too creepy, and a witch coven. It also has a freak show circus, a haunted hotel, a possessed farmhouse, and many more like these creepy places.
In the guide, you will find the fashion that speaks for itself. And more importantly, it is the style that you all might want in your closest. These are the apparel that can give you an effortless look in just seconds. The American Horror Story Outfits Collection is an ideal choice that is perfect to have a look you want in any weather. You can pair them on any occasion with any style of clothing. This guide is all about the fashion of the series that will look sophisticated when you wear it casually and formally. So without any further delay, let's get into this guide:
Turquoise Cotton Coat Of Jessica Lange
Do you want something appealing that will enhance your style? This Jessica Lange cotton coat is an ideal choice. In the series, Jessica Lange portrayed the role of Constance Langdon. This coat has an external of the delicate Cotton Fabric, and the inner of this coat is made up of Viscose fabric that will give you enhancing look. It has a buttoned front closure that makes you look attractive. The lapel collar is casual but will look astonishing with formal too. The unique Turquoise color makes it different from others. It has long sleeves with buttoned cuffs that is enchanting. It has two outside pockets and one inside pocket, which gives you enough space to carry your essentials easily.
Formal Outfit
If you want the style that represents you as a professionalist, then you should try this one for once. It will make you look sleek and simple. The classy blend of a blue button-up and navy wide-leg pants. It will look more professional when you add this American Horror Story Jessica Lange Coat to your outfit. To give it a more classy look, go with a pair of blue heel pumps. Nothing will make you look more pretty than this.
Casual Outfit
Getting a relaxed style is not rocket science. All you need is to go for the outfit that will bring comfort to you. For that, you should try the comfortable combination of a white crop top and blue denim shorts. It will look more attractive when you wear this coat over it. Furthermore, if you want a simple look, you can go for white sneakers. It will be the best choice.
Blue Mid Length Coat Of Evan Peters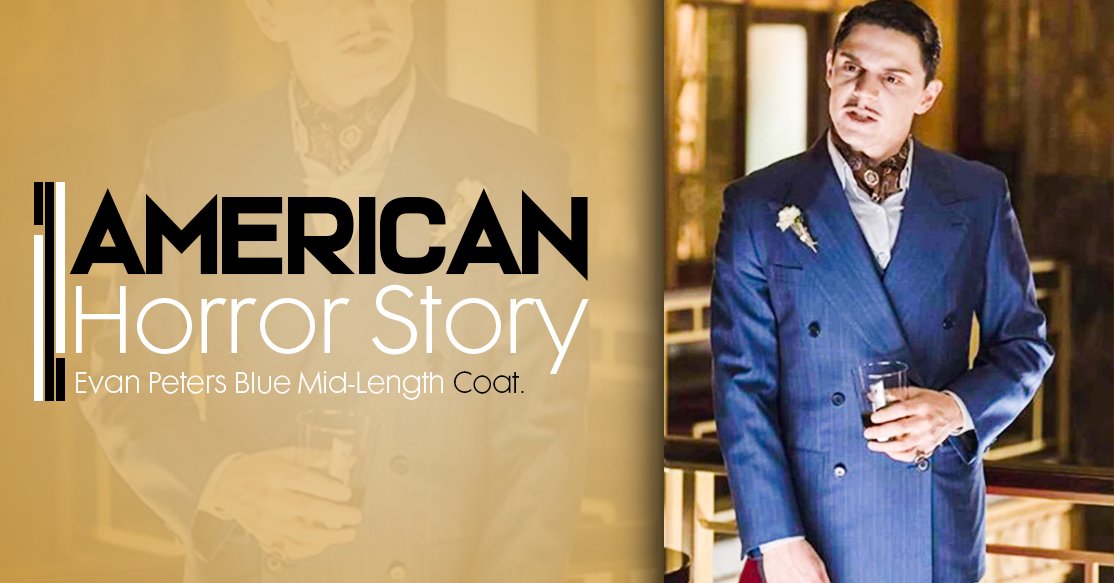 Are you even looking for the fashionable top layer that can effortlessly give you the style you want? Then this top layer is the best choice. This attire is taken from a series of American Horror Stories. Where Evan Peters wore this apparel and portrayed the role of James March, this coat is made up of pure Suiting Fabric and has a cozy inner of viscose fabric. The blue coat has a lapel collar which is easy to wear with any outfit. It has buttoned cuffs with three outside and two inside pockets.
Formal Outfit
Formal is not that tricky. All you need is to wear that will look more simple and delicate. For that, you can go for a black dress shirt and gray dress pants. It will look more enhancing when you wear this American Horror Story Evan Peters Blue Coat. No wonder! It will give you a gentlemanly look. For a more appealing look, go for the black leather loafers. It will give you all office vibes.
Casual Outfit
For the casual blend, you can always make yourself look attractive but relaxed with your outfit. For that, you can go for the classy and alluring maroon turtleneck and blue skinny jeans that will look beyond perfect when you wear this coat over them. Further, for the footwear, go for the white leather low-top sneakers. They will never disappoint you.
Leather Jacket Of Winter Anderson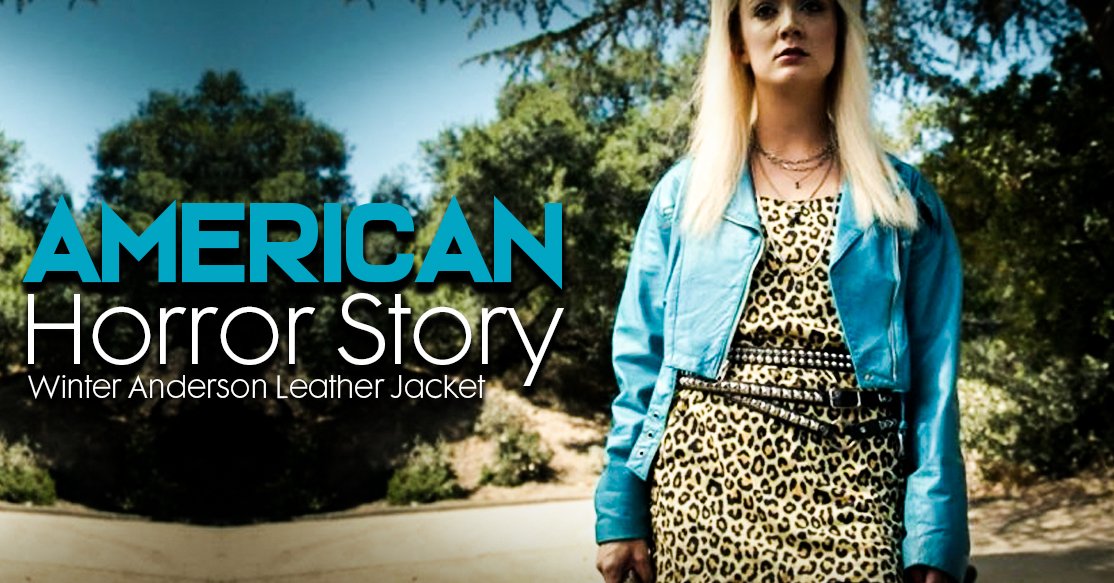 This attire is worn by Billie Lourd in the series American Horror Story where she portrayed the role of Winter Anderson. This jacket is made up of Real Leather with a delicate inner lining of Viscose fabric. It has a zipper front closure which is more enhancing. It has a lapel collar with open hem cuffs which is perfect for having both casual and formal looks easily.
Formal Outfit
If you are looking for the style that will make you admirable at your workplace, then go for this style. We bet you will look like the most fashion icon in your workplace. To get the style wear a gray tank top and white leather leggings. For the top layer, you can go for the modish Winter Anderson American Horror Story Leather Jacket. It will give your style another level of classiness. Further, for more professionalism, go for the pair of white pump heels.
Casual Outfit
For a casual appearance with this jacket, go for the black sweatshirt and blue skinny jeans. It is perfect if you are going out with your friends to have drinks or brunch. To give this look a more attractive look, go for this leather jacket. It will look amazing when you wear the black sneakers with this outfit.
Brown Wool Coat Of Neil Patrick
This coat is worn by one of the characters Chester Creb from American Horror Story. Neil Patrick Harris portrayed the role of Chester. This coat that we are talking about is made up of Wool Fabric. It has an inner lining of cozy and comfortable viscose fabric. This attire has lapel style collar, which is perfect. The brown coat has open hem cuffs. You can get perfect space with one outside pocket and two inside pockets.
Formal Outfit
Guys could have the most eye-captivating look informal dressing. It depends on them how they style their simple outfit in a fashionable way. To get this gentleman's formal look go for the tan dress shirt and khaki chinos. No wonder! They both together look the most attractive, but it will look more attractive when you wear this American Horror Story Neil Patrick Harris Wool Coat over them. Further, to give this outfit a more classy look, go for the dark brown formal shoes.
Casual Outfit
The relaxed and refined combination of white and navy vertical long sleeve shirt and blue skinny ripped jeans paired with this coat will look beyond perfect. It is a perfect style statement. Further, to give this appearance a more casual look, go for the pair of navy leather sneakers.
The End Words
In the end, you can have a sleek and up-to-date look with this apparel. They will never make you look out of fashion. You can wear them as you want. You can wear them casually and formally.