Trench coats and fur jackets have been a staple ever since they were featured in legendary classics on screen. Breakfast at Tiffany's featured our uber-favorite heartthrob, 'Audrey Hepburn' in a classic trench coat which probably was one of the reasons why women all over the nation have begun patronizing the outerwear.
Ever since Burberry patented the 'water-resistant' outerwear after acquiring inspiration from the classic trench coat that had been worn by the military in the Boer War, several fashion designers and retailers
such as Aquascutum have been working hard to design the perfect water shield. Trench coats are not only protective against the ironic weather norms, but are also iconic pieces of fashion today.
Mentioned below are 7 unique ways that you can style your trench coat.
KEEPING IT BASIC
Let's keep it minimal by styling a basic grey shift dress or a monochrome inner with a black water-repellent shield as an outerwear. Try wearing an inner that is slightly above your knees so that you can pull off the look with elegance when you wear a knee-length trench coat over it. Pair the look with stilettos or leather boots to flaunt your look with style
PAIR WITH ANKLE JEANS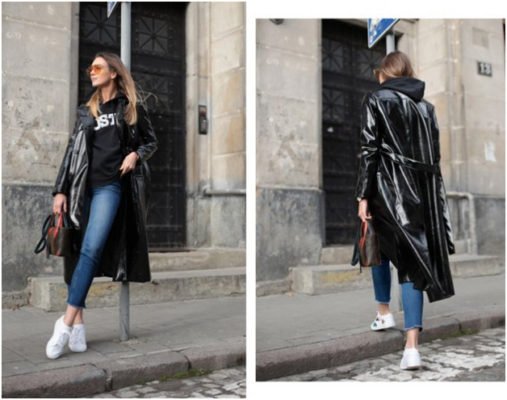 Nothing looks better than a pair of stone-washed or blue denim jeans and white or maybe black long boots on those extreme weather days. To truly protect yourself with the bad weather, just simply throw a black leather trench coat to have a classy look without worrying about the weather now that's something which you can't have that easily. Ankle Jeans is the real trend of today and can be worn flawlessly with a good combination of styles and wearing it with a trench coat is really worth considering combination.
KNIT SCARVES OR MUFFLERS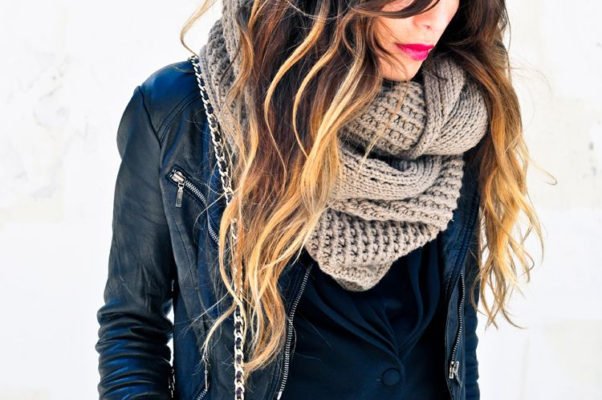 Dressing up for work might take most of your energy, we agree. Let's make this early morning ordeal interesting by pairing your eye-catching jackets with a scarf huddled around your neck and a pair of culottes or pleated wide pants before going to work. Throw in a couple of ankle suede boots or stilettos and have fun cackling around the office.
TRENCH COAT WITH YOUR GRANDMA'S SWEATER
To keep it quick: you can wear a trench coat in winter, but you definitely have to thorough some layer beneath so you shiver your teeth out. Wear a cute and fluffy sweater that matches the color or style of your beloved coat and wrap it up with a muffler. Last but not least don't forget to make it look like a perfect combination.
LEGGINGS FOR SMART LOOK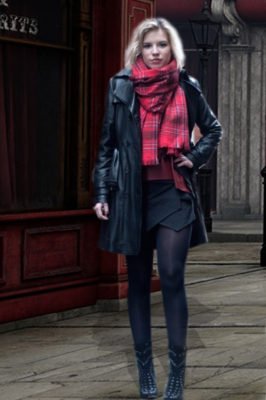 Black leggings should be constant when we talk about harsh weather conditions and fashion at the same time. Wearing a minimal outfit like a pair of black leggings and a simple, black skirt with your trench coat on a rainy day might seem like a basic outfit escape. Kick off this look by pairing your outfit with a little plaid number around your neck and studded leather boots for the finish
CROPPED SWEATER AND MOM JEANS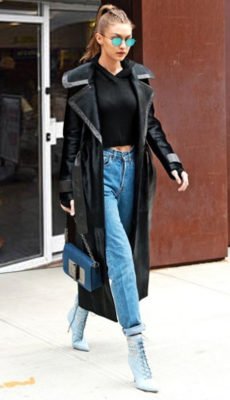 If you're down in a slump and think that your mom jeans might get a bit too much for the fashion police to handle, then take inspiration from Gigi Hadid and style your outfit the way she has. Look for a cropped sweater – black or white preferred – and wear it above a pair of mom jeans and blue suede boots. Throw over a black trench coat over your shoulders and cater to your grocery shopping in style.
TRENCH COAT OVER A SLEEK DRESS
Trench coats are preferred by countless women. It can be worn flawlessly in the chiller months but those who love this outwear by heart find it hard to keep in their lives through summers. The easiest ways to rock your beloved attire is to pair it with a sleek dress this way, you can balance it perfectly. Match your trench coat with a dress that you can't have a double thought with and Voila, that's how you rock your favorite attire in fall or maybe in summer.
Making a good combination is really a keynote to rock any outfit or a mixing different style to wear together and trench coat has various variations to go with, it's a very versatile outfit to play with. But the most worn outfit of today is the leather jacket, it wouldn't be wrong to say that leather jacket is the king if we are talking about the versatility.
Slim fit leather jackets are slowly rising above the norms and taking over our wardrobes with vengeance. It's probably time to stack our basic jackets in our wardrobes so that we won't be compelled to wear them when we are in a hurry. If you are a person who really loves a trench coat by heart and doesn't want to keep it just for the winter season and your heartache doing so than you should try to get them in more light fabrics so you can wear them in the fall or maybe in summer. Trench coats are really a time and seasonless merch if you have the right combination and fabrics to go with.