Do you sometimes wonder how quickly time flies? The year is getting close to its end. Yes, that's exactly what we are saying. The end of 2022 is not far off. Sincerely, it seems unbelievable that we have survived this year. This is because the world experienced next-level inflation in 2022, making the year extremely challenging. And you are not alone if you are one of those people who has not spent a single penny on themselves. Due to financial difficulties, many people have altered their lifestyles. But you know what? We have the most exciting things for you to choose from at the most affordable prices here. Before we get into the specifics, we'd like to know if you prefer the best clothing styles. If that's the case, you have come to the right place because here, we are about to demonstrate the best styling games for you. 
We believe that sales are most prevalent in November and December. And as a result, we have also developed amazing discounts and deals for you. We are currently offering fantastic styling elements as part of our new year deals. Now is the time to get ready because you can get your hands on some stunning jackets that will make you go, wow, this time. You can pick up the most timeless series-inspired jackets at the same time. Also, you can get the chicest leather jacket for your games of semi-casual styling. Are you impressed by these deals? Then you need to buy these outfits quickly, or you will miss out on the opportunity to purchase the appealing and warm items from the best new years day sales. 
No worries if you're here to get an idea of our collection's most stunning pieces. We are here to provide you with a list of the best possible outfits. So this time, get your favorite outfits that are inspired by your favorite TV show, "Power." When it comes to the Power of the Underground, the level to acquire this Power reaches extremes, such as betrayal, murder, and numerous other actions. Despite the fact that everyone aspires to hold the Power to Rule. However, the Power that we offer in our TV Series Power Jackets Collection won't have to go to these extremes because we have the best choices of impressive jackets that the fantastic characters of the series were slaying in the show. 
These amazing style staples that we are presenting to you are certain to entice you to the point where you will never want to part with them. These incredible jackets come in high-quality fabrics and also ensure that they last for a long time. Therefore, simply get your hands on these classical outfits and embrace your Power like a real boss!
THE CHICEST 50-CENT BLACK AND WHITE JACKET 
50 Cent has been a prominent figure in the fashion industry for a number of years. This time, his 50 Cent Power Black and White Jacket defeated all of the less-fashionable outer garments. And he is compelled by his admirers to purchase any other garment based on his style. The dual-colored layer has more to offer a wearer than just a few specs, thanks to its extremely thick real leather outer surface.
This masterpiece comes in 100% real leather material. And it also retains an inner lining of a soft and smooth lining of viscose fabric. With its zipper closing, ribbed cuffs, and rib-knitted collar, it stands out from the other outfits. This mind-blowing jacket was created as a direct result of 50 Cent's portrayal of Kanan in the Power series. This outerwear won't let you down in any way if you've been looking for a vibrant piece to wow your rivals. 
THE MESMERIZING 50-CENT BLACK LEATHER JACKET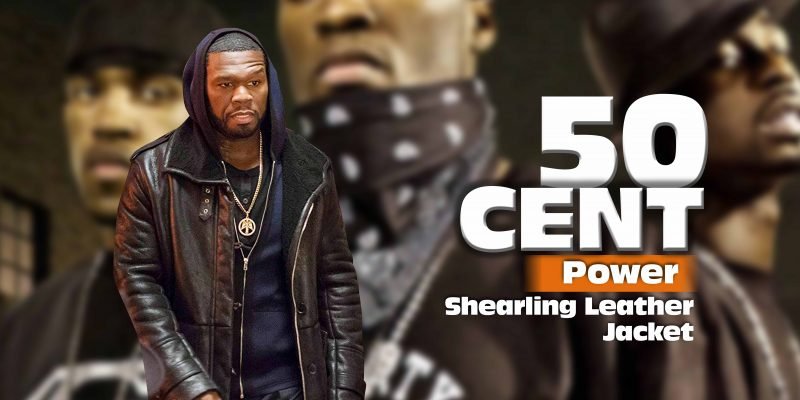 In Power, a thrilling and enigmatic crime drama, Curtis Jackson, who is famous by the name of 50-Cent, plays Kanan Stark. The character of Kanan Stark is a fellow drug dealer. Fans are in awe of the flawless and stunning style that each artist has presented now that the sixth season has ended. As one of the main characters, Kanan has a lot for his fans, including this 50 Cent Power Shearling Leather Jacket!
With all of its jaw-dropping and swoon-worthy details, the dapper outerwear is going to become your new favorite chic garment. This mind-blowing jacket comes in high-end features that will drive you crazy. It has a buttoned closure and a classic shearling collar that will make you stand out from the crowd of people with stereotypical outfits. The belted cuffs, two pockets with ample space on the inner side, and two spacious pockets on the outer side with full sleeves make this outfit more alluring and satisfactory. Plus, the belted cuffs at the end of the sleeves are the cherry on top of the cake! 
THE FASCINATING 50-CENT SHEARLING JACKET
Jackets help you make a fashion statement. If you wear a jacket or coat over a shirt or other clothing, your personality becomes more attractive and charming. In addition to keeping you warm and comfortable during the cold winters, the jackets or coats also give you a nice overall appearance. A widespread television series with 50 Cent as one of the leads, titled "Power," was released a few years ago. In this show, the lead character wears the super-duper cool and fashionable 50 Cent Power Kanan Brown Jacket. People felt overwhelmed when he appeared as Kanan in the television series after seeing him. The jacket that 50 Cent was slaying in Power is, in our opinion, the warmest jacket you can own during the chilly winter months.
The genuine suede leather on the outside of this jacket is of high quality. Faux shearling is for the jacket's interior lining. As the closure is zipped in the movie's original jacket, the zipper is visible at the front. The high-quality shearling itself is present here to make the collar as well. It comes in a gorgeous brown hue, making it the perfect winter attire and color that is best for the winter. As previously stated, the inside faux shearling lining of this incredible outfit keeps you warm and comfortable during the winter months. So this time, we suggest you get your hands on this mesmerizing outfit if you want to make a difference in your fashion game this year! 
WRAPPING IT UP FABULOUSLY
So, in the end, we hope you liked this guide about these ravishing outfits from the TV show "Power." And now, we expect from you that you will get your hands on your favorite outfit from this collection. Plus, it will also be convenient for you to get these stunning style staples this time because the incredible new year sale is already going live in the store. So, last but not least, we recommend you infuse some immense magic in your styling game by choosing these outfits and slay all year round this season!