If you love to follow fashion, then leggings must be your favorite clothing item to wear. Because leggings are something, which makes a person look super-alluring in every way! The purpose of them is to make their wearers look sassy and stylish simultaneously! In today's conversation, we will talk about eighteen legging outfit ideas which will make you look stunning! So take advantage of them and make 2023 special!
18 Amazing Ways To Style Leggings
Let's talk about eighteen amazing ways to style leggings this season.
1. Tube Top With Leggings
On number one, we have the footed leggings outfit idea for you. Start styling by combining these leggings with a black leather short skirt. We are sure that this combination will make everyone mesmerized within a second! For footwear, go for red Platform shoes. Get your hands on a red tube top for upper body wear. In the last step, put on an appealing red leather jacket over the whole outfit to finish the look!
Do you want to look for other leather jackets for this Valentine's day? Well, our website has valentine's day jackets on sale right now! So you can go and check out some really cool jackets for women there! So hurry up, and avail this golden opportunity before they get out of stock!
2. Tank Top With Leather Leggings
Leather leggings are the sassiest type of leggings that one can wear to flaunt an alluring look! Wearing a tank top along with some short black leather boots is a fantastic idea adopt! And put on some shiny red leather biker jackets to create a magical look! You can visit our website to select a women's biker jacket that will be perfect for this styling combination.
3. Crop Top With Knee Length Leggings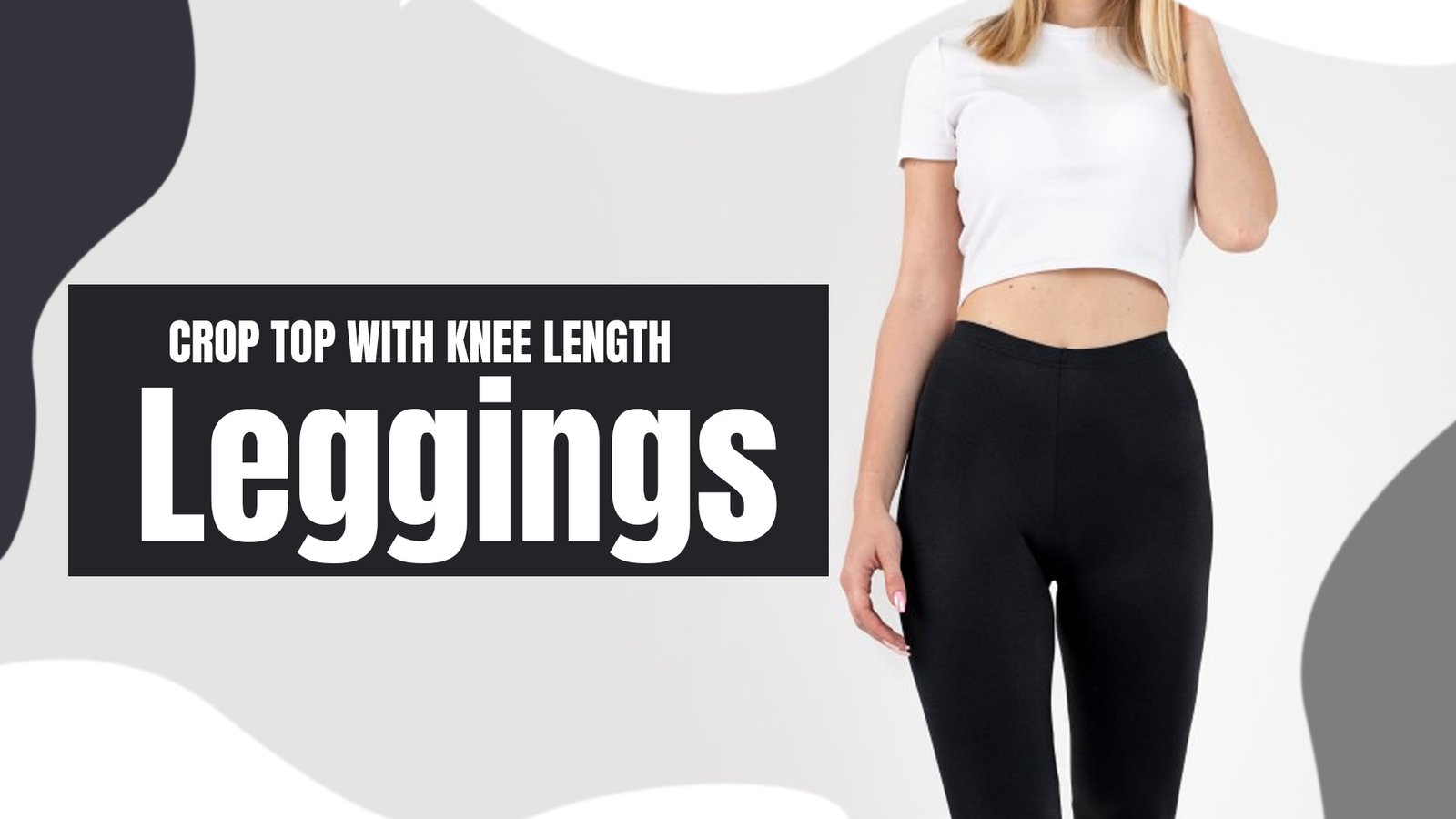 Knee-high leggings are similar to Capri jeans. The only difference between them is the fabric. You can pair these leggings with neon Lita or platform shoes. We bet this combination will make everyone go wow! For the upper body, get your hands on a crop top to wind up the look! This can be called a casual look but, in the most stylish way!
4. Sweetheart Top With Compression Leggings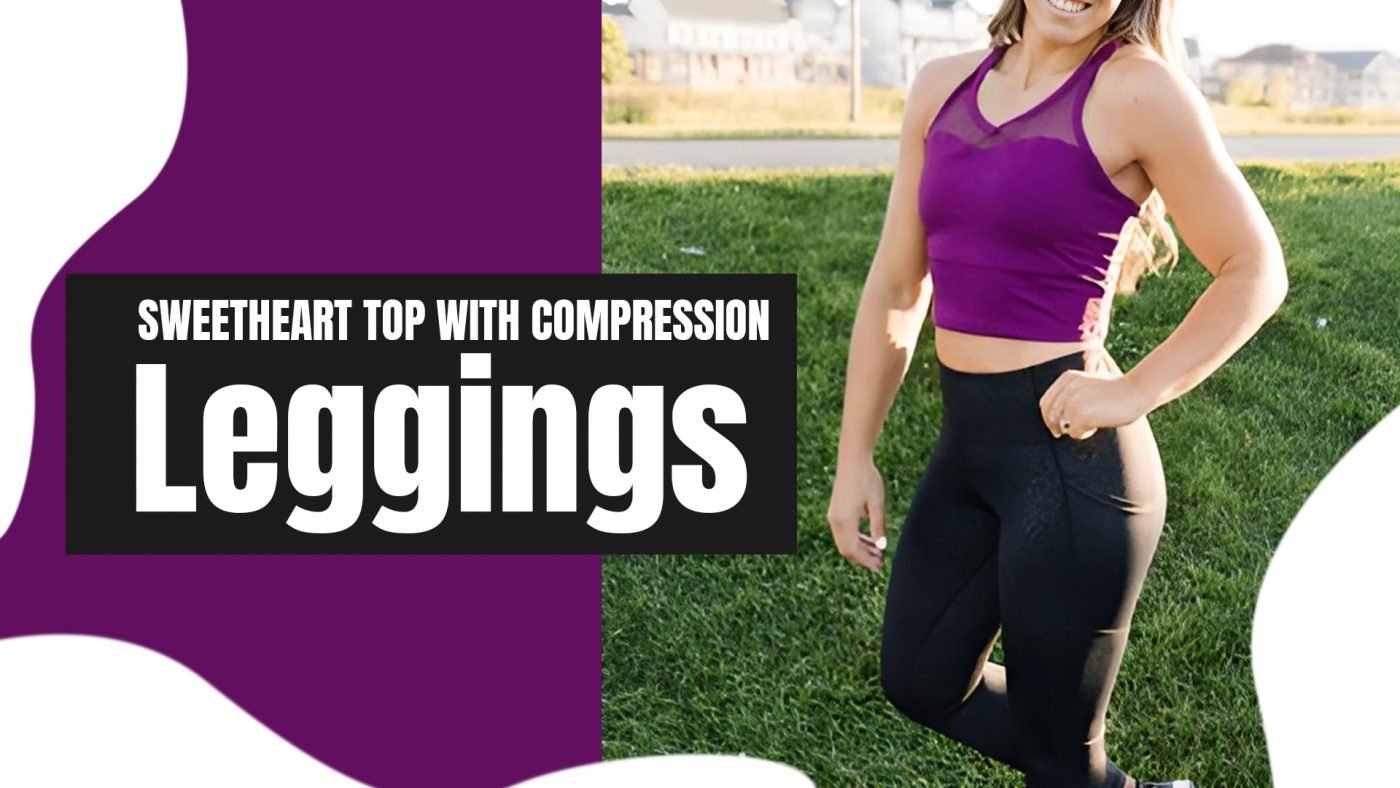 Compression leggings are considered to be one of the most stylish leggings among the rest! So, get your hands on these leggings and mix them with some pump-high heels. After completing this step, go for a sweetheart top. As outerwear, wear a half-body red upper to finish the look. This is a very impressive outfit that you can choose to make everyone compliment you! Also, it is one of the most beautiful legging styles one can have this season!
5. Scoop Top With Leather Leggings
On number five, we have the scoop top and leather leggings. So, if you want to get some more sassy legging outfit ideas, you can follow this style guide. First of all, put on a scoop top with leather leggings. After this step, go for a pair of purple Platform shoes along with a short leather jacket to wrap up the outfit. This styling idea is an excellent choice to surprise every single person out there!
6. Halter Strap Top With Footed Leggings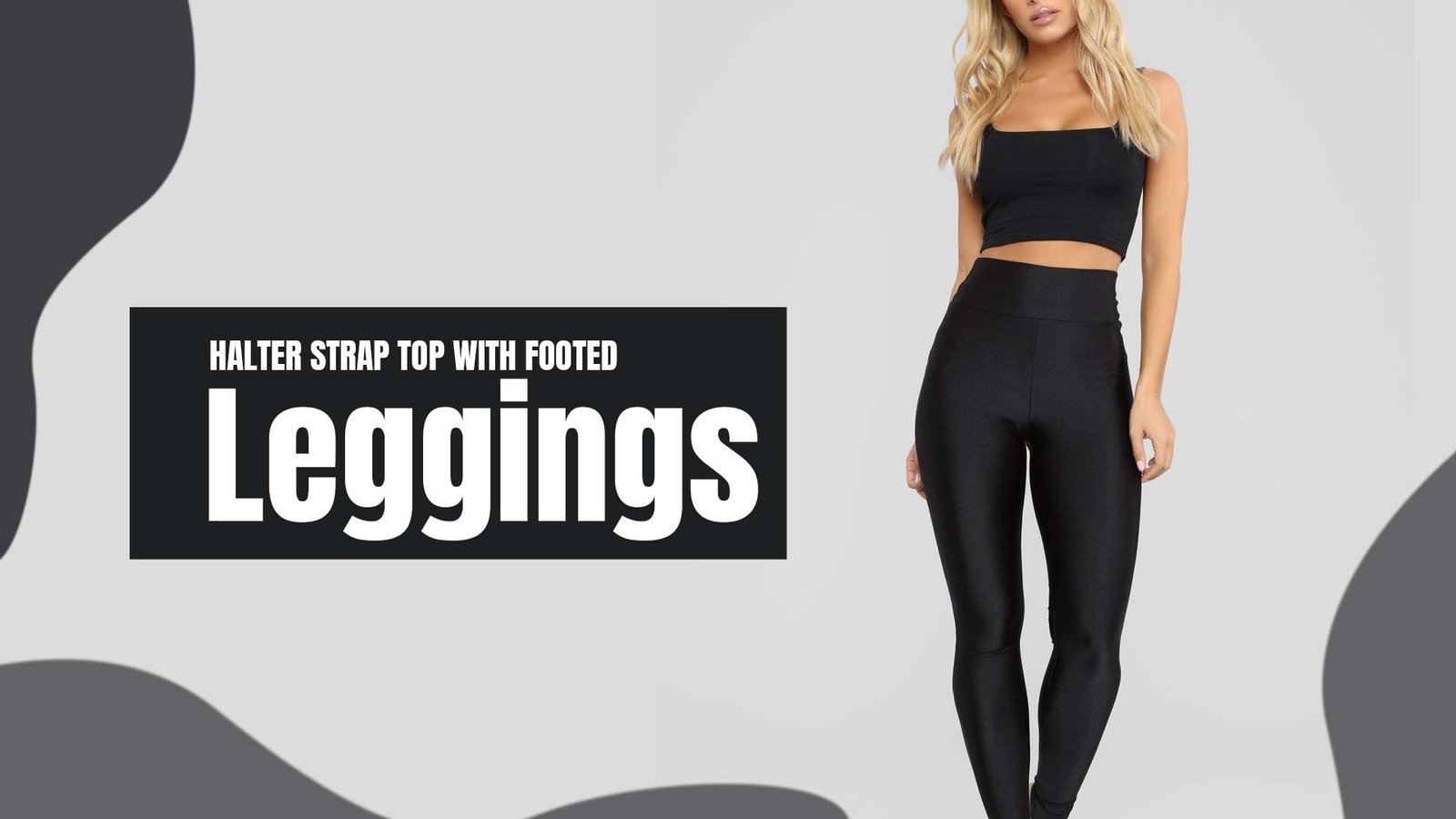 Here we are with another alluring outfit idea to help you get started! So the first thing you need to do is to incorporate some stuff. Pick up a halter Strap top, footed leggings, and mid-length black leather boots. Now put on all of these clothing ideas to amaze everyone no matter where you go! Following this styling idea can help you build a modish look in just a few minutes!
7. Bateau-Boat Neck Top with Leather Leggings
If you don't know how to build a semi-formal look, you can go for this styling method. So put on a Bateau-Boat Neck Top and blend it with leather leggings. Now get your hands on black pump heels to create a dazzling look! Now put on your heels and this is how you have achieved a semi-formal look in the most phenomenal way!
8. Halter Neck Top With footed Leggings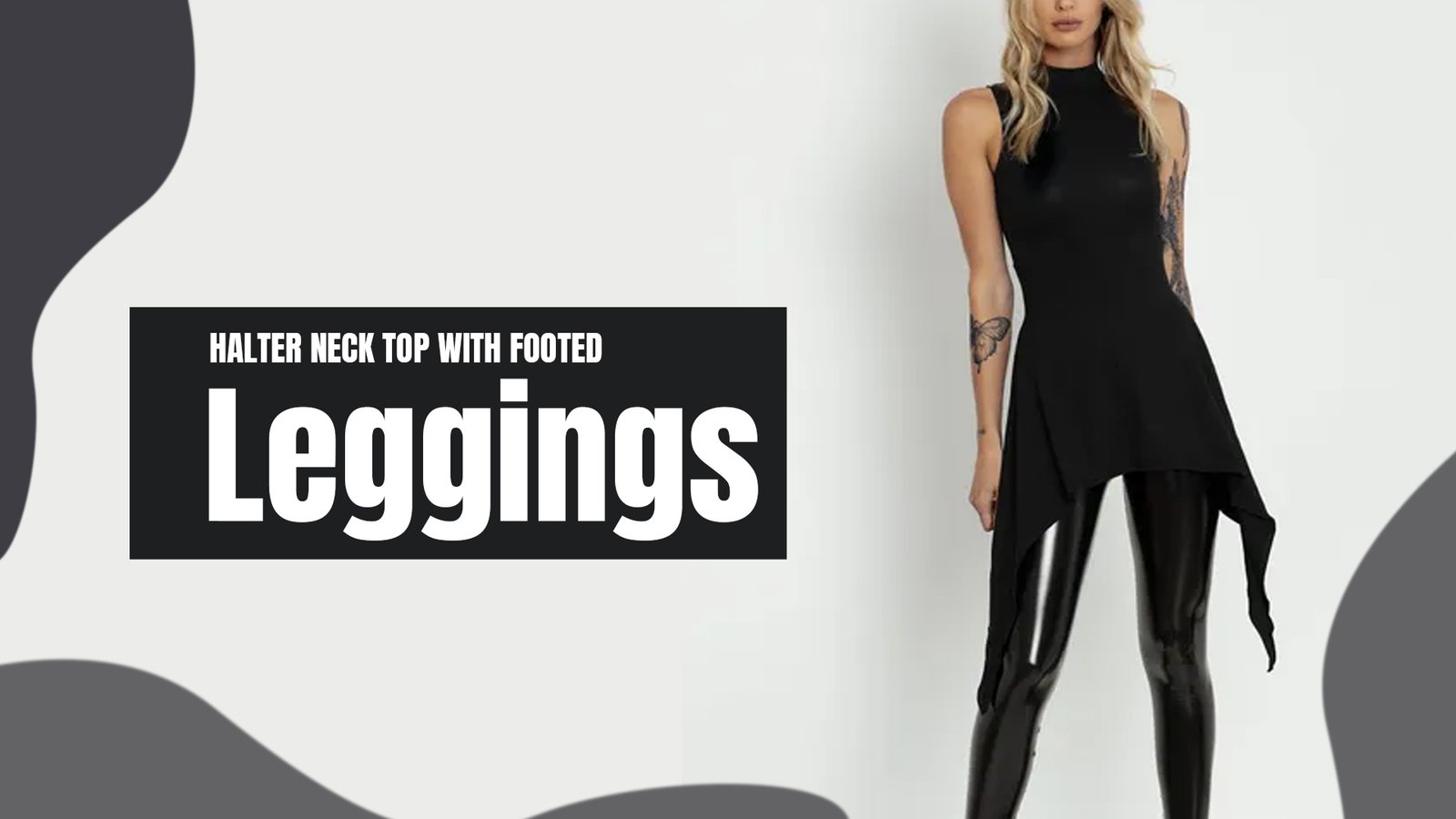 Wearing a halter neck top can be a game-changer in the most impressive way! So get your hands on the asymmetrical neck top and put it on. Then, gather black-footed leggings and blend them with a knife-pleated skirt to build a sweet look! This is one of the best casual cute outfits with leggings styling method to try!
9. Asymmetric Neck Top With High-Waist Leggings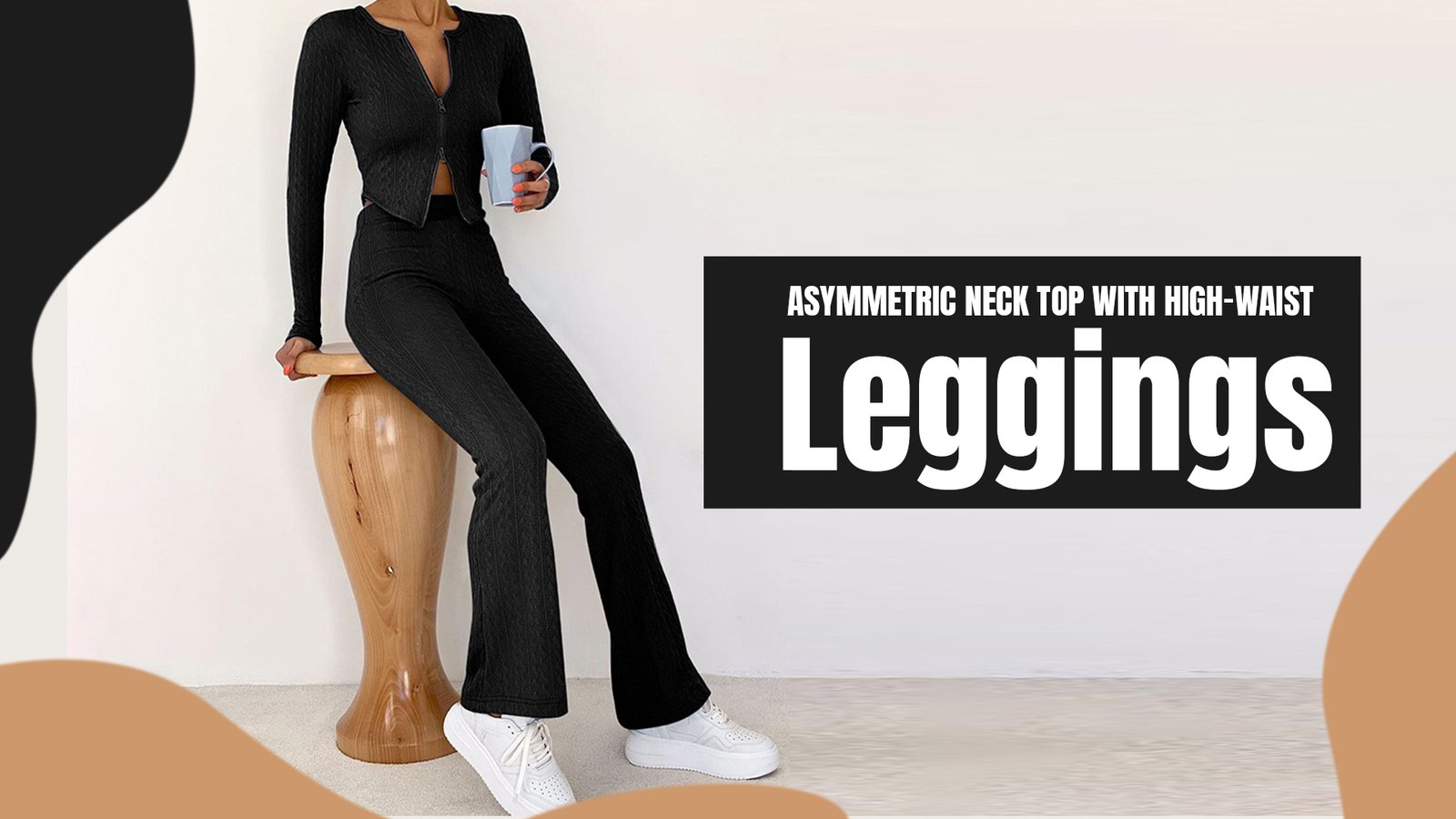 Let's choose high-waist leggings to start our styling discussion. So let's quickly dive into the discussion! So the first step to act upon is to pair these high-waist leggings with an asymmetrical neck top. In the next step, get your hands on ankle boots. Now grab a tube top. And in the end, assemble all of these items and put them on. By following these steps, you can achieve an extraordinary look!
10. Spaghetti Strap Neck Top With Ankle Length Leggings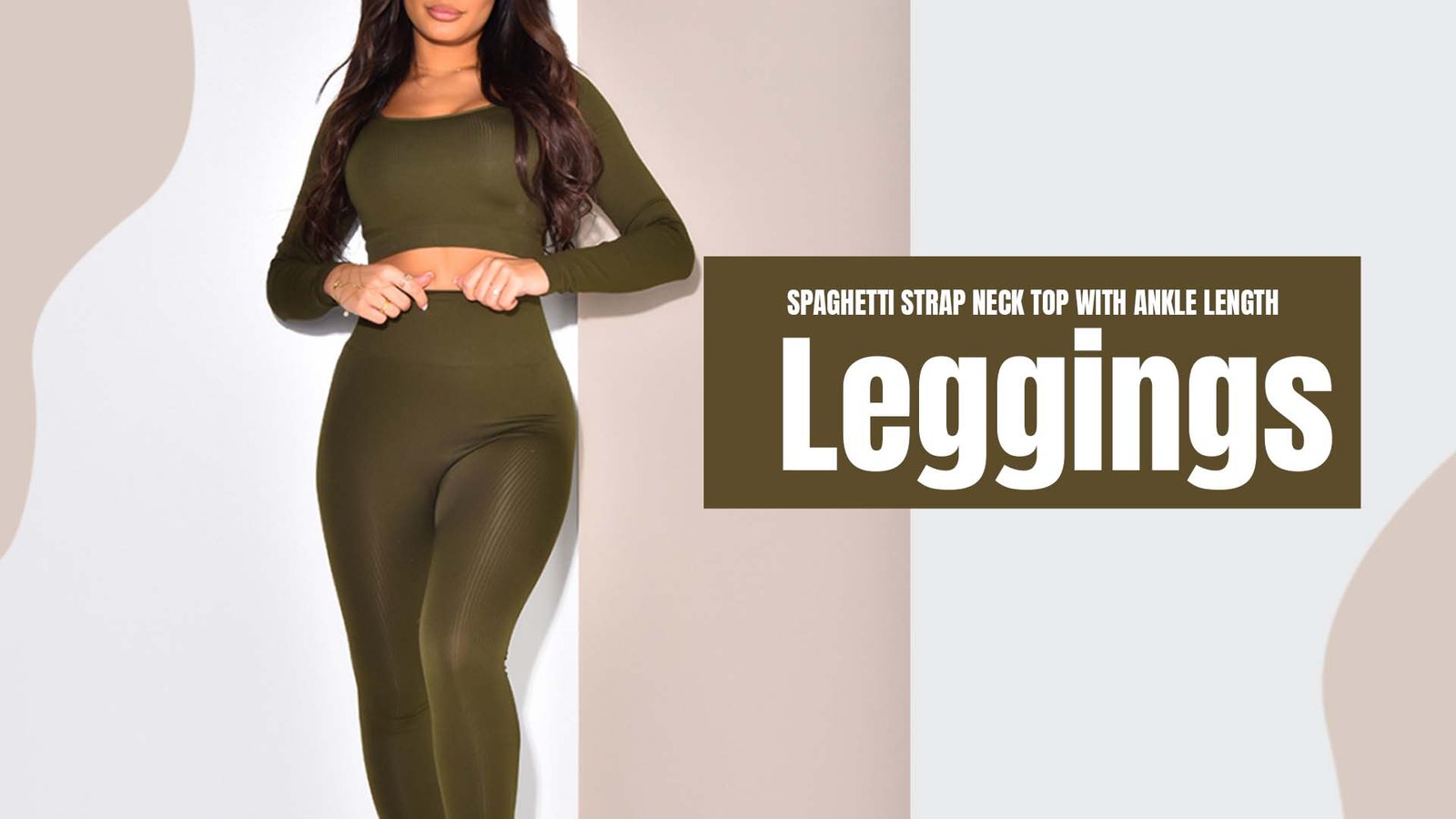 And here we are with the tenth stylish styling idea to guide you properly! So, if you want to have another alluring styling method, follow these steps to get your desired look. So what you have to do is to grab a spaghetti strap neck top and mix it with ankle-length leggings. For footwear, we recommend going for stiletto heels. Now put on all of these items together and finish the look in a satisfying way!
11. Sun Dress With Footed Leggings
Footed leggings look really good with a red Sundress. So go for this combination and a pair of Mary Jane high heels. After assembling these items, wear them to create an adorable look! So adapt this styling idea to look like the most beautiful girl among all the others!
12. Strapless Dress With Footed Leggings
If you want to create an out-of-this-world look, wearing a strapless dress is the best option! Footed leggings look incredibly beautiful with this dress. You can also wear an artificial crystal neckpiece to enhance the beauty of this outfit! This styling idea can be a breath-taking method for the viewers of this outfit!
13. Ankle Length Leggings With A Jacket Tied Around
You can go for a high-neck shirt and ankle-length leggings as the first styling step. After that, put on a pair of ankle strap high heels. To give this outfit an ending touch, tie a jacket or button-up shirt around your waist. We guarantee that this styling idea can give you a killer look!
14. Pencil Skirt With Footed Leggings
Footed leggings look phenomenal with pencil skirts. So if you want to dress up for some semi-casual party, you can go for this styling idea! All you need to do is to grab a crop top and save it for later. Now get a pencil skirt and combine it with footed leggings and a crop top. Now put all of this stuff on and flaunt! Thus, you can generate a dazzling look by following this styling method!
15. V-neck Top With Footed Leggings
Choosing a v-neck top is one of the best tops to wear with leggings. Also, a tulip skirt looks unbelievably gorgeous with this combination! Can't decide which footwear to wear in this look? Don't worry, as we are here to assist you in the easiest way! Use Platform shoes to finish styling in the simplest way! And we find this styling technique super-sassy!
16. Off-Shoulder Top With Leather Leggings
If you are in the mood to create an alluring look, go for this styling idea! So the first thing to do is to pick up an off-shoulder top. After that, grab leather leggings along with sling-back shoes. Now, use a mini skirt as a beauty enhancer. And this is how you can create a super-attractive look!
17. Scoop Neck Top With Zip-Hem Leggings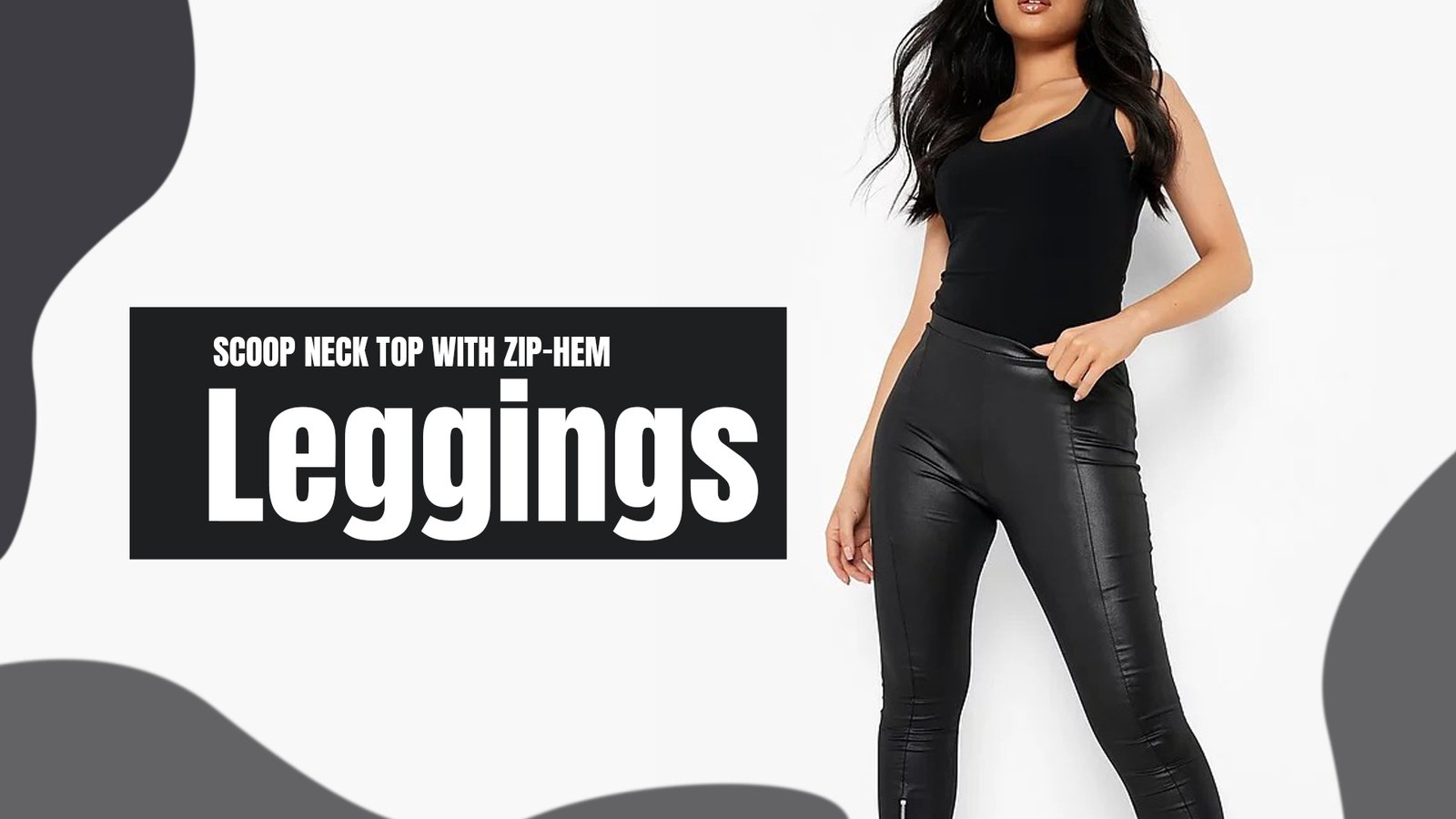 If you want to get ready for your man in a super-attractive way, this styling idea is just for you! Your duty is just to collect some stuff to use later. So incorporate a scoop neck top, zip-hem leggings, a mini skirt, and a pair of red kitten heel shoes. Now put all of these items together to look best among everyone! But in case you don't know what zip-hem leggings are, let us explain them to you. They are full-length leggings with a short zipper at the end of both sides of their bottoms. And this is one of the finest styling methods which can make you look staggering!
18. Bateau Boat-Neck With ¾ Length Leggings
On number eighteen, we have this staggering look. So choose a bateau boat-neck top and wear it along with ¾ length leggings. This combination has the power to make anyone look marvelous! So follow this method by adding platform shoes to this outfit to receive an outstanding result!
Conclusion
So these are the eighteen superb outfit ideas one can apply on some nice leggings outfits for women! And we bet that they can give you wonderful results no matter which option you choose from these legging outfits! So act upon this 2023 styling guide to make you look and feel like a TV celebrity!