If you are looking for some cool Valentine's day outfits and ways to style them then this is the right place for you! How? Because we are going to suggest some Valentine's day outfits and various ways to style them.
Well, we guess that we have solved your problem with making clothing arrangements for this Valentine's day. And since we have given you relief from confusion, it's time to start today's conversation. In this conversation, we will suggest some sensational clothing items and numerous men's valentine's day outfit ideas to try this 14th Feb.
1. Alluring Ryan Reynolds Maroon Blazer To Flaunt This Valentine's Day!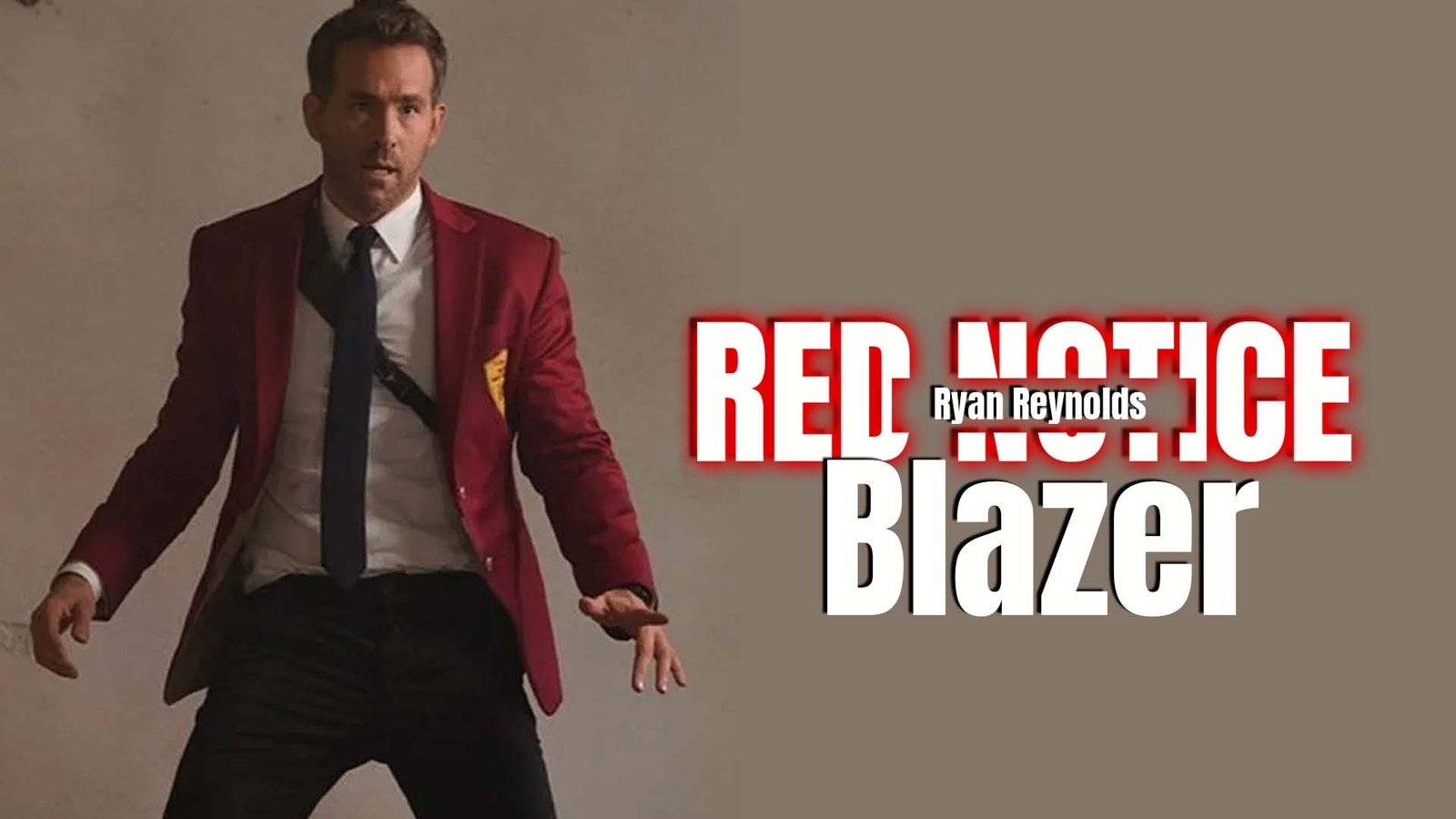 This Ryan Reynolds maroon blazer is one of the most alluring blazers to make girls find you super-sassy! So if you want to try something new and trendy this Valentine's, then go for this sassy maroon blazer this time! So add this game-changing maroon blazer to your closet. This is one of the most ravishing valentines day outfits for men!
Features Of This Ravishing Maroon Blazer
Here we are with the specifications of this masterpiece! This one-of-a-kind maroon blazer is made of suit fabric. The quality of this maroon blazer allows its users to blend it with a dress shirt and pants. This way, you can make this single piece a formal three-piece suit to wear at formal events.
Other than that, if you wish to wear it on Valentine's day, you have the freedom to do so. But only on one condition, if you dress up in the right way. To do so, you are more than welcome to learn styling techniques from us!
But before that, let us tell you about some more features of this upper. So, this most romantic maroon blazer includes buttons on its front side for closure. At the same time, its lapel-style collar makes it even more attractive! Thus, it is a perfect choice of clothing to wear this Valentine's day!
Styling Ideas
Now let's talk about how you can style this outerwear this Valentine's day!
Date Night Look
Nothing can be more satisfying than spending time with your loved one on Valentine's day. So, if you and your girl have decided to go on a romantic date on 14th Feb, follow this styling idea. Well, this red blazer looks best with a black button-up shirt as well as with black corduroy pants.
Can't think of suitable footwear for the date? Don't stress as we are here to help you! Well, we recommend including minimalist or black monk shoes in the rest of the clothing pieces. Now put on all of these things along with the maroon blazer to complete styling in the most romantic way! This is an incredible Date Night Outfit one can have!
Valentine's Day Formal Party Look
Suppose you have just received an invitation to Valentine's day party which is a formal event. But you can't have an idea what to wear to this party, don't take stress as we are here to guide you completely in the easiest way!
Since this is a formal party, therefore, we suggest you make it a three-piece suit. And you can do it in three easy steps:
Get your hands on a white dress shirt.

Pick up black dress pants.

Grab a pair of black brogue shoes.
Then, assemble all of these items along with a black tie. Now put on each piece by adding the alluring maroon blazer to create an impressive formal look! And this is one of the most impressive mens valentines day outfit ideas!
Dinner Look
If you wish to go on dinner with your girlfriend or wife, make sure you select the right venue. Otherwise, you will ruin your partner's mood. So if you want to avoid such inconvenience, take her to some of her favorite restaurants.
And if you can't think of a nice idea to style this blazer there, then no need to worry! Why? Because we will guide you to style this single piece in the most enchanting way! So what you need to do is to take out a white t-shirt from your wardrobe. Now mingle it with your maroon blazer. After that, blend it with black jeans or any other pants of your choice and put them on. There are no restrictions here.
Having difficulty thinking which type of footwear would look with this single piece? If this is the case, we recommend you choose slip-on shoes. And we bet that this styling method will leave everyone speechless!
2. The Sensational Peter Capaldi Maroon Velvet Coat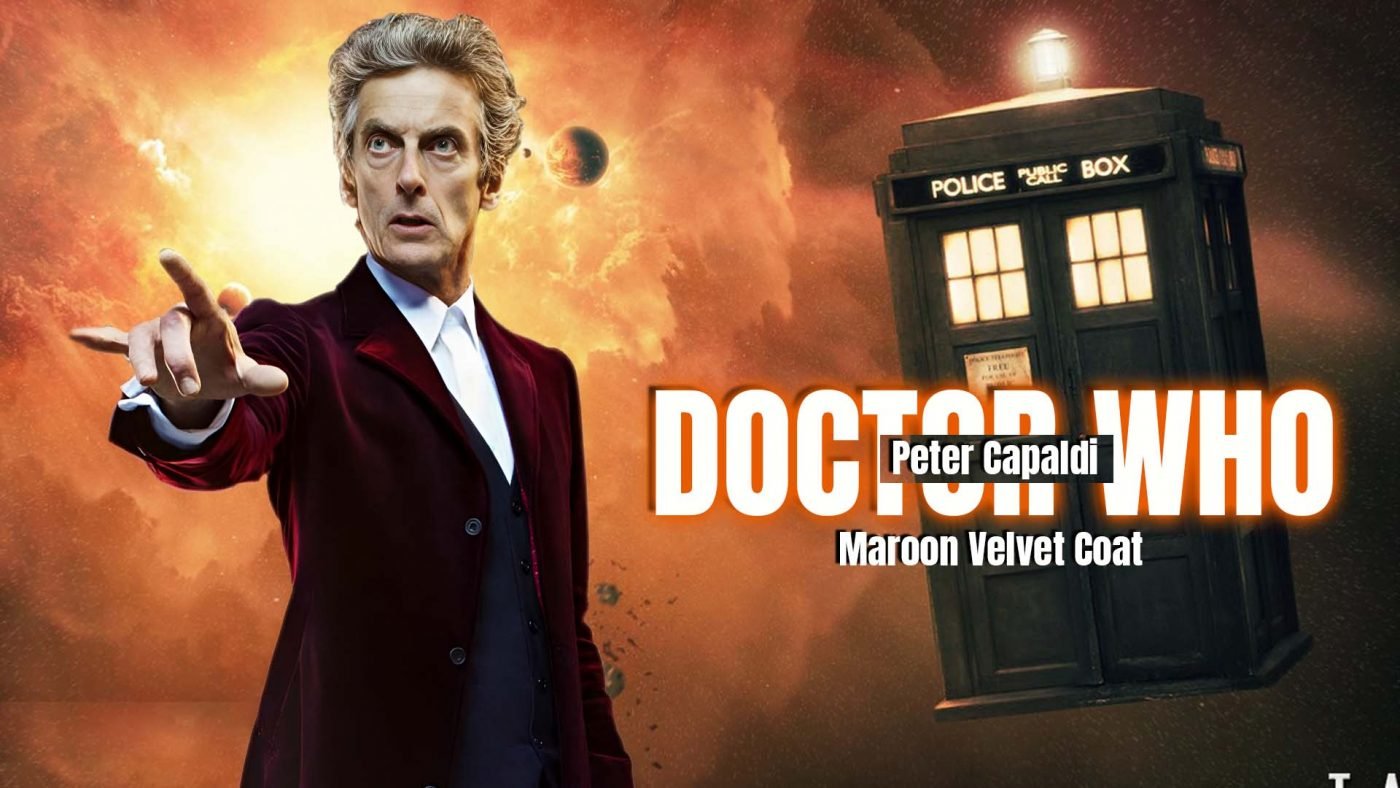 This sensational Peter Capaldi maroon velvet coat is specially designed for special occasions like wedding anniversaries and Valentine's day. But this is possible only in one condition. And that condition is to style it in a nice way. We will teach you how to dress up with this one piece later on in today's conversation. And from our point of view, this is a phenomenal men's valentines day outfit to wear this Valentine's!
Specifications of this Sizzling Red Velvet Coat
Carrying a bold color in garments is not an easy ask for men. But if you can do this go for this maroon velvet coat to make everyone notice you! This velvet outerwear is designed and stitched in an excellent way to provide its users with style and comfort! At the same time, this masterpiece is lined with viscose inside to give its users a soft feel! This beautiful velvet coat comes with a mid-thigh length with a stylish buttoned closure system. The lapel collar of this stunning coat is something that makes it an incredibly staggering piece of clothing! Now it's the time to discuss the dress-up ideas to flaunt this coat! So let's begin!
Valentine's day Formal Party Look
If we look at this coat, we can clearly see that it is a perfect piece of clothing to wear at a formal party. So if you receive an invitation to some Valentine's day party this 14th Feb, get your hands on this velvet coat. Getting confused about how to flaunt this velvet coat at this party? Well, let us give you guidance.
So what you need to do is to grab black dress pants along with black Oxford or derby shoes. After that, go for a dress shirt and black waistcoat to give this outfit an out-of-this-world look! And this is how you can get ready for your Valentine's day party in just a few minutes.
Dinner Look
If you and your lover have planned to go for dinner this Valentine's day, make sure to choose a nice and comfortable place. The word "nice" can be defined as a place, which has a beautiful interior, furniture, and some comfortable seating arrangement. So if you want to make your girl happy, do take her to such a place. Trust us, your loved one's reaction will make your day! But if you don't have any idea how to get ready for this special day, don't stress, as we will assist you.
So what you need to do is to grab black chinos and pair them with black derby shoes. Having difficulty choosing a suitable shirt for this outfit, well going for a button-up shirt will be a good idea! So dressing this way can help you attain a nice Valentine's dinner look!
3. Lovely Dwayne Johnson Maroon Blazer to Choose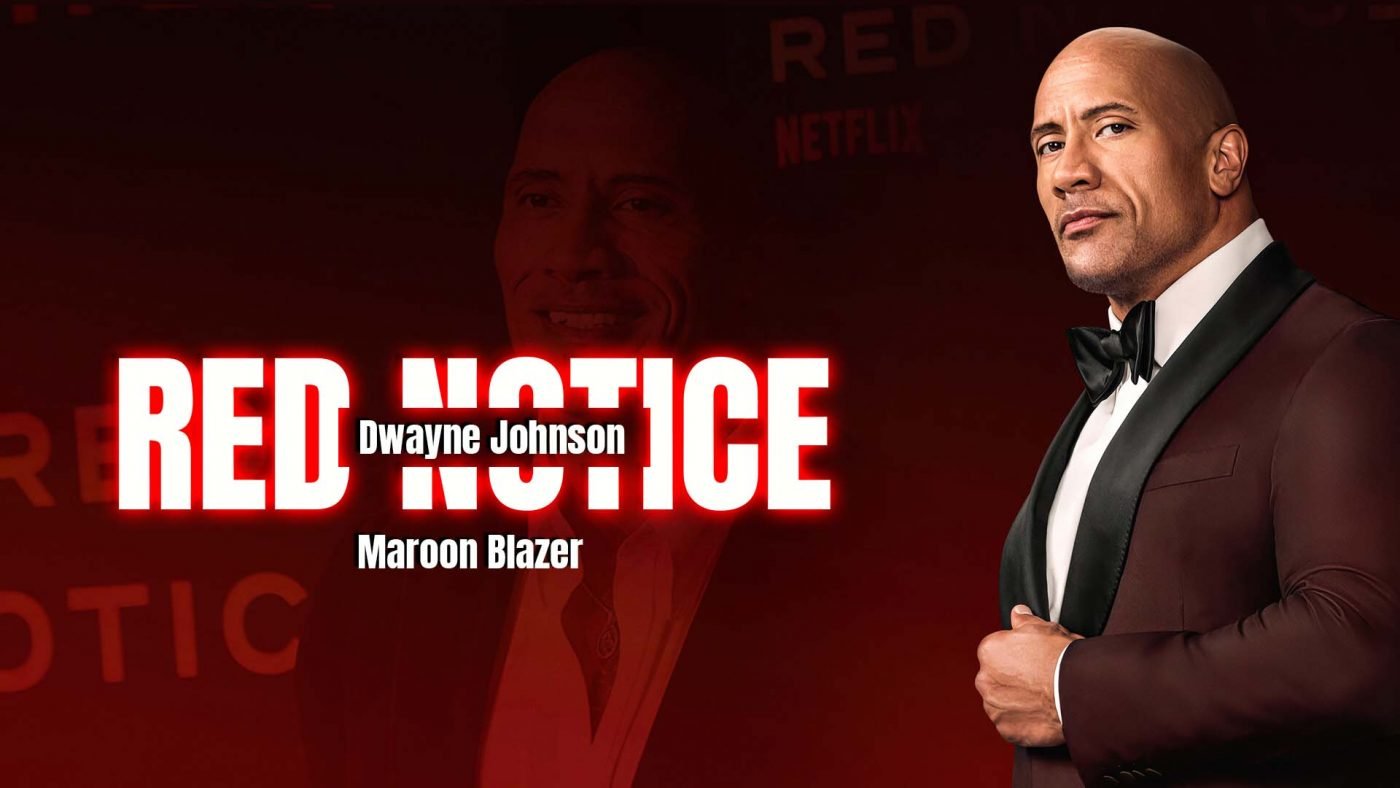 If you are a movie lover then you must have seen this maroon blazer in the 2022 movie "Red notice". If not, you can see it now in the image above. Now let's highlight the details of this amazing outerwear in the most interesting way!
Details of the Amazing Maroon Blazer
If you desire to look bossy and authoritative, then this maroon blazer is specially designed for people like you! How? Because this single piece is manufactured in a way, which can make its wearers look dominating and tough! Willing to know more about this outerwear? If yes, then let's highlight the details of this jacket in an interesting way!
This incredible maroon blazer comes with a shawl collar giving this single piece a fascinating look! At the same time, the buttoned closer of this upper gives it a sophisticated look! Other than that, the presence of viscose lining inside this one piece gives its wearers a soft and comfortable feel! This is because viscose is considered a satisfying material. Now let's head to the first styling idea to use on this upper.
Valentine's Day Formal Party Look
If your intentions are to make this chic maroon blazer formal wear, then you can absolutely do it! Wondering how and why? Because the main purpose of this blazer is to wear it as a three-piece suit. Yes, you heard it right. But to achieve this goal, you will need to follow our instructions.
So here is what to do with this single piece. To attain an impressive look, you will need to gather a few clothing items first. Those things are; black dress pants, a white dress shirt and a pair of black winklepicker shoes. Merging all of these items can turn this one piece into a formal three-piece suit! So use this outstanding three-piece suit for Valentine's day formal party and look stunning!
Valentine's Day Dance Party Look/ Semi-Casual Look
If you wish to wear this single piece to Valentine's day dance party, you can absolutely do it. But only on one condition. And that condition is to merge those things with this upper which will be suitable for it. There is no need to pressurize your brain to come up with some idea. Why? Because this is why we are here. So let's start a discussion on this topic.
Well, the first thing you need to do is to mix beige corduroy pants with this upper. Now choose any button-up shirt and add it to your main asset (blazer). At this point, your styling is halfway done. Let's tell you what to do next with this top layer. Well, for footwear, go for some casual shoes of your choice. And that's how you can slay a semi-casual look!
Candle-Light Dinner Look
If you are a married man or in a relationship with someone, going on dinners frequently must be your favorite activity. But no ordinary dinner can beat the essence of a candlelight dinner! Well, we suggest you take your other half on a candlelight dinner this Valentine's day! So if you have decided a suitable place to get this job done, read on further to learn how to dress up for this dinner in the most attractive way!
To create an alluring look, add some clothing pieces to this maroon blazer and make it a three-piece suit. So we recommend getting your hands on a pair of maroon pants and saving it for later. In the next step, you will need to add any dress shirt of your choice. And in the last step, go for a pair of monk shoes.
Now incorporate all of these pieces and put them on. Use the drooling maroon blazer as a top layer to complete the look. And trust us, getting dressed this way will make your other half go wow! Additionally, give your partner a bouquet of red roses to double up her satisfaction. So use this attire to make your loved one fall in love with you one more time!
Semi-Casual Look For Valentine's Day
Last but not least. This astonishing blazer has the quality to use it on Valentine's day in a casual way! Your role is just to follow our given styling steps to attain a casual look. So without any further ado, let us start the styling game!
These days, guys are using blazers as a top layer on different outfits. They find themselves super-trendy in these outerwear! And even we have the same opinion. So let's start the styling game in the most satisfying way! For a start, we recommend going for a white t-shirt and keeping it aside for later. For bottoms, pick up beige corduroy pants. And the third thing to pick is a pair of slip-on shoes. Lastly, wind up styling by putting on all of these items along with your main asset (blazer) in the most stylish way! This is how you can create a casual outfit for Valentine's day!
The Ending Words
These are three phenomenal 2023 styling ideas to flaunt these three jackets this Valentine's day! So if you were in search of men's valentine's day outfit ideas for Valentine's day, you should cease the search after reading this conversation.
So use these valentine outfits for men to indirectly convince your other half to say three magical words to you once again!