The proper management of a colorful outfit is perhaps the biggest challenge a man faces. It is no less than a big deal to select the colors that not only suit your outfit but give it a prominent look. We often find ourselves confused in picking up colors to match casual clothing. From shoes to the belt, everything should be matching the colors of the outfit. And when we think of getting a jacket, the idea to have a matching color does not just go away from our mind. Apart from the commonly used black and brown jackets, Blue Leather Jacket is the third most popular thing to add to your closet. Here are 4 awesome blue outerwears from the Hollywood movies for an unmatched appearance of yours.
Zac Efron's Blue Magic

This is not a secret anymore that whenever a common fashionista runs out of ideas, he turns towards the Hollywood celebrities to have a wide range of options. For instance, the Baywatch Zac Efron Leather Jacket, an outclass piece donned by Zac Efron in Baywatch, is serving the men ever since the release of the film. Efron is an undeniably one of the most fashion-following personalities of the global cinema industry which makes him a credible source of inspiration in terms of fashion. If you are ever in a mood to challenge the monopoly of black outerwears kept in your closet, this blue jacket is going to be the most effective tool for you.
Rogers' Sense of Fashion
Sticking to a single color will not do the job for you in achieving a certain result for the desired look certainly when you want to bring a balance to your outfit's colors for better personal exposure. You better don't go for the same-colored outfit ever or else you are not going to be recognized as a typical fashionista who believes in diversity and magic of the various colors. Call Marvel's Steve Rogers for a fashion tip along with official permission to use the Blue Steve Rogers Captain America Cotton Jacket he donned in the film Captain America and prevent yourself from following the same old technique of depending upon black and brown.
The Early 20th Century Blue Coat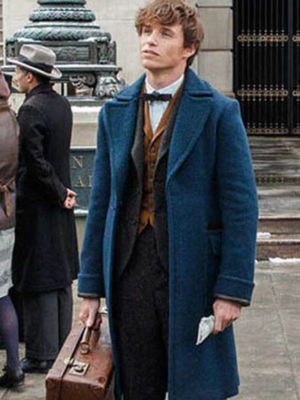 A coat used to be the most integral component of men's clothing during the early 1920s which is why even your grandpa's photos show him pairing up long outerwear with a classic formal shirt. The Fantastic Beasts And Where To Find Them Eddie Redmayne Coat lets you dive into the past and try the fashion options of the previous generations who used to be inspired by long outerwears.
A Blazer for Your Needs
Often times when you are tired of donning coats and jackets a Leather blazer tends to refresh your outfit while setting a specific standard of yours. If you no longer want to rely on jackets, you can grab the Larry Decker The Goldfinch Luke Wilson Blue Blazer tried by Luke Wilson in The Goldfinch to extend your wardrobe options. Get to know, a blazer with stripes isn't as classy as a plain blazer with no stripes on it.
Matt Damon: The Fashion Souvenir's Blue Fashion!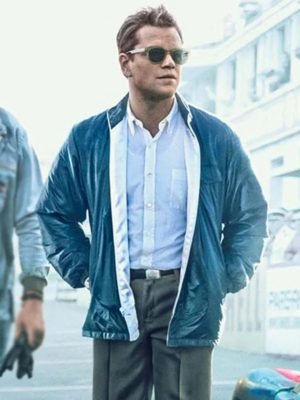 Matt Damon, a film producer, screenwriter, and an American actor and the most admired one, of course. Since his first appearance, he entitled himself with an enormous fan base just by his fashion. All these years this man hasn't let fashion come down a bit and still is the admired icon of thousands, especially for the fashion freaks. Stared in almost every blockbuster movie of every year. For all those lovers of the smell of grease and going full throttle on an empty Highway, you can grab this Ford v Ferrari Matt Damon Jacket for that classy looks as we saw Matt throughout the outstanding racing movie Ford V Ferrari.
Blue Denim and Shearling Smugness!
While enlisting all the styles that look outrageous than how can we let go this amazing outfit that is beloved all over the world and have a separate place in casuals. Firstly, the denim made its position in every fashion freak's heart by its color only. Since the uprising of its appealing style, we have seen various versions, some can be categorized in that "weird kinda fashion" but on the other hand, we have the most attractive, trendy and most importantly the versatile Denim that can be throw on any outfit and looks, just great. And honestly, that's the best part of Denim. One decent mention is Love Simon Nick Robinson Jacket, the most admired, talked about and most worn Denim all over the world.
Ryan Reynold's Grace for Vogue!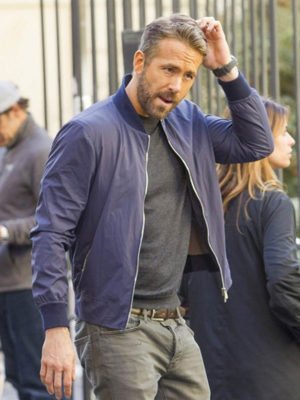 Some of the celebs in the Hollywood Industry are more famous for their acting skills. Like Jason Statham is admired by his personality and stunts and Dwayne Johnson, well he's just The Rock. But the sexiest man and the award winner of 2010, has made his fan base by his humor, personality, and of course fashion, that took him this far and the best part is he hasn't let his followers disappoint by his fashion and still is one of the most admired personae of the Hollywood. From his recent movie 6 Underground and probably the best blockbuster of 2019, Ryan rock an amazing outwear that dropped the jaws of thousands of the fashion gurus. This Ryan Reynolds 6 Underground Blue Jacket is the best bet to have the chicest vogue in the room.
Tom Cruise Adoring the Blue Leather!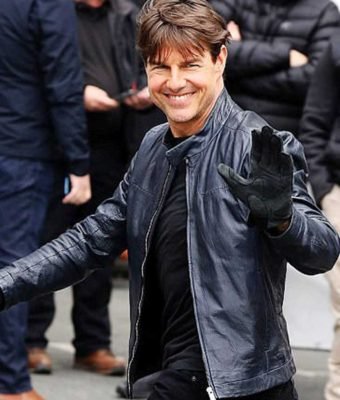 It doesn't matter what type of chic jackets we gather; this guy comes up every single time with charisma, maybe that is why he's an Icon for thousands. As he always rocks the best looks and does that flawlessly. Tom Cruise is a type of guy that you look up to, for your fashion, if you are really want to step up your statement looks by keeping it simple. That's probably the main thing about his style to be admired by that many fashion geeks. One of the best blue hued attire he rocked is this Tom Cruise Mission Impossible Fallout Leather Jacket, which is a must try for his geeks.