Who doesn't love fashion certainly when it admittedly interferes with everyone's life in one or another way that too at any cost? I mean, it doesn't really matter if we have become modern animals, fashion is likely to stay in our lives for the next few decades and perhaps centuries to come.
While in the previous century, fashion was used by the upper class to declare it's superiority over the rest of the financial classes, it has expanded its sphere of influence in the current century by reaching the closets of every other man and woman regardless of their social or financial status.
From American television shows to Hollywood films, fashion seems to be everywhere as a dominant force and a phenomenon to be followed. While the teenage shows like Riverdale have been the easy target for the fashion freaks, a lot can be discussed about the kinds of wardrobes given to the characters.
Featuring four seasons and dozens of episodes so far, Riverdale series has had enough to entertain the fans. As the series is moving towards the next phase, fans are more curious to unlock the hottest outfits featured in the show.
However, as long as the fashion followers are reading this article, nothing much will be covered about the developments concerning the series. Rather, all the drama will be kept away for better or worse.
So, all you demanding fashionistas and lost souls in search of fashion, our today's topic is likely to center around the Riverdale Celebrity Outfits. Let's take a step towards feeding the brain with the new outfit ideas all inspired by the characters featured in Riverdale.
Cheryl Blossom
Either here in the United States or anywhere else in the world, casual fashion accessories are taking the world by storm with more and more new trendy stuff coming every other week in the international market.
These accessories are directly impacting the wardrobes of the fictional characters in small and big-screen projects. Meanwhile, the invasion of new accessories is taken lightly by the formal fashion supporters, casual fashionistas are too excited to observe the latter going beyond the former.
Since the casual fashion invasion has left a great impact on every one of us, the small screen projects couldn't be an exception. This also applies to Riverdale which has featured many of the characters in casual outfits rather than the formal ones.
As Cheryl Blossom is one of those characters, it would be unfair to ignore her while talking about the most fashionable characters. Much like a teenage girl with a high level of interest in fashion, Cheryl Blossom is about a wealthy girl who prefers staying loyal to her friends regardless of the favorable or unfavorable circumstances.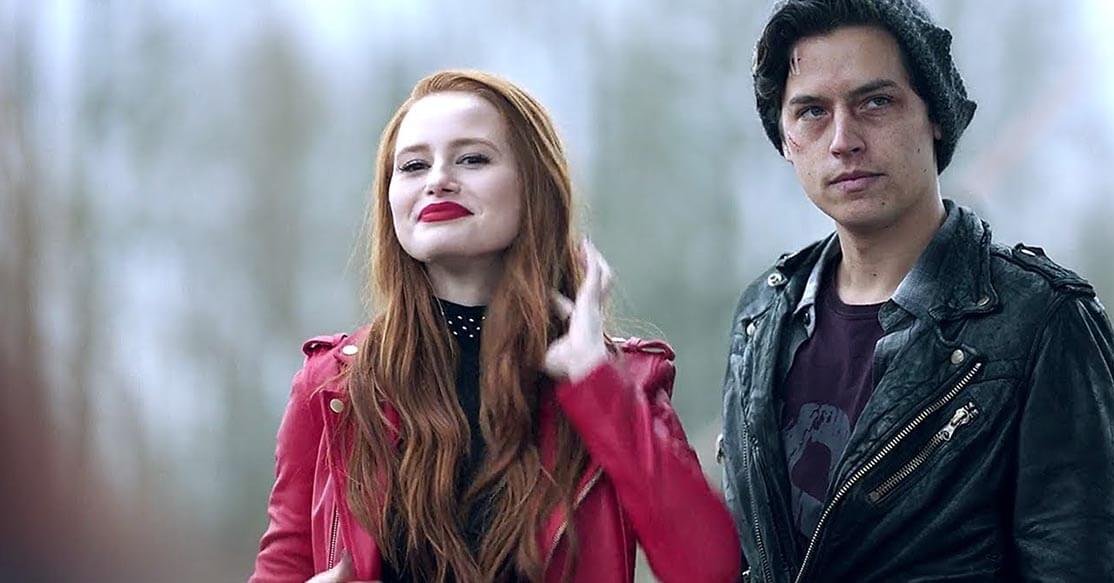 If there is one thing the young girl's epic wardrobe has given us then it's the highly popular Cheryl Blossom Serpent Jacket trending all over the internet. This piece is perhaps a gift by Blossom's stylish character who loves maintaining a low-profile.
While Blossom has been mostly seen wearing casual accessories, her most popular wardrobe mainly consists of black pants, a rounded shirt of the same color and the sizzling hot red outer layer mentioned above. Featuring a class, Blossom is truly a gem and a great ambassador of fashion.
Betty Cooper
No outfit looks as good as one supported by a varsity jacket! If you don't know what I mean, just take a look at Betty Cooper's immensely cool wardrobe and you will get to know what has been discussed here.
Played by Lili Reinhart, Betty Cooper is another addition to the shortlist of the characters with a higher than usual level of interest in fashion. One of the three singers of Archies, Cooper has also gained fame for coming up with fashionable wear from time to time.
Usually experimenting with casual accessories, Cooper rocked the casual outfit with a printed skirt covering the rest of her body. This absolutely sounds like a street stylist taking it to the next level to break the boring traditions.
In case you don't mind starting up something new and love giving a hard time to your opponents, combining the items used by Cooper would prove to be a workable formula to ensure your name is included in the list of the most stylish personalities in the town.
Veronica Lodge
Believe it or not, but casual fashion is way better than the so-called formal one and the reason is pretty simple. Casual style doesn't require you to limit your choices by restricting you to certain kinds of events that are held for the corporate slaves or the old creatures, lol.
One of the key players in Archie comics, Veronica Lodge is a typical style-seeking teenager whose life is meaningless without standing in front of the mirror for at least half an hour a day.
Enrolled at the Riverdale high school just like the rest of her friends, Lodge also seems to be a great fan of outer layers for style purposes only. I mean, yeah she also prefers to be protected from the cold weather but looking better than anyone else seems to be her topmost priority.
Usually seen wearing black accessories, Lodge's classiest wardrobe which has been part of the fashionistas' talks is composed of a checkered skirt+ black inner layer+ a buttoned coat featuring fur collar. If you are unsure what I have pointed my fingers at, just Google the keywords and you will get an instant result.
If, by chance, you don't like going with her idea, feel free to amend her style and replace either skirt, the black shirt or the long layer with anything you believe meets your standards.
The seemingly simple wardrobes given to the fictional figures by the showrunners have been intended to set up new trends associated with the show. These wardrobes are also one of the reasons the show is often viewed and observed by the individuals who want to bring a major change to their clothing by being inspired by their favorite characters.
Additionally, shows like Riverdale also serve as a great source for audiences to improve their appearances while stealing the signature looks of various main and supporting characters. While not everyone seems to be after the clothes of the fictional figures appeared in TV shows, web series or movies, the majority still tends to be relying on these non-existing characters for inspiration to a great degree.
In conclusion, it would not be unwise to claim that most of the audiences spot the major differences in their clothing style in comparison to their favorite characters in order to update their apparel collection from time to time.