The winter is hitting it off with the hot chocolates, with lots of good times with our beloved ones behind closed doors as we read our books while some of the more extroverted ones would just go skiing and hockey outside. Some of us would be mesmerized by the movie Tis the season to be Merry with its dashing Tis the Season to Be Merry Outfits. This movie gave a tremendous ideological perspective based on true love, and the actress who played it did it so well with a graceful style. She's very relatable with what she has envisioned as a romance writer cause, at some point, we all wanted that part in our younger years as exploratory authors exploring life. Moving on, the story gave a splendid tale of emphasis. A side note to be added, The fashionistas are well aware nowadays that there's a feeling of gorgeous snow angels popping up, especially when I think about how the Winter Deals are bursting up around the horizons of the virtual world.
The elegant styling, grace and spectacular charms of the movie finale were a true wonder to see and a dynamic wonder to grasp, along with how the Winter Sale styling was too essentially cute and soft in a gracefully adorable way. 
DESIRABLY SUAVE TRAVIS VAN WINKLE VEST
The parachute fabric from the Travis Van Winkle Tis the Season to Be Merry Vest is heat and water-resistant, which is helpful during snowy weather since you won't have to worry about feeling wet. There is a sensation of the ideal, adequate softness that gets you to feel calm and close even on the roughest snowy days of your winter.
The modern standards of a stood-up collar are what many are crazy about based on this jacket's manly styling. Something about it says that you aren't too young nor too old simultaneously to struggle against the merry feats of life.
The three pockets are situated on the outside, and the other two are crafted on the inside. Let's say you want to keep something related to your more trendy, public items ready to be shown to your friends and colleagues. You'd want to take your hand to the outer pocket. You need an outer pocket like greeting cards, business cards, or handkerchiefs. Then suppose you want to surprise your girlfriend on occasion with roses and chocolate with a romantic letter. You'd need the more inner concealed pockets to bring out something of a surprise for the child-like heart.
There's a debate over zippers or buttons. The buttoned-over zipper closure looks too stylish and surreally cool. That stands out e of its mesmerizing attractiveness for the gazers you witness from outside. This can be related to your family and friends: generally the people you know.
That is related to happiness and peace. For some, it is a no-brainer because humanity and nature's greenery are heavily interlinked, as the jacket's coloring embodies a similar vibe. If you are a vegan and stand up for vegan rights, you might want to partake in this dressing to motivate this.
THE CHICEST STYLING OF TRAVIS VAN WINKLE SHEARLING JACKET
This Travis Van Winkle Tis the Season to Be Merry Shearling Jacket looks sophisticated with the crimson shirt. Think both psychologically and philosophically. The crimson signifies a luxurious look to the vintage vibes upon you. In contrast with the tight blue jeans, it would emphasize a fitting look for the Don Juan within you. 
Flaring up the look with some shiny dark blue goggles would enhance a more sassy and sophisticated feeling to the more chic, handsome men in our society once wearing the whole outfit. This could be the perfect look if you are that man who goes to night parties or clubs with some fast friends along the way. This could also be an epic outfit for a chill time with the boys at a BBQ. Just guys were feeling some chills during winter with a sheltered beef bbq on the garden's porch. And afterward, they start to go for sports like hockey and football while the jacket keeps them warm and cool, except the latter has more to do with appearance. 
The blue beanie hat would blend so well with the glasses on a more swagging trip to the mall or if you want to feel more adventurous for a ski trip with your pals. This could add a pleasant mood to the feel of it all when going to a wooden cabin on a mountain.
THE EXCEPTIONALLY ALLURING GREEN COAT OF RACHAEL LEIGH COOK
The Rachael Leigh Cook Tis the Season to Be Merry Green Coat is hitting it off so well cause it's making the girls go super wild for getting this outfit into their collection.  Whoever would wear this outfit, which I especially would mean with the white beanie hat, would look too cute and alluring as diamonds with this tasteful appeal. The blue scarf would add a great touch to the already mesmerizing appeal of the jacket, and it goes to show so well. The caloric material is genuinely ageless, and it would ignite the fashionista in you to not fight but to harmonize for a more significant cause. That's right, forget about those catfights in the malls and just innovate for a more significant reason to discuss better ' recipes' like these to appeal to a better outfit setting.
A pink turtle neck sweater would look so appealing and super innocent with this outfit as it would speak a deep attractiveness of pure femininity. Cause the color pink signifies romance, love and harmony in the deepest realms of the psyche.
MATURITY AND SOPHISTICATED BLUE TRENCH COAT OF RACHAEL LEIGH COOK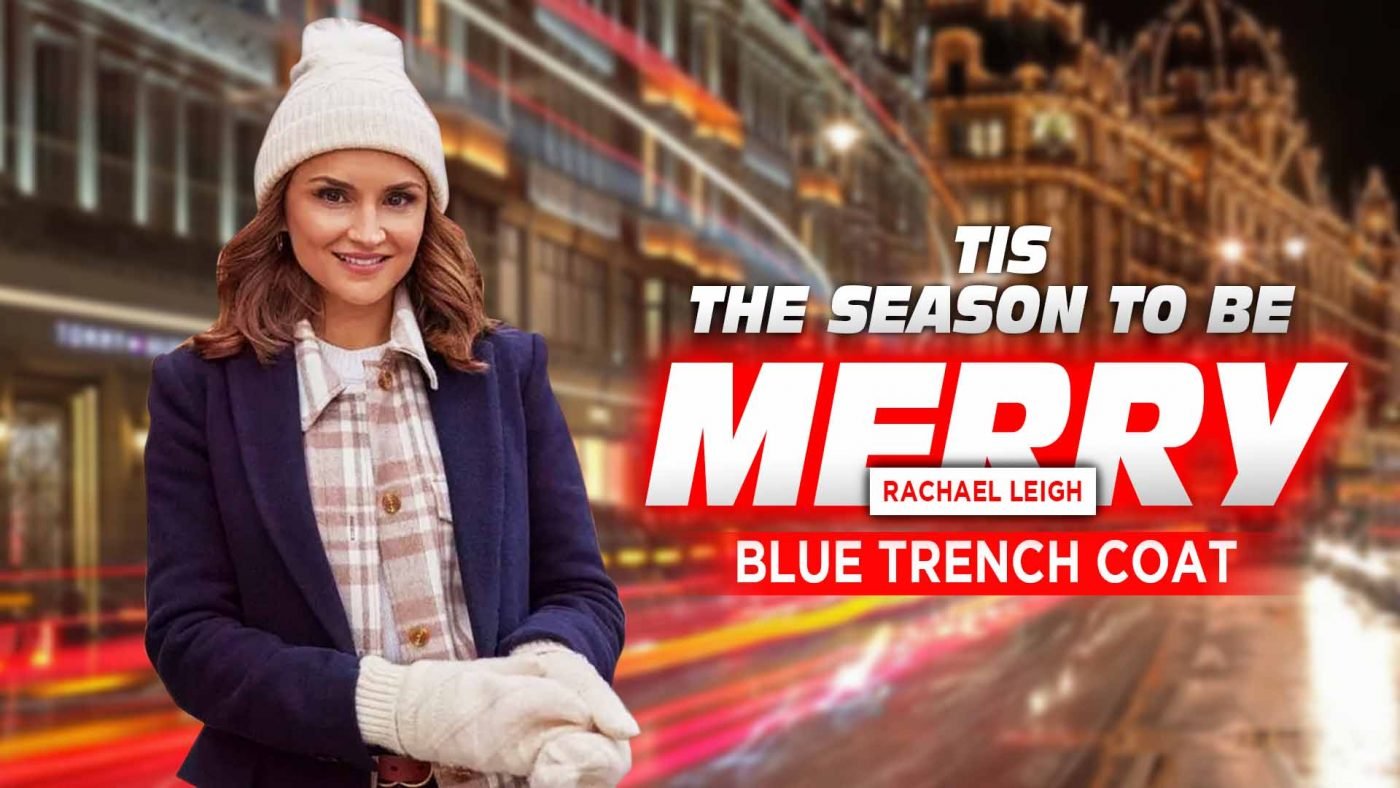 The wool fabric of the Rachael Leigh Cook Tis the Season to Be Merry Blue Trench Coat is of the warmest effect on the skin and soul of the wearer. It may be thick and dense, but it gets the heat flow running during the winter, which you ideally need, especially during those nasty frostbites. Moreover, the full-sleeve lengths will protect you from the immense viral cold, which also stimulates the factors of covid-19. Plus, it simply looks so stylish. The viscose lining gives it a sweet, aesthetic draping feeling of the most passionately appealing quality. It makes you want to not just look at it but touch it during the cold weather. All because the smooth, fuzzy sensation gives the heart a sense of immense soothing comfort.
THE SWEET STRAWBERRY VIBES OF THE RED COAT WORN BY  RACHAEL LEIGH COOK
The red passion with this Rachael Leigh Cook Tis the Season to Be Merry Red Coat during winter is a memorial feeling for the deep fashionistas among us. Cause it's what every writer in us wants and desires in terms of energetic exploration of romantically pure and creatively innovative endeavors that revolve around a wholesome connection. This could be led by the intention of just a casual feeling which a thick brown scarf could further enhance. The brown scarf would give a feeling of strength and dominancy of a centered ground towards one's more soulful alliance.
You could wear this with a yellow turtleneck sweater to give a more youthful, energetic feeling and a more pretty, elegant vibes that will have a gorgeous contrast with the overall outfit.
EVERYONE WAS A WRITER ONCE IN THEIR WINTER BLUES ONCE
When the movie portrays a life of an artistic endeavor so well, similar to ruby sparks as it was that guilty pleasure I saw as a young adult, it was something to grasp onto. The feeling of being able to write onwards during the white crystals falling down the roof of the houses while you write with these stylish Winter Outfits will bring you delight. So stay merry!