Here is a thought that must've popped into your mind. And it's just that would you believe in not second chances, but what comes beyond that? To the point that it's worth it with a justified return? Then, you have the impactful and inspiring game of Cyberpunk as a whole franchise as your remarkable example. And you cannot deny how unique clothing made it all the more impactful with the Cyberpunk 2077 Jackets. 
Hype-Worthy Points To Note Down
The creators of it always listen to their fans with utter dedication. Keanu Reeves doesn't stop spreading his wholesome vibes wherever he goes. Moreover, There is so much to be stated about this whole concept with its fashionista vibes to the point it reaches beyond just you beating some Buttons while looking at the screen. 
From wearing your typical Cyber Punk Jacket, you will have all the magnetic reasons to shape your appearance. But yes, first, you need to know what you're in for and what to expect from this, especially why this franchise is all that lately.
The Cyberpunk Edgerunners Made It Rise Back Beyond Expectations
One of the spectacular things this franchise did was the series, for it has also been shaped in the form of the Edgerunners anime itself, which is a heartfelt story as well as the fact that the characters just connect you to them to the point that it starts to make you question your ways of living. What's exciting about this anime is that Rebecca cyberpunk has been the talk of the internet. There is no doubt that she has a strong resemblance to Black Rock Shooter. On top of that, we must dive into the attention-grabbing wave of the Cyberpunk 2077 Jackets.
The Philosophical Perception Is Too Profound With The Game
There is much to discuss regarding the characters and more to explore about this game. It is one of the most prominent open-world video games that have resulted in a modern revolution, similar to how the Blade Runner movie took over the Media rage. Its philosophical point of view makes you feel connected to the bigger world that is possible out there beyond social constraints.
The Upcoming Cyberpunk 2077's Phantom Liberty Is Coming!
We already know how Rebecca Edgerunners is the fashionista influence for casual gamers and even weebish cosplayers. Speaking about the most trendsetting gamer's aesthetic engagement is your moment. After all, ever since the latest DLC announcement went Viral, It just keeps improving. Not to mention, the new characters will be an excellent experience to partake in, As well as the fact that you will be immersing in this steampunk-verse, which never ceases to impress the impassionate e-athletes. 
This Styling Wave Is Here To Take You Forward
Remember that it makes the cosplaying scene in our society more creative and emotionally attachable. That is how much the Story results in a broader perspective to explore with quirky ideas.
You should get a tasteful wave that you must try with these outfits. And first, though, we'll cover up on the exceptional attributes that make the attires more than famous. And yes, you will be an avid mingle that will charm on with luscious love. I don't just mean as a fashionista but as a romantic partner!
The Gallant Costume Coat By Idris Elba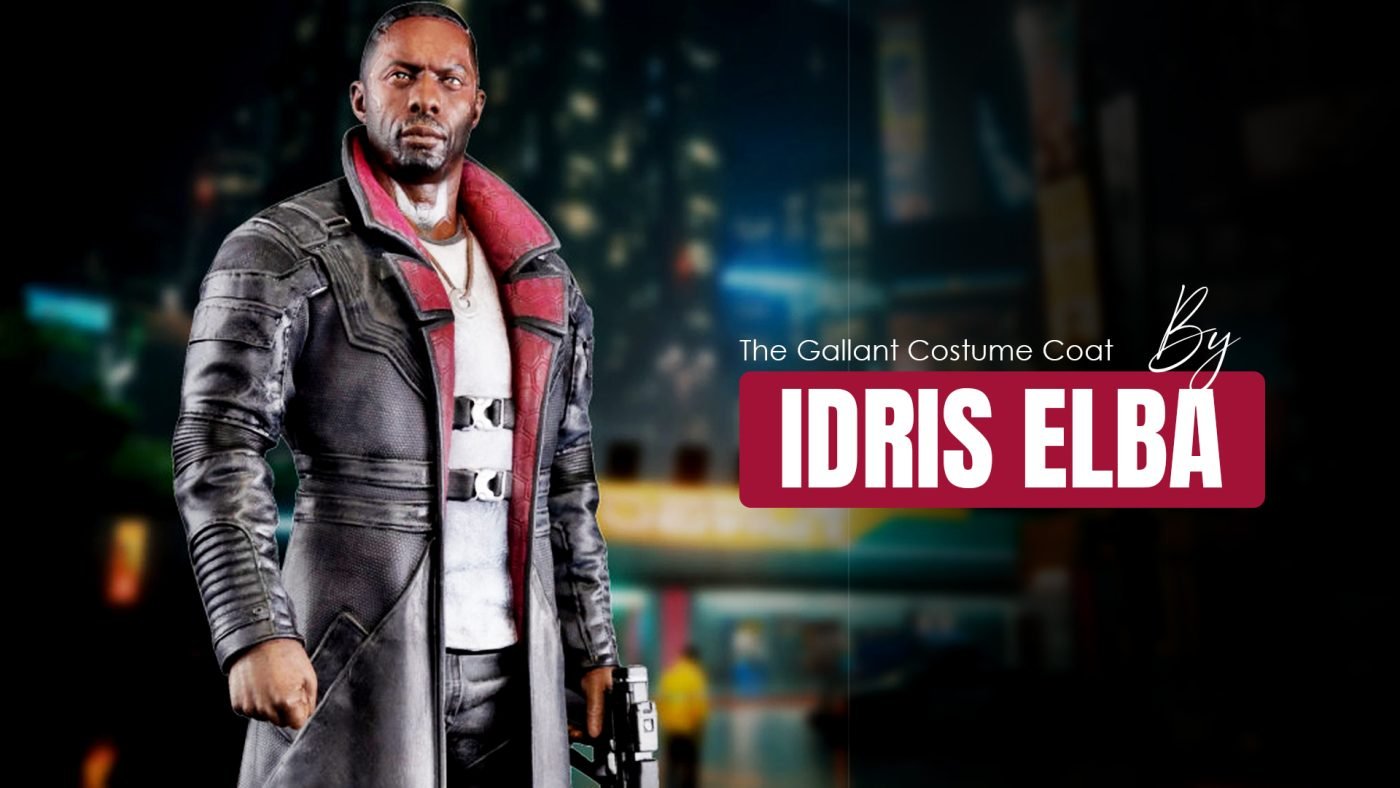 First, we'll start with this exquisite outfit about a character with a dark past. I'm not going to lie. This apparel is a worthy spectacle to look at as this would involve the wearer to partake in a fashion game that goes unrivaled as a starter pack.
What is there to talk about is that the Real Leather is of exquisite and sizzling quality. Moreover, the Viscose from this Cyberpunk 2077 Idris Elba costume Coat gives out an ambiently enticing draping effect. And yes, the Open Closure gives away a well-designed vibe from which you shouldn't be able to gaze. Its Lapel Style Collar gives out a fashionista charm that goes unrivaled. What's interesting to look at is that the Full-Length Sleeves are pretty form-fitting!
The Moments You Can Entice With This Allurer
You can style this outfit, and that would be with the mingle of going for an enlightening walk in nature. It could very well be the walk you'd take around the greenery. Whether that may be the park you would go to or the picnic you are having around the riverside. Overall, the possibilities are endless with this outfit.
The Jazz-savvy Brown Jacket By Solomon Reed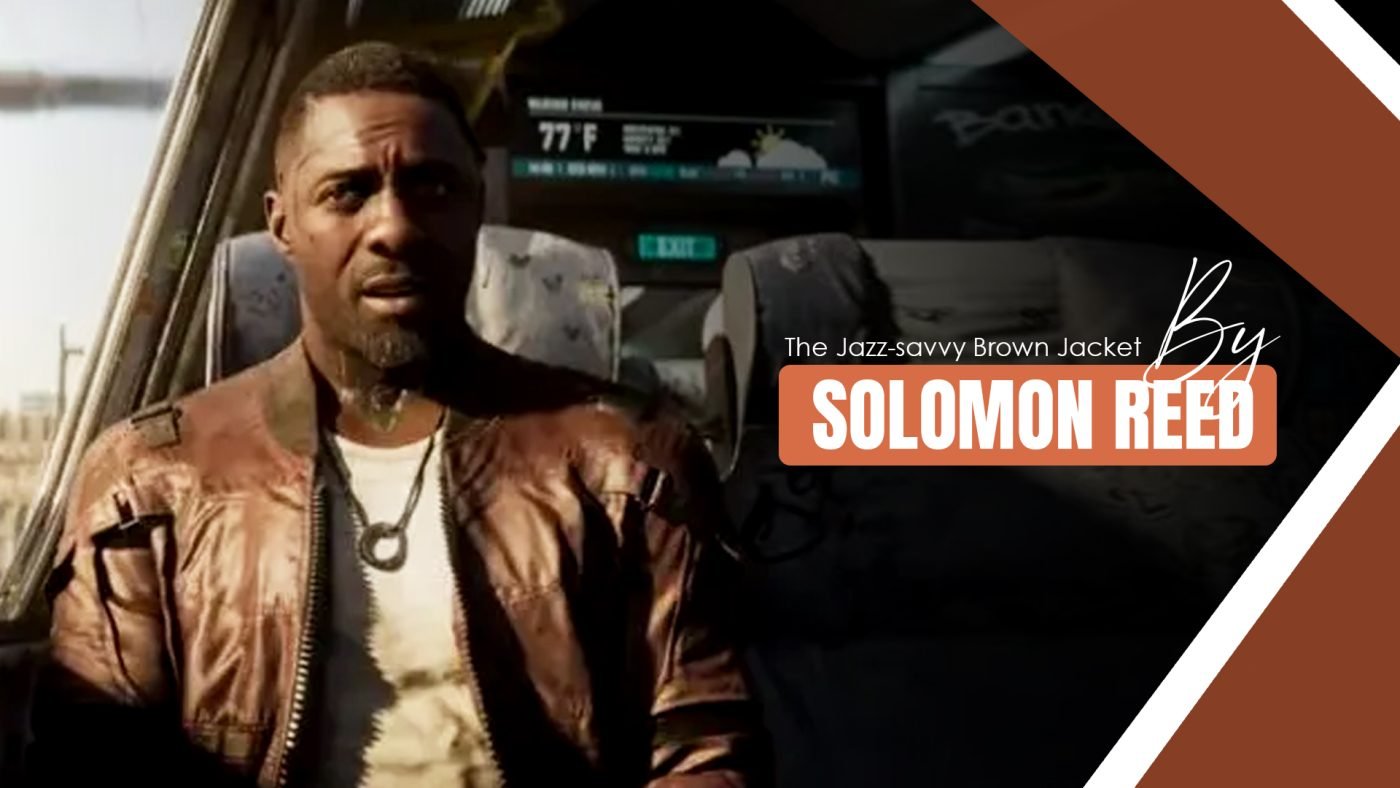 Here is the delight-worthy Parachute fabric that keeps you all warm and vibrant and the Viscose, which has this avid draping effect, as well as the  Rib-Knitted Collar of the Cyberpunk 2077 Solomon Reed costume Jacket that brings out a classy charm. Moreover, the Brown Shade is something to look forward to. And, of course, the pockets inside and out are ready to carry your essentials.
What Moments To Take This by?
You could mingle this look with the best occasions, such as a bar night with friends or a cup of coffee with your partner. The mix you can try is severely endless with tasteful vibes.
The Modish Yet Lustrous Jacket By Kira Modroxx
It is quite the vivaciously feminine outfit to look out for. As well as that the Cotton is of supple yet soft quality to wear. As well as the Viscose Lining is something to look forward to. Also, the Stand-Up Collar from the Cyberpunk 2077 Kira Madroxx Jacket gives a lively and ambient aesthetic allurement to vibe with. Moreover, the Pink just adds this luscious capitation that makes you seem to be in the spotlight. 
An In-Vogue Moment To Charm On With
What you could do with this attire is that the wearer would be the type of a mingler who would go with a gold scarf, and they would have that aesthetic nightclub mingle. And that would be a sweet moment to live by because the wearer will be a boldening company to live on with.
The Magnetic Rebecca Jacket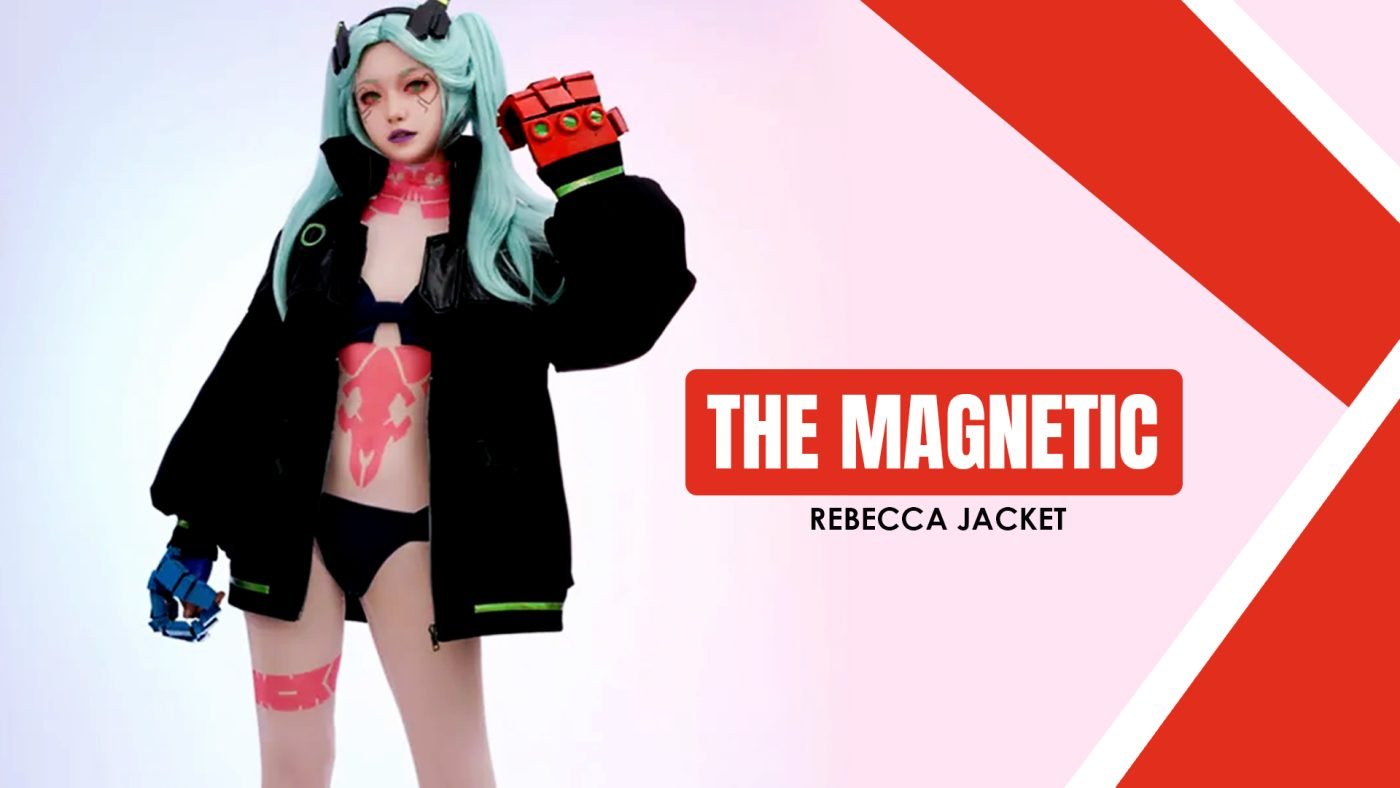 We have the perky yet quirky cyberpunk edgerunners Rebecca Jacket that will make you want more of the tasteful captivation you want to look forward to, as the Viscose is the sizzling draping effect. Moreover, the Zipper Closure gives you that delightful appeal with its asymmetrical charm and the Stand-Up collar that gives out an unrivaled stand-out pleasure. And yes, the Two pockets outside and one inside are something to look forward to. What else is there to mention is the Full-Length Sleeves that are exquisitely figure-hugging.
Couple Goals To Live With
What you can do with this attire is take it out for a cosplaying date with your bf, as he would dress up like David Martinez from the franchise. And that would be a beguiling and worthy moment to live by. And it isn't just about taking selfies when you enter the convention; it's more about the symbolic memories you make as a couple.
A Ladylike Jacket By Panam Palmer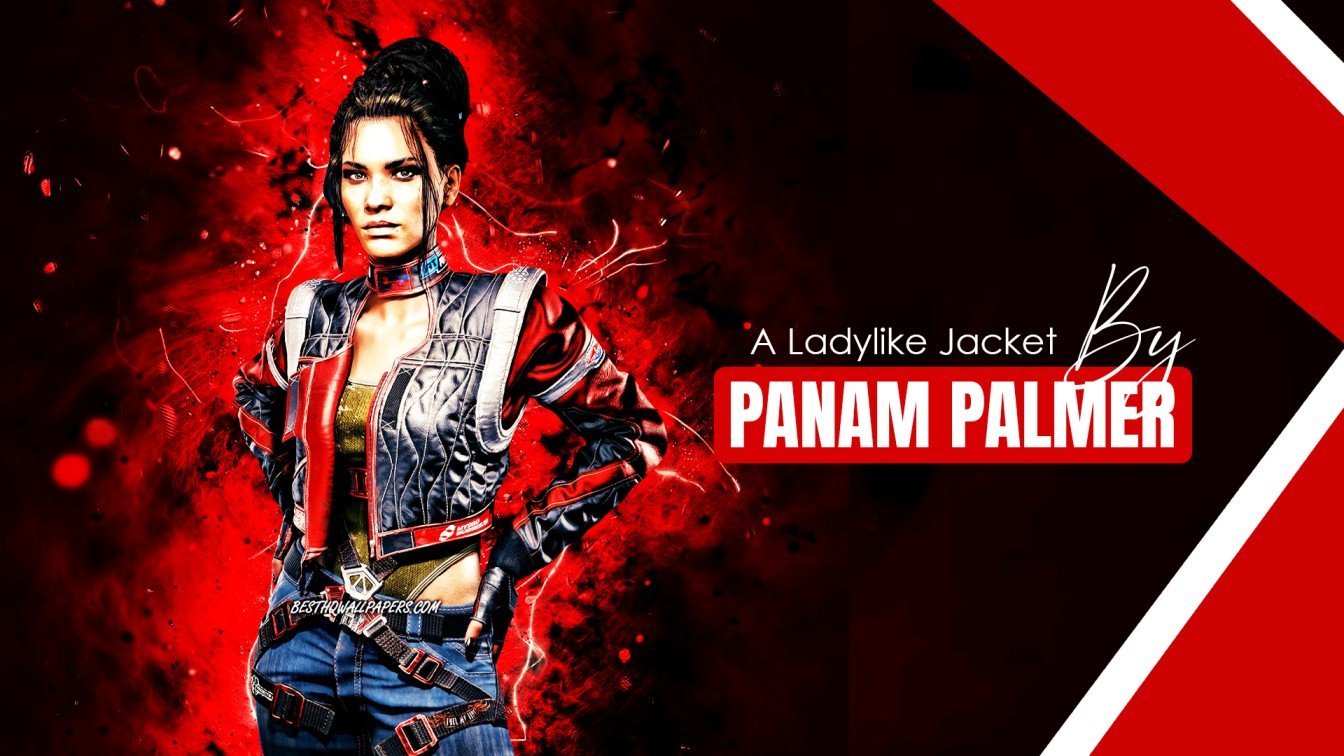 The Real Leather is of the avidly superb aspects. What's interesting is that the Viscose gives out a noteworthy draping effect, and the Zipper Closure brings out a pull-worthy symmetry to not look away from. Furthermore, the Stand-Up Collar from the Panam Palmer Cyberpunk 2077 Jacket gives out an avidly delightful vibe that goes unmatched in the market. Even more interesting is that the Full-Length Sleeves give out an exude-worthy attraction that is figure-hugging to mesmerize yourself. Lastly, the one pocket on the inside is all ready to carry your essentials.
A Night City Wave Hits Off With Sizzling Mood
Style this with lavish crimson high heels, black sunglasses, and a white mini-skirt. And yes, this would be the look for the mingle of going for a candlelight dinner right around the beach. It would be an eye-catching ambiance while you partake in the lush-worthy game of walking with your partner as the shore's rhythmic noise is heard.
Be A Living Vogue Legend This Moment
The Vogue game with this attire is truly a note-worthy spectacle, and you must partake in the vibrant mingle that would shape up your boldening vogue sense. Lastly, we hope you enjoyed the read of the Cyberpunk 2077 Jackets; keep the mingling styling essence substantial this fall!