Halloween is the time of the year when every person of any age tend to have fun wearing different costumes and crafting pumpkins. It's that time of the year when you forget all your anxieties, stress and distresses, when families come together, friends get together, even the ones who haven't met for a very long time. When a day brings a lot of fun and festivities together, why not make it more special by wearing costumes that are too eerie and getting the flashlight of the event? Sounds interesting right? 
Here's the guide that explains to create the looks using the famous suicide squad halloween costumes. The costumes from Suicide Squad have always been breathtaking and ditch the traditional halloween looks created by everyone. These costumes are never going too old because of the spooktacular vibe that Harley Quinn and Joker gave to this world. Let's have a look at the most recognized character's outfits that always steals the show. 
Suicide Squad Harley Quinn Costume Jacket is all set to trick-or-treat your Halloween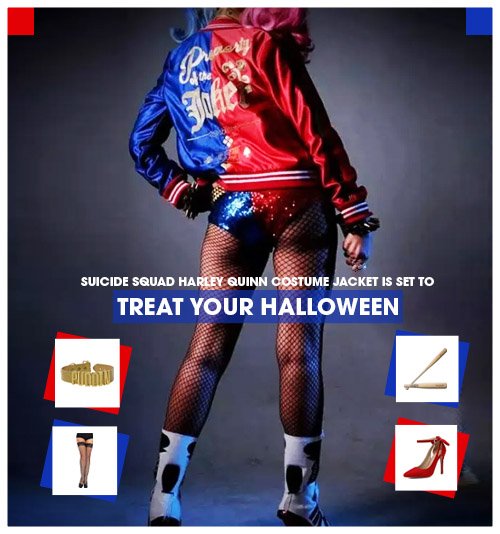 Yes! Imagine a single person who isn't aware of Harley's character. Harley Quinn is one of the top-searched characters, and Margot Robbie, through her role, explained really well. She totally nailed it. Let's have a look at her costume, which became the signature look of Harley Quinn. There are many elements that make her look creepy and candy at the same time. One of the most prominent elements of her looks is her Harley Quinn Jacket which is most exposed, and the vibrance in this is what makes it different and exactly according to her personality.
This halloween jacket got a huge hype and became fans' favorite attire that they started putting it on on every occasion. This attire has some amazing specifications blended in with amazing chromatic hues. 
Don't forget to wear fishnet thigh-high stockings that give an aesthetic touch to the look. Shorts with the same color of jacket works perfectly fine if you have one, or simply create your own shorts by painting them red and blue. Another essential element is Cuman heels and cowboy boots. You can get them from Amazon or any cosplay store because these boots are equally important as the Harley Quinn Jacket Suicide Squad. Another few additives for this look include makeup, two ponytails of blonde hair and, of course, the baseball bat. All these nitty-gritty essentials bring up the essence of the look. 
Harley Quinn is the most exceptional character with some creative modern looks in Suicide Squad. All the suicide squad halloween costumes have some uniqueness that not every random halloween costume has. Creating a look from this range can be more fun, so let's give them a try. 
All in all, if you ask us, we would say that this Suicide Squad Harley Quinn Costume Jacket is the hero piece in this ensemble.
Add gruesomeness to your Halloween outfit with Suicide Squad Jared Leto Purple Costume Trench Coat 
Creating the superstition vampire looks from suicide squad halloween costumes is one of the most interesting activities. Jared Leto, whos an American actor and musician, took all the attention of the media. His role as Joker in Suicide Squad is one of the most recognized roles that he played in his career, and he did all the justice with it. Coming towards his looks, which is another creepiest option that you can create. The Purple Joker Jacket is one of the famous outfits that he wore and got viral. 
People loved this Suicide Squad Jared Leto Purple Costume Trench Coat exceptionally. A lot of brands came up with this costume idea for Halloween, which is actually one of the most creative and worth creating a look. Here's how you can create this look for your Halloween to get more spookiness. The Joker in the suicide squad has green hair and super-paled skin that gives him a ghoulish look. This can be done by simply temporarily dying your hair green and getting the makeup done with a foundation that is two tones higher than your skin shade.  
Another essential element of his look is the tattoos all over his torso. Even his forearm has some tattoos. If you're willing to have this hocus pocus look of the Joker, then get the temporary tattooing done or simply get the white T-shirt with some tattoos on it or draw yourself if you don't want to play with your skin. Also, wear a purple glove which is quite easy to get from anywhere, and put on some rings on your finger. 
These two Suicide Squad characters are famously recognized. You can just think about these suicide squad halloween costumes and achieve the head-turning looks. Another best idea, if you have a partner, is that both of you can create these above looks together to flaunt your love and spark your relationship. This is one of the creative ideas to create memories with your partner. So think about it and have to dress up the spookiest looks. 
Wrapping up 
If you look up closely, these costumes have the perfect Spooktacular vibe that makes you the center of attention, and don't let people forget you. Also, if you're so much into Hollywood, then halloween costume movie characters give us some amazingly creative concepts that are drooled in the spooky aura. Some celebrities literally gave us all the reasons to love them for giving us incredible ideas for Halloween. 
Suicide Squad halloween costumes are one of the best examples you can have a look for this claim. These costumes have an authentic seal of approval from famous celebrities. Furthermore, they also gave us some really cool concepts of leather jacket halloween costumes that are equally functional on the other days of the year. You can just personalize the looks on your own and add your own creativity to have bizarre looks.