Are you also a person who loves travelling to different places while riding your bike? If that is the case, then we are in the same boat. Usually, a lot of men are fond of riding bikes and travel to different places solely by riding their bikes. But for that, they need some clothes that will protect them and provide them will all the comfort and soothe that they require while riding their bikes. So, if you are also a rider and love to ride your bikes while looking like the chicest as well as an impressive person, then we have got you, gentlemen! 
This year, we are here for you with some mind-blowing and captivating cafe racer jackets that you will surely love and adore throughout the year. You can also get your hands on different unique, and sophisticated outfits from the classic Black Friday Sale that is going live. These classical yet so alluring jackets will give you the most astonishing as well as fantastic looks that will make your personality memorable for everyone in the crowd! 
So in this guide, we will tell you about the most fantastic Mens Cafe Racer Jackets that you can get yur hands on this year to be the showstopper everywhere you go this season. So below, we have mentioned the best jackets that you should not miss to get your hands on this time. Now, without wasting any more time, let us begin with our classic piece of the guide here! 
THE CHICEST BROWN CAFE RACER JACKET FOR MEN
With this necessary item, you can't go wrong! When paired with matching items, the men's distressed leather jacket has a sophisticated finish that gives it a neutral but contemporary appearance. There are plenty of pockets in this Brown Cafe Racer Jacket for Men to store essentials. Genuine leather is used to construct this most ravishing and fantastic jacket. Depending on how much warmth is required, you can get this classical jacket according to your needs. Due to its distinctive features, this classic brown Cafe Racer jacket is in high demand.
The fact that you can easily pair it with any dress and it produces magical results is the primary reason for their success. Biker leather jackets in black, brown, white, red, and distressed add dramatic style to even the most basic outfits. And the tailored fit flatters your body shape. The best part is that this fantastic brown men's brown leather jacket isn't just for bikers. Because it is fashionable and secure, it is the best choice for everyone. Racer jackets, which have been around for a long time, are a great way to combine both vintage and modern styles. With all the beautiful features like the chicest round-style collar and zipper closing, this jacket gives you all the vintage and vogue vibes in just a matter of moments! 
THE FANTASTIC BLUE CAFE RACER JACKET FOR MEN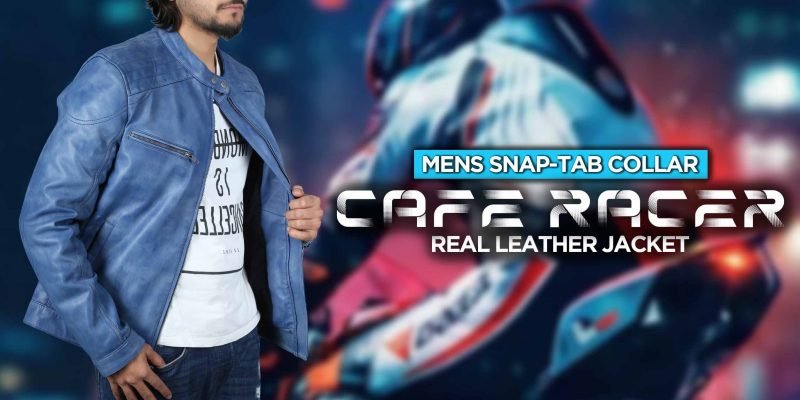 If you want to look chic and trendy on special occasions, get your hands on the Mens Cafe Racer Blue Real Leather Jacket, which is simple yet so timeless. This mind-blowing outfit is the only one that's right for you and will give you all the fantastic looks this season. These days, this gorgeous attire is the focus of much attention. So, this time, we suggest you get your hands on this chicest masterpiece if you really want to look great. 
This fantastic yet so alluring jacket for men comes in genuine leather and has an inner lining made of viscose fabric. The inner lining is soft and delicate, which makes it last longer and gives comfort to the one who wears this masterwork. It is more appealing due to its impressive front, snap-tab-erect collar, and compelling zipper closure makes it even more ravishing. It has two chest pockets, two side pockets at the waist, and two inside pockets with full-length sleeves in exquisite blue colour. So this time, purchase this fantastic Mens Leather Jacket and dress to impress this time around!
THE MOST STRIKING QUILTED CAFE RACER JACKET FOR MEN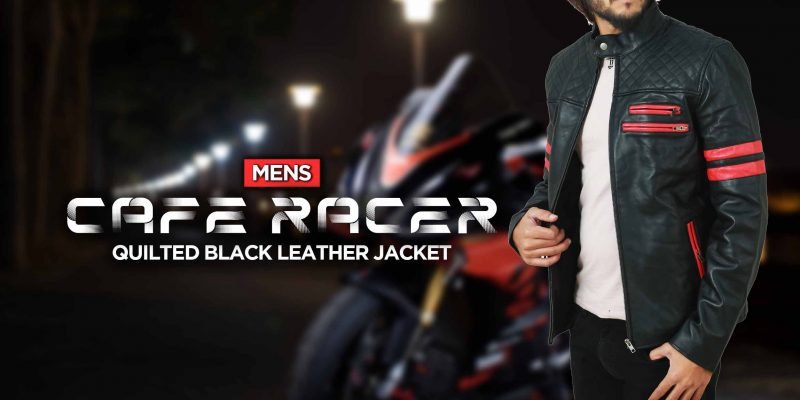 Bikers are very concerned about how they look, so assuming that they are only obsessed with their bikes is false. They prefer to present themselves in the same manner as the majority of bikers. In the eyes of others, their classic biker outfits make them look even more stunning. The classic jackets that bikers like to wear are another source of inspiration for the men's Cafe Racer jackets. This vintage jacket is a great option if you're still looking for a leather jacket to make yourself look impressive.
This fantastic Mens Cafe Racer Quilted Black Leather Jacket has a viscose lining on the interior and genuine leather on the outside. It has a retro charm due to its classic black colour. It has a snap-tab erect collar and a front zip closure to give it a vintage look. The jacket has four spacious pockets on the front and two on the inside, and it has long sleeves with zippered cuffs at the ends. This jacket gives you all the right reasons to get your hands on this staggering piece of charm. So this time, get your hands on this outfit and be the trendsetter this season! 
THE MOST SWAGGY BLACK LEATHER JACKET FOR MEN
If you are unsure of what to wear to your special event, we recommend that you simply choose this masterpiece. People will be astonished by the jacket's unique and minimal design and colour. It is the ideal top layer that every wardrobe should have. You'll look absolutely flawless in this upper ensemble. Thus, if you want to make your impression unforgettable, get this staggering jacket right away! 
This elegant yet so classy Men Biker Black Quilted Real Leather Jacket will make you appear to be the most attractive person in the room. It comes in genuine leather and has a viscose inner lining for extra durability. It is so great and trendy because it has a snap-tab collar and a front with a zipper closure. Thanks to its stunning black colour, it has the glam that everyone adores. Also, this classic jacket has full sleeves, has four pockets on the front and two on the inside.
IN A NUTSHELL
Eventually, we hope this guide will assist you in some way in the future. A classic way to enhance your style is to incorporate a leather cafe racer jacket into your wardrobe. The unique way we can express ourselves is through clothing. In our opinion, a cafe racer is a great addition if you're a classic cool guy or a fan of punk rock. Or also, if you want to show off your racing streaks, cafe racer jackets always serve the best. So this time, we suggest you get your hands on one, too, to show your sound sense in men's fashion. And we bet that you will never regret it later!