Ever wanted to make things look perfect in life? But unable to achieve it when it comes to style. You can throw your troubles out of your mind because we are here to rescue you from all the miserable style. We are here to help you out with all the fashion torment you have been having for so long. We will assist you with the possible solutions and alternative styling ideas for jackets. Always remember layering is the ultimate option. Without it, you will be lacking variation. Well, nobody wants that mundane look to be their style. Keep in mind that jackets will take you a long way due to their longevity. It is that star piece of clothing that doesn't lose its color or the fabric. Currently, fleece and parachute jackets are getting prominent. They are ideal for the winter season. 
Bad Trip Movie
Now talking about the movie that amazed everyone. Bad trip is a comedy movie about two close friends with a moderate amount of drama in it. The movie was praised by many and has a gargantuan number of fans. The fascinating part of the film is the Bad Trip Outfits Collection which gave rise to the hooded jackets. Indeed jackets are the most comfortable piece of clothing. Two friends on a road trip wearing jackets and pranking the commoners. Jackets can be worn while traveling as well. They are extremely soft and breathable. Different styles of beanie hats can be combined with jackets. The jackets are influenced by the protagonist of the movie. Now let's dig into the styling game and let us be your adviser in this high fashion world. We will make sure to boost your casual style. 
Ribbed Beanie
Firstly, when talking about a beanie, a rough picture of a hat comes to mind. It is truly a ribbed pattern beanie with raised ribs. It is a classic style of the beanie. Beanie with a jacket is hands down the best option for winters. While reaching the crown of the head, the ribs are narrower, giving the beanie a different look. 
The Styling Guide
Think about pairing a solid color maroon beanie with Eric André Bad Trip Maroon Hooded Jacket and black skinny jeans under it. To look chic, you must get your hands on this jacket. It will enhance your look and will be a perfect addition to your wardrobe. You will never regret getting a jacket. Hooded jackets are superb for the winter season. When a beanie is unable to make you feel warmth, you can always use the hood. The zipper closure of this jacket makes it extraordinary. 
Crochet Beanie
Secondly, another great way to style is to go for a crochet beanie with a jacket. People themselves mostly knit crochet beanies. Crochet beanies are commonly used in winter mixed with a jacket. Crochet beanies with jackets work hand in hand and are the optimal choice for frosty weather.
The Styling Guide
Imagine yourself wearing a dark grey color beanie with Eric André Bad Trip Hooded Jacket. You must choose a pair of grey trousers with this look. Believe us. You will look ravishing. In frosty winter, hoods are like your best friends. A hood is already present in a jacket. Now that is something. The grey color with hooded collars makes this jacket look mind-blowing. Scarcely, jackets are available in grey color, but this one is from the collection exclusively for you. So don't miss the chance to make it a part of your ensemble.
Slouchy Beanie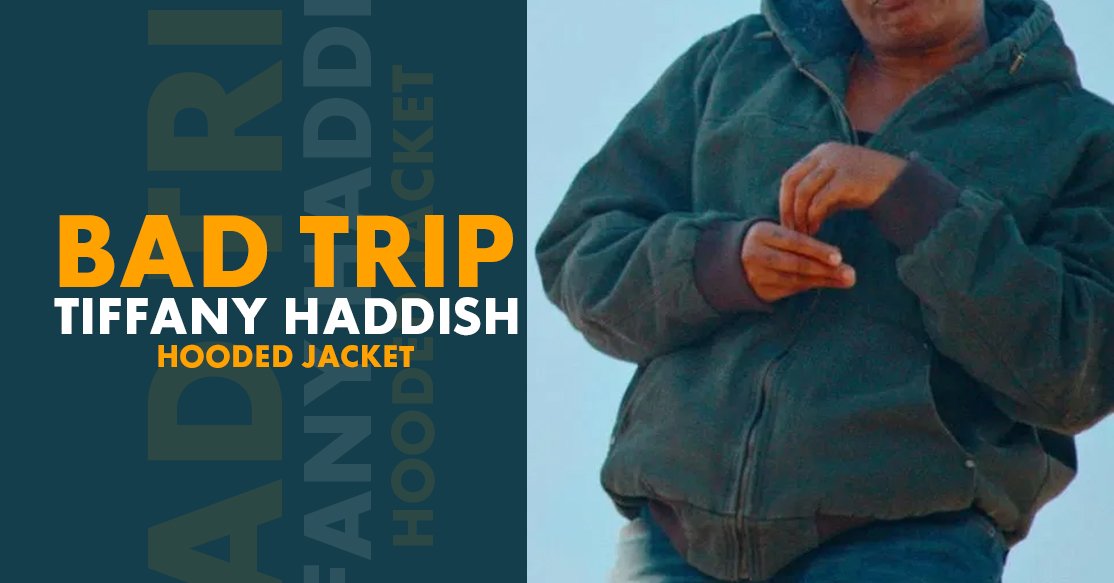 Thirdly, one of the oldest beanie styles arrives at the scene. Men have always been fond of slouchy beanies. It gives you a laid-back look. Try thinking of pairing it with a jacket. You will surely look stunning in it. Slouch beanies come in all shapes. However, a loose-fit slouchy beanie is more common than others. 
The Styling Guide
Another styling idea is to pair a jacket like Tiffany Haddish Bad Trip Hooded Jacket with a dark green color slouchy beanie. The green color of this jacket with beanie will make it stand out. It is always a good idea to add some color to your outfit. Vibrant colors make you look unbeatable. Due to the fleece fabric and hooded collar, this jacket looks exceptional. This jacket is inspired by the character of the Bad trip movie.
Graphic Beanie
Fourthly, arriving on graphic beanies which come with a print or logo on them. Graphic tees are a sizzling choice with a jacket. Graphic beanies are also available in tye and dye patterns. These beanies can also be customized. Bright and glowing colors of graphic beanies are used widely. 
The Styling Guide
Furthermore, the ensemble idea with a graphic beanie could be with a simple jacket. And for that Lil Rel Howery Bad Trip White Jacket is a top choice. The radiant white color and shirt-style collar of this jacket make it more appealing. You can style it with blue jeans and a blue graphic beanie. The jacket will be the star of this outfit. Moreover, the parachute fabric will keep you safe from cold. The inner viscose lining of the jacket will make you feel comfy. This jacket comes with four huge pockets. Obtaining this jacket is the best decision for wintertime.
A Phenomenal Ending
Lastly, finish off your style game. By acquiring these jackets, you can level up your style statement. Winters are unfinished without jackets. Being bombarded with fashion ideas can get overwhelming at times. But we have provided you the simple yet chic ideas to pair with jackets. To all the fashionistas out there, we believe these jackets will rock your style. Jackets are timeless garments. They can never go out of style. The sustainability of jackets cannot be denied. Fashion is no longer arduous. With subtle and right kind of styling, you will dazzle. Trust us, getting a jacket will be your wisest decision ever.