We are in the middle of winter, still figuring out what to wear. Most importantly, keeping style on the top in the winter is difficult, but not anymore. We all want to look good. There is no gender specification when it comes to styling in winter. We all want something casual and cozy that can keep us warm but also stylish.
Styling in winter is tricky but not difficult you just have to keep the fashionable and trendy jackets and coats with you so that you can style them in astonishing ways. As it is the end of the year, you can make yourself look stunning by getting winter jackets and coats that are on sale. Winter sale on jackets is a good chance to fill your wardrobe with unique and fashionable jackets and coats. Men and women can make them look flawless by pairing them with different and pretty outfits. Army of thieves is an outstanding movie that has stylish and amazing jackets and coats, and wearing them in winter can upgrade your style in just seconds. This guide has everything you want. You can style the outstanding jackets and coats in different ways and can make them look stunning.
ARMY OF THIEVES FUN
Army of Thieves is the prequel movie of the Army of Dead. This movie is about s woman who is mysterious recruits bank teller Dieter to assist in the heist. In they had to break the series of impossible cracks across Europe.
RUBY O.FEE BOMBER JACKET
Suppose you want a unique and classy jacket that you can wear anywhere. If you want a casual jacket, then this cotton jacket is the best choice. This cotton jacket is worn by Ruby O.Fee in the movie Army of thieves. The American and german based comedy heist movie is full of fashionable clothes and outerwear. This bomber jacket is one of them. This jacket is stylish and unique that you can wear casually and formally and can make it look stunning.
CASUAL STYLE
You can get a stylish casual look in this bomber jacket. This easygoing combo of a grey crop top and black leather leggings paired with this Ruby O. Fee Army of Thieves Bomber Jacket is super easy to pull together in no time. It helps you look seriously stylish and ready for anything without spending too much time combing through your wardrobe. Complete your look with black leather boots to instantly switch up the outfit.
FORMAL STYLE
White button-ups and khaki wide-leg pants paired with this bomber jacket are absolute essentials if you're picking out a polished wardrobe that holds to the highest women's fashion standards when you are attending any formal meeting. Make this look more stunning with a pair of black heel pumps.
NATHALIE EMMANUEL TRENCH COAT
Stunning and fashionable actress Nathalie Emmanuel inspires this coat. Nathalie portrayed the role of Gwendoline in the movie. That movie inspires this stunning and classy brown coat. She is the most stunning actress with an elegant fashion sense. The coat she wears is iconic and easygoing. This coat looks modish when paired with the different outfits in formal and casual styles. Below you will find casual and formal styles to pair with this trench coat:
CASUAL STYLE
No matter where you find yourself at the end of the day, you'll be stylishly prepared in this easygoing pairing of a white turtle neck and blue ripped jeans paired with this Nathalie Emmanuel Army of Thieves Trench Coat. For something more on the sophisticated end to finish your ensemble, introduce brown suede desert boots to the equation.
FORMAL STYLE
Pairing a burgundy cropped high neck and black cotton chinos paired with this trench coat is a perfect way to inject your styling with some formal elegance. Get a bit experimental in the shoe department for this formal look, and dial down your getup by finishing with dark brown women loafers.
GUZ KHAN GREEN VEST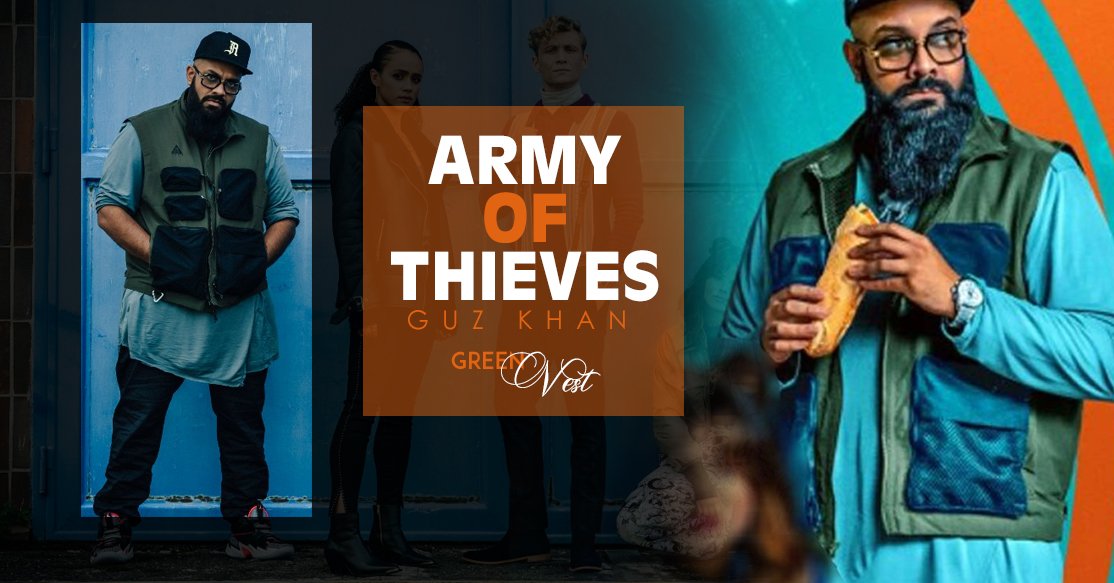 Somedays, you simply need to look basic and stunning. Assuming you are searching for something smart, then this green vest is ideal for you. Guz Khan wears the Rolph Army of Thieves Guz Khan Green Vest in the film Army of thieves. This outfit has a tasteful and popular style. You can wear this tasteful outfit at your companion's social affair to parade your disposition. This outfit will keep your dazzling and in-vogue appearance alive. Also, since it's partnered with Army of Thieves, you will be all the rage. You can style this vest nonchalantly and officially and can make them look great:
CASUAL STYLE
This combination of a blue shirt and black ripped jeans paired with this Guz Khan Army of Thieves Green Vest is sophisticated, on-trend, and super easy to recreate. With shoes, go for something on the smarter end of the spectrum and complement this outfit with a pair of black sneakers.
FORMAL STYLE
This combination of a navy shirt and white dress pants paired with this green vest is a surefire option when you need to look truly stylish. Finishing off with navy loafers is a guaranteed way to introduce an easygoing vibe to your look.
GUZ KHAN BROWN JACKET
Every so often, you simply need to be agreeable, so you attempt to keep your style easygoing. So you can have something astonishing to offer you as far as style, and that is the Rolph Army of Thieves Guz Khan Bomber Jacket. This coat was worn by Rolph in the film Army of thieves. A multitude of cheats is an American-German heartfelt and satire film that additionally incorporates zombies. Guz Khan represents the job of Rolf in the film Army of Thieves. You can make this jacket faultless by matching it nonchalantly and officially:
CASUAL STYLE
A Guz Khan Army of Thieves Brown Jacket and black sweat pants with a black sweatshirt are a nice ensemble to add to your current casual taste. If you need to step up your outfit with a pair of shoes instantly, why not introduce a pair of white sneakers to this ensemble?
FORMAL STYLE
For an ensemble that's elegant and trustworthy, team a burgundy turtleneck with charcoal vertical striped dress pants paired with this brown jacket. Add a pair of brown leather boots to the mix, and the whole getup will come together.
STUART MARTIN BOMBER JACKET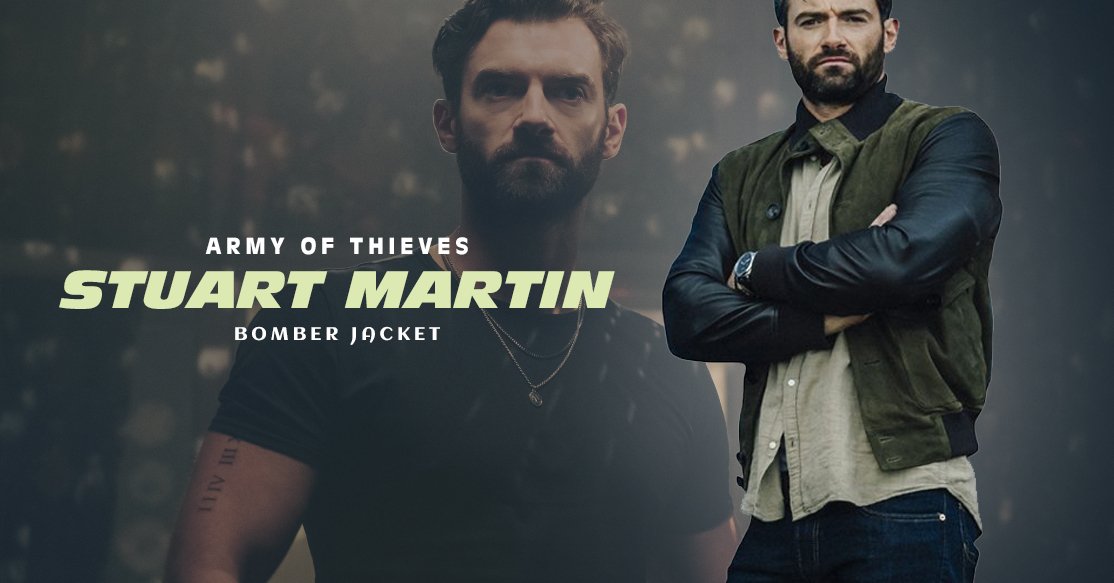 The ideal manly clothing that you have been searching for can e found in the most recent parody heist film, the multitude of criminals. This happy parody is loaded with interest and secrets. What's more, the style of this film is one that has gotten everybody's attention. Examine the Stuart Martin Bomber Jacket. A manly and extravagant clothing will make any turn tidied upward in a negligible measure of exertion. You can style this bomber jacket nonchalantly and officially and can make it look awesome:
CASUAL STYLE
We're all looking for comfort when it comes to styling, and this casual combo of a gray crew-neck shirt and brown jeans paired with this Stuart Martin Army of Thieves Bomber Jacket is a practical illustration of that. And if you wish to perk up this ensemble effortlessly, wear brown leather sneakers.
FORMAL STYLE
A blue dress shirt and charcoal dress pants paired with this black and green bomber jacket are a good formal combination that will earn you the proper amount of attention. And if you want to tone down your outfit with a pair of shoes immediately, introduce dark brown leather loafers to the mix.
MATTHIAS SCHWEIGHOFER BLUE JACKET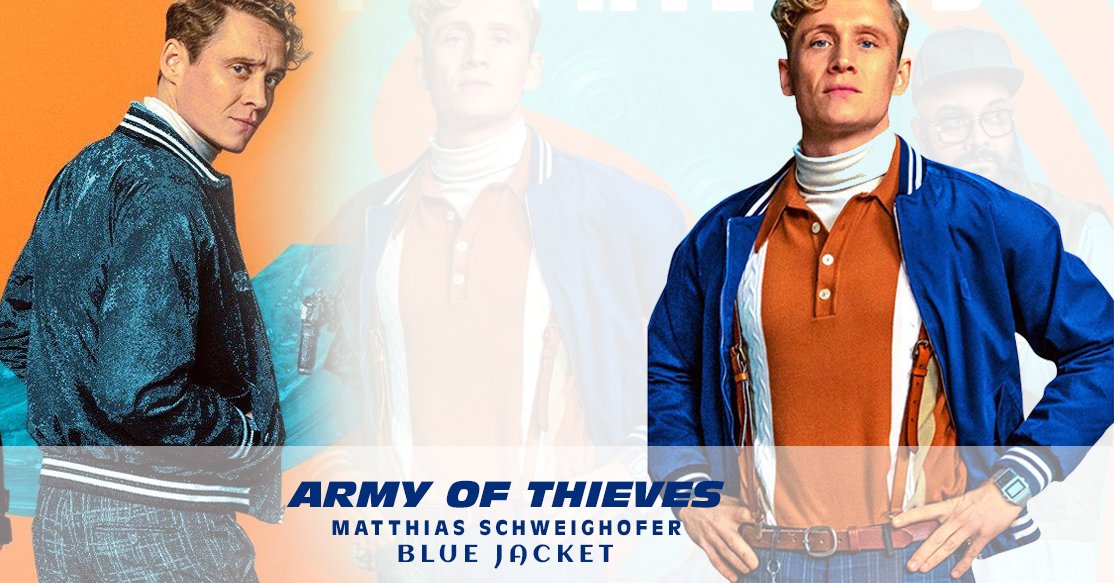 Upgrade your style with this jacket and can make it look flawless. In an American film, Matthias Schweighofer has been said to be playing the major role of Ludwig Dieter. he wears this classy blue jacket which is modish and pretty. This jacket can make you look amazing. This is voguish, and in fashion, the jacket can make it look good. You can style this jacket casually and formally:
CASUAL STYLE
This casual combo of a multi-colored plaid shirt and black jeans paired with this Army of Thieves 2021 Matthias Schweighofer Blue Jacket can take on different forms according to the way it's styled. You can end this style with a pair of black sneakers. It is an absolute casual style to wear in no time.
FORMAL STYLE
This pairing of a gray shirt and khaki chinos paired with this blue jacket couldn't possibly come across as anything other than seriously sharp and refined formal style. Dark brown leather double monks are guaranteed to bring a dash of stylish formalness to your look.
THE STYLISH FINISH
Army of Thieves has a flawless style that everyone wants to adopt. In the movie, characters wear cozy and comfortable jackets and coats that look warm and easy to wear. You can also style them in different ways this winter season and make them look amazing. They not only keep you stylish but will also upgrade your style and make you voguish.