How to Wear a Bomber Jacket with Style
Curious learn how to properly set up an outfit with a Bomber Jacket to collect positive feedback and be the talk of the town? Well, no biggie at all! Particularly, there is no rocket science in donning the popular military outerwear for the purpose of fashion. Rather it might be even easier than you would have thought to adjust your casual outfit with bomber outerwear.
The historically adopted military wear has served the citizens for years with it being a major tool in the widespread field of fashion.
Of course, every other fashion learning beginner is as curious to learn to don a bomber jacket as a fashion illiterate but there is nothing specific that separates the bomber jacket wearers from the wearers of the other types of outerwear.
Being specific here, there is no standard style to wear a bomber jacket. Instead, you decide what you like to add to the outfit with bomber outerwear topping the components' list.
So, pretending you have been here to get some assistance, here are four insanely cool bomber outerwear with the four basic yet unofficial ways to wear them with style.
A Vibrant Color Defines Your Standard 
For an appealing look to a casual party or even hang out with friends add the EJ High School Musical Bomber Jacket to the following components.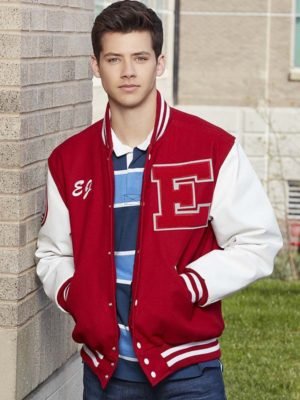 Sneakers
Rolled up Leggings
Round collared T-shirt
Now add all the components to the outfit and combine them together for perfection! The red and white bomber outerwear is the trendiest type of bomber jacket making waves these days. Although teenage fashion seekers are into it, you can also find many adults making a statement look with it.
A green Jacket for the military sympathizers 
There are always infinite ways to wear a bomber jacket based on the occasion. For instance, if you have immense compassion for the military men and love to pay tribute to them during the anniversary of D-Day landings, I would recommend you to stylize the Rambo 5 Last Blood Skull Green Bomber Jacket with passion. Since green usually stands for the military in terms of outerwear, it is fine to make yourself look like a former military man. But don't forget to team it up with military printed trousers and a t-shirt for the best results. This way, you can achieve the desired look and start a trend in your social circle that will last longer than you might expect.
The Old B3 Jacket for a macho look 
Ever since the B3 jackets invaded U.S military uniforms decades ago, the outerwear fashion has experienced a significant change with bomber jackets being the trendiest option for the men. Today, even after years of its origin, the B3 jacket is still a classical component of men's wardrobe. Regardless of the occasion, you can don the Sheepskin Shearling B-3 Bomber Jacket with camel shaded chinos throughout the winter. Want some contrast to be visible in the outfit? Cover the torso with the shirt beneath the outerwear and here you go.
Much like a celebrity look 
No secret but I know celebrities have been influencing our clothing style from the very first day of the cinema industry. We all dream of looking as slim and fit as our favorite celebrity while properly adjusting our casual wardrobes like them. Pick up a favorite celebrity of yours (Ben Affleck in my case) and copy the style. I find it totally appropriate to follow mister Affleck's style as he is quite good at stylizing bomber outerwear like the Ben Affleck Green Bomber Leather Jacket. Putting the sunglasses on, wearing a dark grey shaded shirt beneath the outer skin and a regular denim pants isn't a bad option for a fantastic casual look.
Formal or Semi-formal: Bomber Handles your Stately Looks!
Suede is deliberated as higher degree stuff and gives you a more fashionable look. The texture of the surface is what brings an attractive element to a plain jacket. For these sorts of aspects, colors such as beige, stone and brown work best and you should wear it with a white or blacktop for the greatest result. Remember, the key is to create a drab outfit with texture creating a clear definition from each of the pieces. To achieve the look, simply pair this with your ceremonious shoes.
One of the main differences here is that most aviator jackets for men will feature an element of shearling or fur, especially around the collar. There're obviously hybrids out there, like an aviator bomber jacket, but we'd advise keeping these separate. If you're after a more neutral look than a brown bomber jacket will be perfect. Besides the best and most attractive color black, tan is probably the second-best choice to have that attractiveness and to maintain your statement looks.
With all of the same features, you can choose between going for the smart black suede bomber look or the smart casual one with this bomber in tan. Again, opt for simple looks underneath as you want the jacket to do most of the talking with your outfit. Blue jeans work perfectly with brown and keep your footwear insignificant with a pair of white trainers.
With the right outfits, a bomber jacket can go flawlessly with almost everything, but hey, just keep in mind the basic combinations of colors only then you will have best looks. Bomber jackets are the most worn outfit by the youth because they know fashion is the main thing, whether they are going to the office or just hanging out with friends or the special ones, it wouldn't be wrong to say that bomber jackets are the king versatility wise and a perfect attire to opt for.
You can go right away to bulk your wardrobe with this style but pick the one that you think would look great on you as not every color is for everyone and even is the trend. There would something special about this style as it is recommended by a number of fashion designers and considered as one of the essential things in the male wardrobe. Well if you don't have yet such a jacket in your closet, we recommend to purchase such an item because you won't regret it.